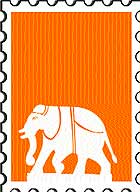 An Affordable Microcosm
I was born in Trivandrum, worked for a Madras-headquartered daily for 19 years, travelled a reasonable distance as a foreign correspondent and my mother's family is from Hyderabad, but have still seen very little of south India. So, in my current free bird status, I set out to realise my childhood dream of visiting Hampi—a lens through which to look at the great south of India. In my mind, Hampi, or the site of the mighty Vijayanagara empire, is akin to Machu Picchu. Google tells me that Hampi and Machu Picchu have one thing in common—both were thriving in the 15th century, but that's an aside. The route I took from Delhi to Hampi was not a classical one. After spending some time in Pachmarhi and taking the beautiful ride on the Khandwa-Mhow section of the Akola-Ratlam Fast Passenger, I travelled by three-tier AC from Bhopal to Hubli on the Yeshwantpur Sampark Kranti Express. For a journey of 1,453 km lasting a little over 24 hours, I paid Rs 1,173; less than a rupee a km. After spending the night at the Ananth Residency hotel in Hubli, I took the Hubli-Tirupati passenger to Hospet—a journey of 144 km that cost Rs 90. But Saeed, my auto driver from Hospet to Hampi, charged Rs 200 for a 12-km ride.
---
Pompeii Of The Tropics
The Portuguese traveller Domingo Paes wrote around 1520 that the capital of the Vijayanagara empire seemed "as large as Rome" to him and that in one broad and beautiful street "live many merchants, and there you will find all sorts of rubies, and diamonds, and emeralds, and pearls, and seed-pearls, and cloths, and every other sort of thing there is on earth and that you may wish to buy". Nearly 500 years on, modern Hampi is a mish-mash of demolished guesthouses, functional cyber cafes, travel agencies and currency exchangers. But the ruins of Vijayanagara are spectacular. On my first day, I went to the not-so-touristy Achyut Raya temple, built in the reign of Achyut Raya (1530-42) and found I was the only person there. It was peaceful and serene. No one else to disturb the carefully sculpted gods and goddesses; it was a communion to be enjoyed as a light monsoon rain fell from the skies. Most visitors make a beeline for the superb Vitthala and Virupaksha temples and tend to avoid the lesser known ones, such as the Gangitti Jaina temple on the Hampi-Kamalapur-Kampili road.
---
Distempered Hanuman
Trying to get information about Hampi in Hampi is a tall order. The tourism office in the Virupaksha temple has info on the rest of Karnataka and its rich heritage sites, but nothing on Hampi. When I entered the office, a little after noon, the gentleman in charge said I should try at the Archaeological Survey of India museum in Kamalapur, a Rs 6 bus ride away. Bang opposite the tourism office, a hawker had a little informative booklet called, simply, Hampi, published by the ASI. This was to be my guide as I walked around the spectacular Hazara Rama temple, the many-domed Elephant Stables and the Lotus Mahal. The ASI museum was another story. The display of riches, including headless statues of Raja Krishna Deva Raya and his wife, and scores of statues of gods and goddesses are out of this world. However, many have no descriptive labels, blank spaces indicating that the museum once did possess them. There are precious manuscripts, but not even a one-liner on what they contain. Outside on the lawns were many more statues of India's heritage. Some with generous quantities of whitewash, a few were lying in piles of waste wood and there was a Hanuman statue with water washing its underside. Interestingly, there were no officials around, but I did write about my concerns in the visitors' book giving my e-mail address and went to the ASI's office in Kamalapur.
---
Drive-In Nirvana
People come by all modes of transport to Hampi. By bicycle and tractor, by bus and car—I saw vehicles bearing the number plates of AP, MH and KA of course. The vehicles are allowed to drive in close to the Hazara Rama temple through to what is called the Royal Citadel. My observations: Indian tourists and Indians in general hate walking. They will see what can be accessed easily by driving. Foreign tourists, on the other hand, can be seen walking or on bicycle even in places that are a little difficult to access. I asked a bunch of French girls how they had reached a place where I saw almost no north Indians around. "Our friends told us about Hampi. It's a real special place," one of them said. Some locals, however, are making good use of the temples. I found one young man, comfortably ensconced with his books, a bottle of water and a mobile phone, studying for his B.Ed exam inside the Sarasvati Mandir. Hope the Goddess of Learning helped him through.
---
On My Travels,
I saw many brilliant signboards. One in the Virupaksha temple read, 'Please Respect Temple Customar and Tradition. Please Wear Fully Respectable Dress.' But my favourite was: 'Garden Paradise. Guest House. Multi Cousin Restaurant. Art Gallery.'
---
Journalist Amit Baruah is South Asia Studies fellow at Gateway House, a Mumbai-based think tank; E-mail your diarist: abaruah AT gmail.com