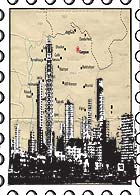 Going, going, Gurgaon
Until quite recently, Gurgaon was a dusty, nondescript village with more buffaloes than people. Now it is a city with the third highest per capita income in the country. Half of Fortune 500 companies have their offices there. The place has over 20 swanky malls and probably more upscale restaurants than any other Indian city. That does not prevent Gurgaon from being tacky. It lacks reliable electricity and water supply. Children of former villagers, now crorepatis, have more time on their hands than is good for them. There are frequents fights in the city's numerous bars and women don't feel safe at night.
Gurgaon came up almost overnight, as if by accident, and the property developers made a killing. It was easy. All they had to do was bribe the politicians and the civil servants and then do whatever they wanted with the land they bought from the farmers. It is not a planned city. Here was an opportunity to build a showcase city from scratch—a bigger, better Chandigarh so to speak—and we let it pass. How Indian is that?
---
On New Knees
By now you must have gathered that I don't much care for Gurgaon but there is also its other side. I spent eight days and eight nights recently in one of its medical facilities and I was impressed. Medanta Medicity, spread over 40 acres with over a thousand beds and 45 operation theatres, is a state-of-the art hospital. It is as good as any you will find anywhere, with world-class doctors, nursing staff and equipment. My previous experiences with our hospitals have not been good and my stay here was an eye-opener. The place was spotless and, for once, everything worked like clockwork.
I am 79, no spring chicken. I needed replacement for both my knees so that I could be on the dance floor on St Valentine's Day. I have no relatives within a thousand miles of Delhi and so I asked my housekeeper to check me into Medanta and sign all the necessary papers. I told no one about the surgery, not even my children living abroad, until it was over and done with. Some of my friends thought this was not proper; they would have happily accompanied me to the hospital. I was touched, but I found this very Indian ritual of hanging around in hospital lobbies unnecessary.
I have known Dr Naresh Trehan, who heads the hospital, from our New York days—his wife, Madhu, was a colleague at the UN—but that was not the reason for selecting Medanta. I was attrac­ted to the hospital by its orthopaedic surgeon, Dr Ashok Rajgopal. I was under his knife for about two hours followed by four days in ICU, two for each knee. I have a low tolerance for pain and I am happy to report there was very little of it.
I have always been under the impression that the Philippines produces the best nurses but the ladies at Medanta could take them on any time. Someone must have paid some good attention to their training. They are next to you within a minute if you press the buzzer. They are a happy lot. The nurses from Kerala and other parts south come up to you to chat if they have time to spare. The northern nurses seemed less comfortable in the company of male patients.
---
Starvation diet
My only disappointment was the food. Medanta's chef must have received his training in Tihar jail. The kitchen cannot even produce a decent chapati. The curries and dal were watery and tasteless. I am aware that one should not expect a gourmet meal in a hospital with so many dietary restrictions but this was ridiculous.
There is also no concept of presentation. The food comes to you on a small tray with foil-covered bowls piled on top of each other. You expect that a hospital that costs you an arm and a leg would provide you with a decent yoghurt, maybe Amul, but instead you get something cheap and quite horrible. Pieces of papaya and apple that masquerade as fruit salad appear to have been chopped a day earlier. After a few days of hunger pangs, I changed to what they describe as 'continental'. It was only marginally better.
---
Close shave
The night before surgery, a male attendant came with a barber's electric clipper to shave off my private parts and he did a fine job in two minutes flat. Years ago, when I had to have my appendix removed as a teenager growing up in Fiji, I was not so lucky. I was still a virgin, if that is a correct word also for an uninitiated male. To my horror, a young Fijian nurse walked in with a razor and shaving cream. A pretty, gloved hand doing this dismal paramedic ritual was a rather novel thing for me. The effects were, of course, priapic. Without intending to offend the feminists, I believe some work is best left to men!
---
Last week...
The nurse from Kerala was pleased to see Chetan Bhagat's Half Girlfriend by my bedside. She had read it and loved it.
---
Formerly with the United Nations, Bhaichand Patel is the author of Mothers Lovers and Other Strangers; E-mail your diarist: bhaichandp [AT] gmail [DOT] com