A man rushes out of home all ready for work, except he's still wearing his lungi. A young executive hurriedly swallows the last of his breakfast at a red light, a helmeted biker manoeuvres through a sea of black umbrellas and children run after a motorcycle in distant Ladakh. Yet another slice of life ad from Hero or Bajaj? Surprisingly, no. This is the latest commercial from Honda and if it's uncannily similar to the "bikes for real India" communication that its competitors have made their own for the past so many years, it's with good reason.
For 27 years, the Japanese company rode pillion with Hero, sharing its technology to help create the leading motorcycle brand in India. That alliance ended last year and Honda has been riding solo ever since. But it's not looking for a leisurely cruise; Honda Motorcycles and Scooters India (HMSI) is now revving up, aiming to take the lead in the Indian motorcycle race by 2020, edging out both its erstwhile partner and Bajaj. Currently, though, HMSI has a low 7.6% share of the motorcycles market, making it a distant third after Hero (56%) and Bajaj (25.4%). So, what explains this ambition and optimism?
Firing up
While the joint venture was on, Honda was barred from competing directly with Hero Honda products, which meant the most lucrative part of the motorcycles market — the 75-125cc commuter bikes segment, which accounts for over 70% of the market — was off-limits. So even though HMSI launched its first bike in 2004 (when the Hero JV was going strong), the Unicorn had a 150cc engine and was considered a premium product. Later launches in the motorcycle space such as CBR and VT retained the upscale positioning and pricing.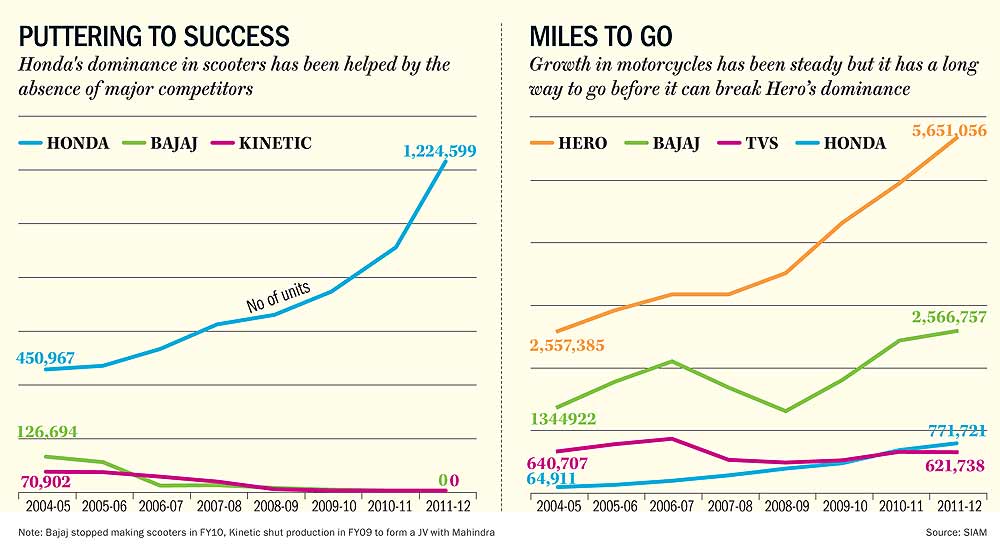 That's now changing. At the Auto Expo earlier this year, Honda showcased seven new models for the Indian market. In May, it unveiled the first of the lot, HMSI's eighth motorcycle in India: the 110cc Dream Yuga is not only the company's first mass-market motorcycle in India, it's also Honda's cheapest bike worldwide. But it's not the cheapest bike on Indian roads (market leader Splendor from Hero Motocorp is priced nearly Rs 5,000 lower), so the company is making an extra effort to connect with its target customers. For starters, it's signed on Bollywood actor Akshay Kumar as brand ambassador. That's a first for the company — Honda's never had a celebrity endorser in India. But Kumar's selection was carefully thought-out: he's well known for his stunts, action-packed movies and is also a self-made success. "The masses identify with him," Keita Muramatsu, president and CEO, HMSI, told Outlook Business earlier at the national launch of the new bike.
Honda has a capacity of 2.8 million, which is a fraction of Hero's 7 million and Bajaj's 5.8 million

The everyman angle continues beyond the new launch and new brand ambassador. Earlier this year, Honda Indianised its global tagline — 'the power of dreams' has become 'sach kar denge sapne' — and is now stepping up its presence in the hinterland, both through advertising and through touchpoints. The rural market is expected to be the primary driver for 100cc bikes over the next decade, and HMSI is making a determined effort to reach out to this market. It currently has a 1,500-strong sales and service network (including dealers, branches and service set-ups). By the end of FY13, the company plans to increase that by 500 and also add more zonal offices to ensure wider reach across India. Of course, that's still far behind Hero and Bajaj, which have about 5,000 and 3,500 touchpoints, respectively.
Before Honda embarks on network expansion, it is already working on enhancing capacity. In the past decade, the Japanese parent pumped in over Rs 3,500 crore; this year, it's investing another Rs 1,500 crore. The bulk of that will go toward construction of a third plant at Narsapuram in Karnataka. Once the 1.2 million-unit plant becomes operational by H1CY13, it will take HMSI's total capacity to 4 million units per year — its Manesar (Haryana) plant touched peak production level of 1.6 million units last year and a second, 1.2 million-unit plant at Alwar (Rajasthan) went onstream in FY12.
Déjà vu
Going mass isn't the only reason the company is gung-ho about its prospects in the Indian motorcycle market. There's also the fact that this isn't the first time Honda has broken up with a long-time partner in India — and that split worked out really well for the Japanese company. In 1998, Honda and the Firodias of Kinetic Motors decided to dissolve their 12-year partnership, Kinetic Honda. The JV had an impressive 44% of the scooter market and while observers were surprised that Honda was vacating an entire market segment, they also took note of the fact that scooter sales were in reverse gear.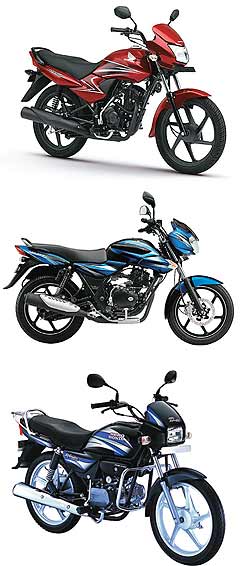 Rough ride: Honda's Dream Yuga (top) will
battle it out in commuter bikes segment
with Hero Splendor (bottom) and Bajaj Discover
Barely two years later, Honda was back in the scooter business — it rolled out the first Activa in early 2001. The four-stroke, gearless scooter was a hit with women and younger people and, suddenly, the dormant scooter market was firing on all cylinders. In 2000, only around 600,000 scooters were sold; the number in FY12: 2.5 million. As Activa grew in popularity and sales, it nudged out stalwarts like Bajaj and Kinetic — before the decade was out, both companies had exited their scooters business. (See: Puttering to success) HMSI now has around 48% share of the scooters business, even though competition in the gearless scooters space has only increased. In the past four years, almost all major auto companies like Hero Motocorp, TVS, Suzuki, Mahindra and Vespa have launched gearless scooters.
Now, Honda is counting on a repeat performance. But how realistic is that ambition? The current situation is completely different from a decade earlier. When Honda launched Activa, the scooters market was in the doldrums and the only competition was from Kinetic. By the time other players woke up to the potential of a gearless scooter, Honda had established its supremacy. That's not the case now. Competitors are well established with extensive stables of products and Honda is actually trailing this market. (See: Miles to go) "Competition in motorcycles is much more intense than other segments. It's a do or die market and you need to work really hard for consumer confidence," says Abdul Majeed, partner, automotive practice, PricewaterhouseCoopers.
Analysts also doubt whether Honda will be able to scale up adequately to take competition head-on. Its current capacity of 2.8 million units a year is a fraction of Hero's 7 million and Bajaj's 5.8 million. And even as HMSI expands capacity, Hero too is pumping in Rs 2,750 crore to increase capacity to 9 million units by 2014. "The Indian motorcycles market is very unusual — one OEM has the lion's share. Taking on Hero is no joke," points out Srinivas Krishnan, editor of Business Standard Motoring.
Certainly, countering Hero's deep-rooted brand equity in rural markets will be especially tough — and that's where Honda will be looking for customers for Dream Yuga and any other commuter bike it launches in the future. Nearly half of Hero's motorcycle sales come from rural markets and Honda will have a struggle persuading customers here to switch loyalties. "Splendor and Passion customers are very difficult to sway," concurs Amit Mishra, analyst with Macquarie Capital Securities. "These brands are bigger than even Hero itself." Casual conversations in rural India underline that truth. Twenty-something Zaffruddin lives in Manothadi, a village in Alwar, Rajasthan. Honda has a bikes factory in the district but mention motorcycles and Zaffruddin pipes up, "Splendor". In the state capital, Lal C Morani has been a Hero dealer for over a decade and 80% of his sales come from Splendor and Deluxe. He's aware that Honda has become more aggressive in its distribution but isn't worried. "There are now around five Honda dealers in Jaipur, one more than Hero. But Honda has only 15 service points in the city, compared with our 40," he says complacently.
The flip side
Although the odds may be stacked against it, Honda's decision to go solo was the booming — and still largely untapped — potential in the motorcycle market in India, emboldened, of course, by its success in the scooters segment. Although India is the second-largest market in the world in volume terms, household penetration of two-wheelers is still very low — at 36%, that's lower than other emerging markets such as Brazil, Indonesia and Taiwan. The numbers are worse when comparing between urban and rural areas, with large cities having nearly three times more bikes than villages. But, of course, there are concerns over how the market will pan out in the coming few years: overall sales here dropped to 15% in FY12 after two years of high growth (22% in FY11 and 26% in FY10). The good news for Honda, though, is that despite slackening industry sales, it has been growing faster than the market — its sales of motorcycles increased by 29% in FY12, albeit on a smaller base, a trend it hopes will continue this year too. "While the industry is estimated to grow at 15% in the current fiscal, Honda aims to grow at around 30%. We started FY13 on a great note. In May, sales grew 52% year-on-year," says Muramatsu. Honda will have to continue to grow at 30% annualised rates for seven and a half years to even catch up with Hero's current sales.
Honda's trump card is its R&D and its edge in low-end technology and design capabilities

For Honda, the killer ace up its sleeve — and what its competitors need to work towards — is its R&D ability. "The company can leverage its technology edge to its advantage in India," says PwC's Majeed. Not only does it have significantly more experience in manufacturing two-wheelers than Bajaj and Hero, it also scores higher on technical and R&D capability in terms of vehicle design as well as engine technology. Honda is also bringing in another wholly-owned subsidiary, Honda R&D India, to set up a technical centre near the Manesar plant. Some research work may be shifted from Thailand and Japan to this centre, which will help HMSI test models faster and reduce the time to market new launches.
Hero, too, is upping its focus on research, although it's all outsourced. Currently, the company pays a licence fee and can launch new products with Honda technology until 2014. It's also entered into a technology sourcing pact for high-end bikes with Erik Buell Racing of the US (which consults with Harley-Davidson) and with Austria's AVL to enhance engine capability. But that may not help it get an edge in the commuter bikes segment, say analysts. "It's not going to be easy for Hero to get 110cc-focused technology partners since American and Europeans are mostly focused into high-end motorbike technology. It is Japanese companies that are conducting research on the low end," says Macquarie's Mishra.
Bajaj is also investing in R&D: it pumped in Rs 100 crore to bring out the Pulsar, which was a roaring success when launched and is still the leader in the 150cc segment. The company is currently working on improving its indigenous digital twin spark ignition technology (DTSI) and developing new bikes for Africa. There's also talk of a 125cc bike in the pipeline, but that's all very hush-hush right now. But perhaps Honda doesn't need to worry about Bajaj as much as Hero. "Bajaj never had a product like Splendor and its dismissive attitude towards competition comes in its way," says Krishnan of Business Standard Motoring. "It's content being more profitable by selling higher cc bikes."
No one expects Honda to repeat history, at least, not in the short term. "It has to introduce products that customers want, have a distribution network that reaches out to all customers and segments. And then it needs to offer a value proposition that is different from competition," sums up Rakesh Batra, partner and national leader, automotive practice, Ernst & Young. But there's no denying that Honda is a formidable player that holds promise for the future, despite facing the uphill task of dislodging not one but two strong rivals. Jaydev Singh, a Honda dealer from Barmer, Rajasthan, insists, rather optimistically, that the company is "like a rising sun". If the company does race ahead to become numero UNO, Honda will be living up more to its tagline than its pedigree.