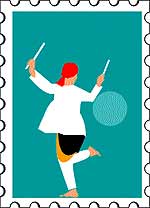 Not Even A Mirage
"Like the Himalayas protect our country from the enemy in the north, Sir Creek protects Gujarat in the west. The Congress wants to expose us to the enemy," thunders Narendra Modi warning his audience of the PM's nefarious plan to give the creek to Pakistan. Usually, Kutch doesn't figure much in any political speech. It's Gujarat's, and India's, largest district but sends only six MLAs to the assembly. It's easy to see why if you travel deep into the Rann from Bhuj. As the city's borders fade, we are quickly enveloped by a searing nothingness, the strip of road vanishing into a white haze ahead. It's marshland on either side, but in the distance there are the Bannis—clusters of hutments amidst tall grass, and myriad birds, where the pastoral folks survive with their herds of cows and sheep. Almost all are Muslims who are not known to figure in any electoral list. As we near India Bridge, the point up to which tourists are allowed, the Bannis too slowly thin out. After a valiant effort by a friend in Bhuj, we've got permission to go till the last Indian checkpost deep inside the Rann, over 100 km from here. Our papers are checked and Neelam, the sniffer Labrador, nods us in. It would seem impossible, but as we drive along the vast nothingness intensifies. The terrain is un-earthlike and lifeless. There is not a single insect, a single blade of grass, not a single sound. An unbearable melancholia takes over, something like the 'Huzun' that Orhan Pamuk described in Istanbul, the thoughts a mix of our insignificance, the transient nature of things and the meaninglessness of things dear to us—a feeling familiar whenever placed before nature's great expanse.
Advertisement opens in new window
---
Pity, A Soldier's Pay
The soldiers at the last Indian checkpost lift our mood. In fact, the mere meeting with another human is enough to improve things. The Pakistani checkpost across the barbed fence is only about 3.5 km away, clearly visible through high-power binoculars, and beyond them scattered villages. From here, Karachi is closer than Bhuj. A cheerful and muscular Jaswant Singh (name changed) gets us a lunch of vegetables, dal, roti, rice, salad, pickle and a sweet. Chicken and meat are on Wednesdays. He says he likes it here compared to any other border posting, as the food is fresh and the weather not very harsh. What does he make of the Pakistani soldiers on the side? "In peacetime, it's more like pity. We can see their uniforms are in tatters and they look so scrawny," he says.
---
Wrong Side Of Trucks
Advertisement opens in new window
Gujarat roads, as promised, are as smooth as Hema Malini's cheeks (or should that be Sonakshi Sinha now?). But it has always puzzled me why India has been denied passable roads for so long—roads are not as complicated as power plants or water supply or setting up industries. They are low-tech and high-labour projects and not too environmentally disastrous or socially volatile either. Anyway, the roads here are great but in recent travels, Punjab, Himachal and parts of Karnataka were as good. And they are not without hiccups. The fantastic state highway between Baroda and Surat is a breeze till you come to Bharuch, where you have to cross the mighty Narmada. The six-lane highway becomes two-lane on the bridge and if you are lucky you can get away with a couple of hours' truck jam. If not, it can be six. But most car drivers have figured a way out—to drive on the wrong side on the extreme left. We crossed this section around midnight, with our cabbie merrily dodging the oncoming trucks with blinding lights at a fast clip. He got fed up with our oohs and aahs at every passing truck, and finally turned around and said: "Why don't you all just doze off, I'll let you know when we reach Baroda."
---
Gourmet's Challenge
Advertisement opens in new window
If you are going to Agashiye for lunch, it's best to skip breakfast. In fact, even the previous night's dinner. And take the stairs to the third floor terrace on top of Ahmedabad's venerable House of Mangaldas. It's also best to avoid business lunches, or anniversary dinners. At this Gujarati thali place, only food rules. There are usually about 23 items and each one is made to perfection. The dhokla is not some spongy, watery, characterless lump. It's substantial, uneven, a bit burnt on the sides where there are sesame seeds. It's incredible. The kadi has the right thickness, the right sweetness that blends with the khichdi that looks gooey but is very, very light. There's no oil floating on any of the vegetables or dals. Even the deep-fried crisps don't glitter with grease. The basundi is the best you would have had. The chhaas may be just curd and water, but it's just perfect. You can fight it, but you will end up taking the elevator down.
---
Ahmedabad
Advertisement opens in new window
Airport is swank and efficient. But don't depend on it to buy any last minute memorabilia from Gujarat. It has only one clothes and handicraft shop called Mir: it keeps stuff from Kashmir.
---
Satish Padmanabhan is Features Editor, Outlook magazine; E-mail your diarist: satish AT outlookindia.com