Indo-US Gains
Security: Counter-terrorism Cooperation Initiative will expand on existing collaboration, information sharing, and capacity building
Environment: Green Partnership to strengthen cooperation on clean energy, climate change, and food security
Education: The Obama-Manmohan 21st Century Knowledge Initiative will provide $10 million to increase university linkages
Health: Establish the Seventh Regional Global Disease Detection Centre in India
Economy: A Framework for Cooperation on Trade and Investment, which will promote technological innovation, inclusive growth and create jobs
Future Course
Greater accommodation of Beijing by Obama could mean bigger problems for India
The longer the war in Afghanistan, the more Obama will be distracted from India
India can't hope for succour every time it takes its Pakistan problem to the US
***
The steady drizzle during Prime Minister Manmohan Singh's four-day visit to the US did not dampen the spirits of his entourage, which perhaps took heart from the Hindu belief that rain on a wedding day is considered propitious. A wet knot, it's said, is difficult to unravel. Obviously, the knot tying India to Washington wasn't ever expected to come apart, strained though it had been over the last few months. The absence of India in US President Barack Obama's important foreign policy speeches, his perceived conciliatory approach to Beijing's growing ambitions, his need to mollycoddle Islamabad for its cooperation in the war on terror—all served to stoke anxieties in New Delhi about Washington's diplomatic priorities.
As Manmohan winged out of Washington, much of these apprehensions had segued into relief, even new confidences, about the bonding between India and the US. Obama hailed India as a nuclear power and "recognised that US-India partnership is indispensable for global peace and security" and for "addressing the global challenges of the 21st century". More importantly, the joint statement the two leaders issued stressed the "absolute imperative" of bringing to justice the perpetrators of 26/11 and agreed to take "resolute and credible" steps to eliminate safe sanctuaries of terrorists in the region, an obvious reference to Pakistan.
"An unstable Pakistan and the Afghan war have prevented Obama from focusing on the partnership with India."


—R. Nicholas Burns, Former undersecretary of state
But these are still early days to tell whether Obama will translate his rhetoric into action. Writing in the Boston Globe, R. Nicholas Burns, the indefatigable undersecretary of state in the Bush administration, notes US-India relations under Obama have stalled on some critical issues—terrorism, climate change, trade, and, potentially, future sanctions against Iran. But beyond these factors lies the Obama worldview: his principal focus has been the ongoing war in Afghanistan and an unstable Pakistan, which has prevented him from paying attention to what Burns calls the most important bipartisan achievements of the Clinton and Bush years—the creation of a long-term US partnership with India. He then adds, "Few issues will be more important to Americans in the next half century as the global balance of power shifts towards Asia." For India, much will depend on how the US handles the inevitable jostling for power in Asia.
The question is, how much should be eked out from the ceremony of the red carpet. To be sure, there is more than empty formalism here—Obama-Manmohan did share a warm, if understated chemistry. Ashley J. Tellis of the Carnegie Endowment for International Peace told Outlook, "If leaders feel they can trust one another, it is the lubricant that makes all other interactions go very smoothly." Days before Manmohan arrived in Washington, sources say Obama had been excited about his interaction with Manmohan. "He has a great respect for the Indian PM and takes his advice very seriously," one official said, speaking on condition of anonymity. This was evident from the way Obama listened as Manmohan delivered a scripted toast in a low monotone at the state dinner.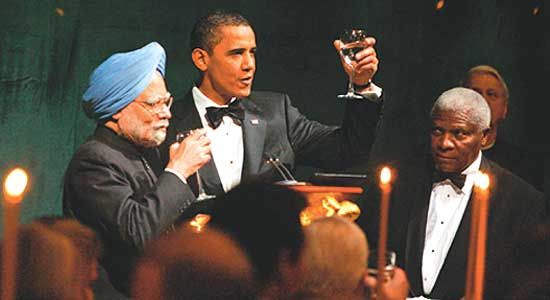 Obama and Manmohan raise a toast to a new chapter in US-India relations
Washington was indeed abuzz with excitement about the lavish White House state banquet hosted for the PM—the first such under the Obama administration. Some analysts seized upon this fact to wax eloquent about the symbolism inherent in Obama's gesture, drawing sweeping conclusions about India's salience in his worldview. State dinners traditionally honour heads of state. Apart from India, exceptions have been made for Israel and Britain, where prime ministers are not the heads of state. There are other facts. Mexico has dominated the list of first state dinners hosted since 1977. South Korea and Egypt are others to have been extended this honour. Should this list not suffice to dampen Indian spirits, hear what Obama's special envoy, Richard Holbrooke, declared in Pakistan, "And no one in Pakistan, and no one in any other country, should read this (Manmohan's state visit) as a diminution of the importance we attach to them."
Nevertheless, India was the flavour of the day at the White House. First lady Michelle Obama's strapless, floor-length, champagne-coloured gown—the creation of Indian-born designer Naeem Khan—was accessorised with shiny Indian churis. The deep purple flower arrangements at each dinner table paid homage to the peacock, India's national bird. And, perhaps most notably, in a sign of bipartisan support in Washington for the US-India relationship, guests at the White House dined off plates belonging to George W. Bush and Bill Clinton's state china services. A beaming Obama welcomed guests to an elaborate tent on the South Lawn of the White House with three simple words: "Aapka swagat hai."


"There is greater realism about India's capacity to do some of the things that may be expected of it."


—Ashley J. Tellis, Carnegie Endowment for Intl Peace
But the shadow of China and Pakistan did loom large beyond all that bonhomie. New Delhi has been worried that the Obama administration, in its zeal to secure Islamabad's support for the war on terror, isn't pressuring Pakistan to dismantle the terror infrastructure directed against India. Tellis says this fear has been largely allayed during the PM's visit: "The principle that the Obama administration will hopefully articulate in the weeks and months ahead, but which it has recognised quite clearly in the aftermath of the conversations with the prime minister and his team, is that Pakistan cannot persist with its strategy of confronting terrorism selectively." Obviously, the US will engage Pakistan, but this will hopefully be without illusions about Islamabad's strategy of harnessing terrorism as a foreign policy instrument.
Both Manmohan and Obama discussed China, particularly the controversial joint statement through which the US seems to have granted a supervisory role to China in South Asia. Obama assured the PM the statement did not extend the right to China to mediate in Indo-Pak disputes. On his part, the PM described Beijing's inexplicable assertivenes over the festering Indo-China border dispute. Analysts believe India's anxiety over the US-China joint statement was "completely understandable". Apart from its consistent objection to third-party mediation, India doesn't see China as a disinterested party in the South Asian security competition.
As the global balance of power shifts to Asia, it will be America's challenge to manage it. Invariably, Washington will engage both Beijing and New Delhi. Yet many Americans say the US doesn't fear a rising India because of the values the two countries share. As New York Democratic congressman Gary Ackerman said, "India's values are our values. India is a real democracy, with real institutions that are subordinate to the rule of law."
Analysts believe Manmohan's visit conveyed to the Obama administration a better understanding of India's position on China. This was necessary as many in India thought Obama had been reversing the policies of the Bush administration, which had courted New Delhi to become, as some had suggested, a counterpoise to China. Tellis doesn't agree, "During the Bush administration, we never thought of India as a counterweight to China in any mechanistic sense. The way we thought about it was that a strong India is in American interests. I think the basic proposition has not changed—at least I hope it has not changed." But Tellis accepts that the "stylistic colourations" of how Bush and Obama express their opinion about India's importance obviously differs.
Indian officials are satisfied that India's concerns on central issues—Afghanistan, Pakistan, China and terrorism—had been heard loud and clear in Washington. In addition, the visit produced tangible gains. As Tellis says, "Despite all the trepidations that preceded it, I think the final outcome has been very satisfactory and very welcome to both sides."
No doubt, it would be too much to expect the Obama administration to back down on several substantive issues—climate change, non-proliferation, China—because these positions are tied to its perceptions of what US national interest requires. As Burns cautioned in his Boston Globe piece, "Indians should...not view every American initiative through a zero-sum lens." To which Tellis adds, "There is clearly a better understanding of why India has taken the positions that it has. There is greater realism about India's capacity to do some of the things that may be expected of it. Thus, there is reason for optimism."
One can only hope US and India will follow the advice offered in Horace's Latin poem: Carpe diem (seize the day).