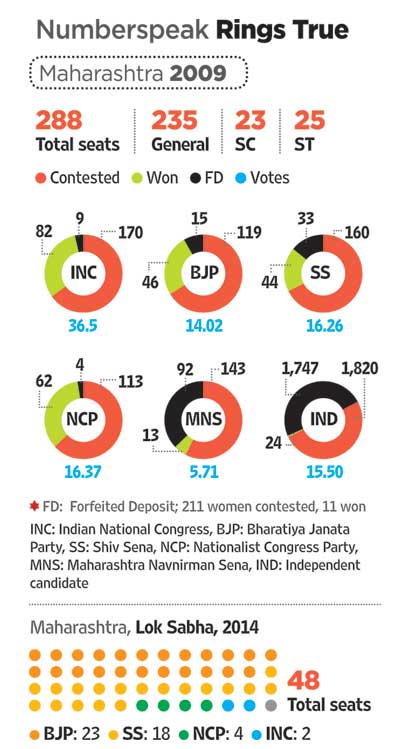 If there is one thing Prime Minister Narendra Modi hates, it is roadblocks in the autobahn to progress he wants to fast-track the country on to. The Lok Sabha election has certainly put him in the driver's seat, but he wants to be at the wheel in the states as well. This intent is redefining the political map of Maharashtra. A state that had been home to a stable binary of coalitions in recent decades—one centrist, one rightist—is now split wide open. After a handful of reversals in recent bypolls, Modi is pulling out all stops to deliver a majority to the BJP—preferably on its own. Ranged against him is a confusing medley of former (and potential future) allies and rivals, which includes the shattered pieces of another coalition. The outgoing Cong­r­ess-NCP dispensation, at the end of a 10-year reign, looks to be staring down the barrel. As judged from inside the Modi campaign, they're simply part of the irritants and roadblocks in his path. Remove them, and he'll deliver even the moon—Mars being done already.
The juggernaut of resources, manpower and rhetoric unleashed by the BJP seems to have caught rivals off guard. The relative strength on the ground is anyone's guess but it's created an overall impression of regional parties like the Shiv Sena, the Maharashtra Navnirman Sena and the Nationalist Congress Party being caught in a rearguard action for political survival. Rule by a single party will dim their political relevance, which explains not only their no-holds-barred campa­ign, but also the curious fact of their rhetoric seemingly converging on key themes. The three parties—on different sides till recently—have adopted a strikingly similar pro-Maratha vocabulary against the BJP. Even as that hints at a potential axis, neither the BJP nor the Sena-MNS would be averse to coming together in a post-poll scenario either, should circumstances so demand. The BJP, of course, would like to be the dominant partner in any such coalition.
But right now, former allies are engaged in a venomous verbal battle. "This is the most vicious election I have seen," says academic, veteran journalist and analyst Aroon Tikekar. "In the absence of genuine leaders, everyone—Udd­hav Thacke­ray, Ajit Pawar, Narayan Rane, Prithviraj Chavan, Pat­angrao Kadam—wants to be CM. Legitimate ambitions should be accompanied by civility. But nothing satisfies this crop of politicians." Unacc­ounted cash is cropping up regularly in police raids across the state, fuelling speculation about black money in an election that was supposed to stretch everyone's finances as all parties go it alone all over the state after a long time.

Rallying cries Shiv Sena jamboree at Junnar
The rhetorical exchange between the Sena and BJP has been more colourful—with the former calling the BJP a traitor and Uddhav comparing Modi to Afzal Khan and the BJP taking digs at those who took Shivaji's name and collected hafta. (Although Modi, after a nasty salvo, said he would desist in honour of Bal Thackeray.) Even Raj Thackeray, who has shown signs of chumming up with his estranged cousin, criticised Modi for using government machinery for campaigning in the state. "This is indeed a theatre of the absurd," complains Loksatta managing editor Girish Kuber. "It has never happened that all parties have stooped to this level. Not one leader has statewide appeal."
"If a non-BJP state government stands with the Centre, it's one plus one, two. With a BJP state government, the total is 11."
"Gopinath Munde's death has undoubtedly created a leadership void," BJP's Madhav Bhandari too acknowledges. "It is very recent, unlike Vilasrao Desh­mukh's demise. It is true that all parties are missing a senior leadership. There is no leader with the kind of experience Munde had. I have been active in politics since 1980 and this is perhaps the first time there are no mass leaders across party lines." So much so that BJP president Amit Shah floated as fresh a name as Pankaja, Munde's daughter, as a possible CM candidate.
The widespread fear of a fractured verdict has made the parties desperate, hence the urgency of all other parties to collectively target the BJP, which opinion polls suggest could be well within sniffing distance of the majority mark of 145. Internal surveys done by the party itself project 150 seats.
No prime minister ever has addressed 29 rallies in a state for a Lok Sabha election, much less an assembly poll. Modi is campaigning as only he can, addressing meetings from Mumbai to Nagpur, Beed to Konkan. And when he is not physically present himself, he is on hoardings and billboards, sharing space with the icon Maharashtrians revere the most, Chha­trapati Shivaji Maharaj. The slogan on the billboard says it all: "Chhatrapati ka aashirwad, chalo chalein Modi ke saath (with Shivaji Maharaj's blessing, let us follow Modi)." The great Maratha warrior has thus been coopted as an enabling element in Modi's campaign. At the Mahalaxmi rally in Mumbai, he told the audience, "We are all descendants of Shivaji Maharaj. This is the land of Shivaji and his success lay in creating Hindavi Swaraj with the help of small people—I am a small man and think small things for small people."
In each rally that he addresses, Modi begins with a few words in Marathi and regularly invokes Marathi icons and Maratha pride. His professed reverential remarks towards Balasaheb were of a piece with this—it helped him thwart the Sena's charge of being pro-Gujarati and anti-Maharashtra, while leaving open the door for a post-poll alliance.
BJP has managed to take the four smaller parties in the Mahayuti alliance as with 288 seats, it can be more generous.
Modi's mission is to woo the Marathi manoos in a state where the BJP has played second fiddle to Sena's regional chauvinism for 25 years. He wants maximum numbers for the BJP and the Modi blitzkrieg, successfully tested in the Lok Sabha polls, is being tried again within four months amid whispers that his charm may have begun fading.
The BJP campaign in the state therefore is on the lines of the hugely successful Lok Sabha ad campaign. If the tagline for the national campaign was "Janta maaf nahin karegi", in Maharashtra, the pointed query is "Kuthe neun thewlay Maharashtra majha (where have you taken my Maharashtra)?" Like the earlier campaign, angry and disappointed people from various walks of life rant about all that went wrong during the Congress-NCP regime in the state. And like the exhortation 'Ab ki baar Modi Sarkar', this ad too ends with a call to support Modi.
A BJP victory in Maharashtra will be seen as redeeming the political stock of PM Modi. Senior BJP leaders in Delhi confirm that the "Maharashtra polls are a prestige battle for Modiji. We lost the bypolls in UP because he did not campaign there. He must campaign in Maha­rashtra because it is an important state."

NCP show in Kolhapur. (Photograph by Apoorva Salkade)
As much as the party's local fortunes, Modi has put himself at stake in Maha­ra­shtra. The UP bypoll defeat is weighing heavy, and with the break-up with an old and trusted ally, Modi cannot afford to become the villain of the piece. He has to do well to keep the myth of the Modi magic going at the national level. It is also the only way the BJP can overcome its rather obvious shortcomings on the ground and go for a majority on its own.
"Narendra Modi didn't attend Gopinath Munde's funeral but is busy addressing 25 rallies for the assembly election."
Little wonder Modi is campaigning like a CM candidate. In rallies, he takes on the Congress-NCP regime and charges them with rampant corruption. He talks of changing the state's image from scams to skills; even of pulling it ahead of Gujarat. What he is trying to present to Maha­rashtra is the vision of an integrated development of India. He talks about his visits to Japan and the US, and the concessions he has got India from his foreign counterparts. In all this, the message is the same that he promised in the Lok Sabha campaign: Vote a clear single majority for development and growth.
But how does this grand strategy play out on the ground? While the Shiv Sena is scared of the BJP making a dent in almost 120 constituencies across Par­bhani, Raigad, Sindhudurg-Ratnagiri, Mumbai, Thane, Nashik, Pune, Amravati, Akola, Buldhana and Aurangabad, the MNS wants to safeguard its own pockets of influence in Mumbai, Thane, Nashik, Pune and Kalyan-Dombivili. Many are wondering if the Thackeray cousins would combine their strengths in a post-poll alliance to keep the BJP at bay. The last time the BJP and Sena contested an election independently of each other was before 1989, in the pre-Babri Masjid era. Despite the RSS being headquartered in Maharashtra, the BJP has never really had a huge presence in state politics, and has mostly been the junior partner in its relationship with the Sena.
The Congress and NCP likewise have not contested independently in the state since 1999. That explains why Modi is a common enemy for Congress-NCP as well. Even as NCP chief Sharad Pawar is facing the heat from incumbent chief minister Prithviraj Chavan over corruption charges against NCP leaders and nephew Ajit Pawar, it is Modi he is directing his barbs at. He made public his concern over the PM's continued absence from New Delhi because of election campaigns and thus "degrading the institution of the prime minister's office." Chavan himself has declared: "The Modi magic is over already. It was evident in the UP bypoll results."
An overarching hurdle before almost all parties is the absence of any towering mass leadership. The Sena lost Bal Thackeray, the Cong­ress Vilasrao Desh­mukh, BJP Munde. Ashok Chavan, one of the few to win Lok Sabha seats this election, is embroiled in the paid news controversy. Ajit Pawar has enough dem­ons of his own—the irrigation scam, his insensitive remarks about drought hau­nting him. Uddhav may be trying hard but is finding it tough to whip up the aggression and frenzy his father could.
"With the changing character of media, unless channels or English media pick up a leader's work, it does not go beyond the local."
But ask party spokespersons and they deny crisis of any sort. "We do not have any leadership crisis," says Congress MLA Krishna Hegde, a close associate of Priya Dutt. "Chavan is our leader and there are other leaders too. We'll showcase our work in the constituencies. I'm sure of people's support." Kuber questions Hegde's confidence. "Yes, the Congress has Prithviraj," he says, "but he has no support at the state level. A clean image with no grassroot connect is not going to help." And Rane, who had a mass base in Konkan, can no longer claim it after his son lost the Lok Sabha elections.
The NCP feels it is better off than other parties, with Sharad Pawar as its guiding light. "Although other parties do not have many senior leaders, we are fine," says NCP spokesperson Nawab Malik. "Not only is Pawar guiding us, other leaders like Ajit Pawar, R.R. Patil, Chhagan Bhujbal too have a following."
"The transition of leadership from local to state and to national is a very difficult process," says senior Sena leader Neelam Gorhe. "Over the past 10-20 years, with the changing character of the media, unless the work of a leader is picked up by TV channels or English media, it does not reach beyond the local level. First step of that transition is vision and having an agenda." The Thackeray leadership, he is convinced, is unchallenged in Maharashtra, also because of their vision.
"Except for the BJP, there is no leadership crisis," says Delhi-based journalist Praveen Bardapurkar, who has covered the state's politics for decades. "All others have a face—Chavan, Pawar, Udd­hav. The test is about whether each party can get the additional seats needed for forming government. Otherwise each one will get votes as per the Lok Sabha share."
In the absence of a strong leadership, say analysts, the lower rung is confused and protecting its own interests. Three of the four smaller parties in the Maha­yuti alliance—RPI (Athavale), the Swa­bhimani Shetkari Sang­athan, Rashtriya Samaj Paksha and Shiv Sangram—had walked out before the BJP Sena allia­nce came undone. But post-split, they have chosen to back the BJP, which can now afford to be generous with seats. Also, with all five major political formations fielding candidates in all 288 constituencies, turncoats are having a field day. The BJP itself is fielding over 50 candidates who were earlier with the Congress, NCP or the Shiv Sena.
The last time the BJP and Shiv Sena contested independently of each other was before 1989, in the pre-Babri Masjid era.
"The number of defections show that there is no ideology or agenda among the parties or their leaders," says Yuvraj Mohite, an activist journalist and former associate of Mrinal Gore. "No one is addressing the fact that there is no third front. Despite a record number of candidates, they all sound the same and there is no viable third option, say like aap or any other party, for the voters." In their frantic efforts to act different, political parties are looking increasingly like each other, promising 'development' and leaving voters utterly confused.
Says Dr Ajay Nair, who runs a medical helpline for the poor, "After all the hype of India voting for development in the last elections, these state elections seem like business as usual—dirty fights, scheming and horse-trading. Not a single leader has shown any real leadership or talked about a clear agenda." "So many candidates are coming and meeting us, we can't even recognise them," says an angry Husseina Mahabaleshwarwala, a South Mumbai resident. "Too many leaders, too many parties here," says Aniruddha Joshi from Pune. "We should have a two-party system like the US."
Some see the situation as a blessing in disguise. "In a way, it is good," says Kuber. "All parties will know its worth. The regional ones will go to any extent so they are not rendered irrelevant. It is the most uncertain poll, simply unpredictable."
The tagline BJP is using against the Congress-NCP is ironically the most telling comment on the state of affairs in one of the most progressive and developed states of the country. Really, "where have you all taken Maharashtra?"
And even before the Modi wave can wash over the Marathi-Gujarati divide, stoked by the Sena and MNS, a barrage of jokes has hit its ad campaign, religiously forwarded by all other parties. Modi himself has not been spared: Lok Sabha Election: Modi; Assembly Election: Modi; Market Committee Election: Modi; Panchayat Committee Election: Modi; India's PM: Modi; CM of all states: Modi. One day his mother will ask, "Where have you taken my Modi!"
***
Barb-E-Cue Nation
"BJP's intention is to break the state into pieces ( Gadkari and Fadnavis are promising a separate Vidarbha) but Team Modi will be made to bite dust…a tiger will always be a tiger." Uddhav Thackeray Shiv Sena
"They never even celebrated Shiv Jayanti and suddenly they have realised the importance of Shivaji…in history books of Gujarat Shivaji is called a plunderer. It's an insult." Sharad Pawar NCP

---

"Why did the entertainment programme in the US feature Garba dance and why did Barack Obama speak to Mr Modi in Gujarati and not in Hindi ?" Raj Thackeray MNS

"There is a conspiracy to belittle Maharashtra's stature and Mumbai's importance and Prime Minister Narendra Modi is trying to achieve what Morarji could not in the 60s." Narayan Rane Congress
***
SWOTwise How They All Measure Up
BJP
Strengths: Modi blitzkrieg, appeal as PM, promise of better Centre-state ties
Weaknesses: No state-level leader post Munde's death, not having Sena's network
Opportunities: Marginalise regional players, control Mumbai and consolidate
Threats: Shiv Sena and MNS's fierce campaign for political survival and attempts to paint BJP as pro-Gujarat
Congress
Strengths: Clean image of Prithviraj Chavan
Weaknesses: Dissension, no people connect & waning appeal of Sonia-Rahul
Opportunities: Routed in the Lok Sabha poll and chance to rebuild after split with NCP
Threats: More scandals surfacing, getting marginalised in a traditionally pro-Congress state
Shiv Sena
Strengths: Grassroots network, strong people connect in several pockets
Weaknesses: First poll without Bal Thackeray, split with BJP just ahead of election
Opportunities: Establish Uddhav Thackeray as heir to Bal Thackeray
Threats: Both Modi and MNS chipping away traditional Sena votes, reducing tally
NCP
Strengths: Towering Sharad Pawar, the only national leader from the state
Weaknesses: Image of being a party of bullies with muscle and money power. Irrigation scam, corruption charges.
Opportunities: Regional, secular alternative to Sena-MNS
Threats: Image of a corrupt party and Ajit Pawar's shenanigans
MNS
Strengths: Raj remains one of the few leaders with charisma and mass appeal
Weaknesses: Electoral performance over the past few years less than flattering
Opportunities: Sena-BJP split provides revives possibility of new alliances
Threats: If people go with original Sena, MNS may not have new agenda left
Based on inputs from Nikhil Wagle, political analyst and veteran journalist
***
Maharashtra Poll/Region wise
What's Hot And What's Not
North Maharashtra: When NCP MLA Dr Vijaykumar Gavit's daughter Heena joined the BJP and defeated nine-time Congress MP Manikrao in the Lok Sabha election, her father was expelled from his party. Now he too has joined the BJP and is contesting as the party's candidate while his brothers are NCP and Shiv Sena candidates in neighbouring constituencies. Bhujbals from Nasik are fighting corruption charges.
Konkan: Once known as Narayan Rane's fortress, the clan's fortunes suffered a setback when his son lost the Lok Sabha election. Despite the rout of the Congress in the general election, Rane is heading the poll campaign of the Congress and the clan's ability to stop or slow down the Modi wave will determine its political future.
Mumbai: The battle for Mumbai will be between Marathis who secretly dislike Gujaratis and the latter who are committed BJP voters. Although ex-CM Chavan showcased the Eastern Express Freeway, the metro, the monorail and the Sahar corridor, the city, grappling with population and healthcare challenges, is not too impressed.
Western Maharashtra: The Maratha lobby, sugar cooperatives and farmers are traditional Congress and NCP supporters. The state govt declared reservation for Marathas as special category OBC. One needs to see if the Rs 70,000 irrigation scam, the white paper that followed adversely imp­act NCP's CM candidate Ajit Pawar.
Vidarbha: Traditionally a Congress bastion, it has moved towards the Shiv Sena and the BJP. Known for farmers' suicides, lack of irrigation, high cotton prices, Rahul Gandhi's meeting with farmer widow Kalavati and UPA's loan waiver package, it is now in the news for BJP's endorsement of the demand for a separate Vidarbha despite opposition from the MNS and the Shiv Sena.
Marathwada: A Shiv Sena and NCP stronghold, the region has been hit by drought, hailstorms, poor rainfall and, politically, the untimely demise of Gopinath Munde, killed in a freak accident in New Delhi days after being sworn in as a Union minister. In the news for BJP president Amit Shah's statement about his daughter Pankaja as CM.
---
By Prachi Pinglay-Plumber and Prarthna Gahilote in Mumbai