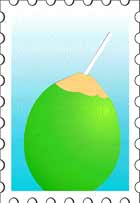 Serendipitous
You can tell the Sri Lankans have moved on. No more headlines of people being blown up in buses. Instead, the newspapers talk about new SOS villages for war orphans and the government's running battle with human rights watchdogs wanting to investigate war crimes, in between reports of a Colombo fashion week, a trade fair, a hugely popular litfest and a forthcoming music festival featuring top singers from across the world which is expected to attract thousands of people. Galle, where we are headed over the recently built expressway, is a festival destination like no other. The devastation wreaked by the tsunami is already a distant memory and the quaint 16th century fort built by the Dutch and frozen in time, thanks to being declared a unesco heritage site, is humming with tourists. Almost all the 400 houses in the fort have turned themselves into hotels or jewellery and anitique shops. Judging by the arrivals in January, the government is expecting the number of tourists to touch one million by the end of 2012. The majority, of course, are from West Europe: the combination of clean beaches, sun, heritage hotels and South Asian hospitality is hard to resist, I guess. The second highest are tourists from India: cheap airfares and hotels is a bargain we find equally hard to resist. There are over a hundred of us arriving from the US, Hyderabad, Delhi and Chennai for the other thing the Sri Lankans are getting good at: destination weddings. In the same week that my nephew is getting hitched, spread across three boozy days and nights of partying, outings and rituals, two more non-Sri Lankan couples are getting married in Galle.
---
Power is Pelf
Driving from the airport to the expressway, we are greeted by giant hoardings of ministers declaring their good intentions. But our bus driver, a Sinhalese who has taught himself English, is not impressed. "Dirty fellows," he says laconically, a point of view shared by half of the Lankans polled in a Transparency International survey recently. In a nation where corruption goes as deep as in its giant neighbour's—no one has yet been chargesheeted in their biggest `4 billion Vat scam, unearthed ten years ago—Sri Lankans consider their politicians and cops the biggest villains. Even the quaintly named enquiry commission set up by President Mahinda Rajapaksa—Lessons Learnt and Reconciliation Commission—admits that the political culture has come to a stage where people have to depend on politicians for basic services and amenities. For instance, our driver, Samar, wanted to get his son into a government-run school, which are supposed to be free. But the waiting lists at the few government schools that are still in running condition with qualified teachers are so long that he had to offer his services as a driver in a minister's election campaign before his child could be enrolled. But Samar says he took his revenge against the minister: he didn't vote for him.
---
Modern Chimes
I didn't envy our young Sinhalese event manager her job: 100 guests, over 300 suitcases of wedding togs, three busloads of wedding guests aged anywhere from ninety to nine months to be ferried from two or three hotels across town to different lunch and dinner venues; juggling the bride's demand for the most picturesque wedding pandal with the needs of guests with arthritic knees; jasmine garlands, wedding musicians.... Fortunately, she didn't have to provide a pandit for the Hindu rites, although I'm sure she would have come up with one if asked. We brought our own priest—priestess, rather—a friend of the bridegroom's mother who comes with her own music CD and Vedic prayers adapted for modern times. It was a fusion ceremony: Do you so and so, son of Smt...& Sri..., grandson of Smt... & Sri..., take this woman etc etc. The seven vows, or was it five? It was hip Hindu, and everyone, old and young, who has sat through interminable, incomprehensible Hindu marriage rituals, loved it. The flautist hired for the sangeet also took some liberties with "Indian" music: he started with the Jana gana mana, and went on, for some unfathomable reason, to Gandhi's favourite hymn: Raghupati raghava raja Ram. And back at the hotel, around midnight, I wandered into the kitchen to find this strange sight: six or seven young men in chef's aprons, peering over a giant cauldron with all the gravity of brain surgeons. They were just about to begin the process for India's signature dish: paneer.
---
Rest Room
My favourite reading, especially in a new country, is the obituary columns in the newspaper. The Sri Lankan ones were revealing: of the three notices in one column, one was an invitation to attend a Christian burial (in the Roman Catholic section of the cemetery), the next a Budhist cremation, followed by a Muslim burial. How's that for a melting pot!
---
While I Was, There...
A Sri Lankan official was being prosecuted. His crime? Breeding dengue mosquitoes in his residence.
---
Sheela Reddy is Books Editor, Outlook
E-mail your diarist: sheela AT outlookindia.com