The term horse-trading instantly brings to mind seedy politics; of mlas being spirited away to resorts, out of the reach of rival political groups, and "persuaded", with wads of cash, to change sides—or not. But Anthiyur village, 40 km from Erode, witnesses a very different kind of horse-trading every August. The horses have four legs, not two; and while politicians buy and sell here, they are neither bought nor sold.
The annual Anthiyur kuthirai santhai (horse market) takes place in a prosperous region, fed by the Bhavani and Cauvery rivers, lush with paddy, turmeric and sugarcane crops. Its context of rural prosperity explains the popularity of horse-trading in these parts. Owning a horse is an affordable luxury for many farmers here. It's also de rigueur for local politicians, with their deep pockets, to have a Kathiawari or two hanging about their stables.
No one knows when the fair began, but folklore has it that it was inaugurated by Tipu Sultan on one of his visits to the region.
But the horse market is by no means just a local fair. The traders come from all parts of the country, and the horses traded include prominent Indian breeds like Kathiawari, Marwari and Nokra horses, English steed, and even race horses, from neighbouring Karnataka and further afield—Punjab, UP and Maharashtra. No one really knows when the fair started, but folklore has it that this area used to be the stomping ground of Tipu Sultan and he inaugurated the fair during one of his visits to the place. Some take that story with a pinch of salt, but there is little doubt that the fair is very old. Recalls Dhananjay Kumar, a twentysomething merchant navy officer with a Hong Kong firm, "My grandfather used to bring horses here when he was a boy."
As we watch, his own father, S. Dhesa Kumar, who supplies horses for marriages, carriages and shootings, entertains the crowd with his Kathiawari dancing horse. Dhesa Kumar's clear commands in Tamil have the horse bucking and retreating, even doing a "salaam" while the bells on its hooves tinkle in rhythm to the music. A 36-year veteran of the equestrian fair, Dhesa Kumar is the proud owner of 26 horses, including five dancing horses costing Rs 5.50 lakh each. These horses earn up to Rs 15,000 an appearance at marriages and other events, such as grand welcomes laid on for political bigwigs.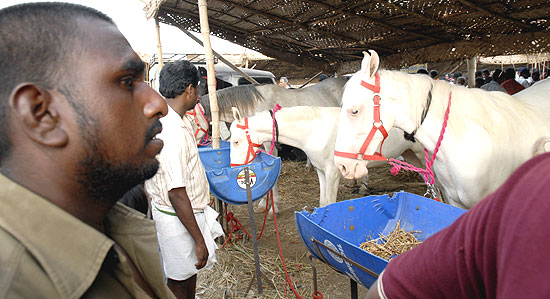 Horses on display
The festival also attracts a class of people for whom owning a horse is a sign of machismo, like Sengottayan, owner of three, who declares: "You need guts to own a horse, because horses can do anything anytime." One look at C.R. Siva, who keeps a veritable fleet of horses in his stables near Trichy, makes it amply clear that horse-owning, big money and status go together. Big on bling, Siva sports a thick gold bracelet, innumerable chains and signs of his allegiance to the AIADMK—the initials 'MGR' tattooed on his right arm and a ring with a picture of Jayalalitha on his left hand. His horses appear regularly in films. "I've brought 15 horses to the santhai," he says, nodding at his stable boys, busy grooming and feeding horses, and cooking and cleaning at the back of the tent for Siva's entourage.
Kuthirai santhai or horse market is a misnomer for the fair, because there is plenty of cattle on display, too, in this 4 sq km area, including jerseys and kangeyam bulls (a pair can go for Rs 1 lakh), and goats. This year there was also a camel, a pair of swans and a ram and an ewe. The fair is a chaotic affair so figures on the number of participants are guestimates, at best. These suggest that 500 horses and 10,000 cattle came this year.
T.S. Shanthappan, a trustee of the Gurunathaswamy temple (the fair is an offshoot of its week-long festival), says it is difficult to put a figure on the sales that take place at the fair because many deals are struck away from the bustle of the market. "But you cannot get away with selling a defective horse. Thanks to the way people pool information, everyone knows everything about a horse on display," says A.L. Karthikeyan, who runs a pharmacy, and is also the proud owner of two horses. The market grapevine has it that last year, the turnover was in the region of Rs 10 crore.
Two years ago, a white male Nokra fetched Rs 6 lakh and a white Geddawady was sold for Rs 5 lakh. This year, a Kathiawari albino was sold for Rs 4.1 lakh, reportedly to an actor from Karnataka. But high-breed horses are relatively few; there is also an abundance of mules, used to ferry loads and draw carts, which change hands for Rs 500 to Rs 1,000, sums that would seem absurd to a city-dweller, who pays that much for a meal in a restaurant.
The sale of horses has increased over the years, says A.G. Venkatachalam, Anthiyur town panchayat chairman. "People here also buy a horse because their raashi (horoscope) says they will become prosperous," he explains. "Nine suzhis (markings) is ideal—three on the face, two each on the chest and back and two on either side of the ears," says K. Dorai, counting the suzhis on his majestic pure white (albino) Nokra. "I'll sell if I get the right price," he shrugs, meaning he'll hand over the reins if he gets Rs 2.5 lakh for a horse for which he paid Rs 1.75 lakh.
Dorai, son of former Tamil Nadu minister N.K.K. Periaswamy and brother of N.K.K.P. Raja, a DMK minister who was forced to resign recently over allegations of land-grabbing, is from nearby Appakudil where the family owns a 50-acre farm. Dorai rides his three horses on his farm every week. "Even land-owning doctors, lawyers and business magnates buy horses for status," says Karthikeyan, who spends Rs 3,000 a month on the upkeep of his two horses. For people like him, he explains: "Owning a horse is like going to a cinema, you gain nothing, but you enjoy watching."