Focus Pachauri
Charges and Pachauri's responses
Conflict of interest in formulating climate policy and heading TERIi, which gets sizeable research funding in areas like glaciology and renewable energy and is a big player in green business opportunities.
"TERI's financial model is based almost completely on financing of projects, so it's no surprise that we have a relationship with a diverse range of donors/clients."
Helping the Tatas—who helped set up TERI—benefit from carbon trading.
"We are proud that our genesis is linked to the Tata group…but we have no special relationship with this group and nobody can accuse us of having ever worked for their corporate interests."
Doublespeak in promoting fossil fuel use via association with oil companies while harping on green fuels.
"Efficient use of fossil fuels, which is the consequence of our MEoR technology, is an important first step in the transition to a fossil-free energy future."
***
"Science is facts; just as houses are made of stones, so is science made of facts; but a pile of stones is not a house and a collection of facts is not necessarily science."
—Henri Poincare, French mathematician
The irony hasn't escaped much of the world shivering through an extremely cold winter. The science of climate change is feeling some real heat. For now, at least, it's got nothing to do with the weather. It's about facts—and for many, misplaced trust. A growing media attack has led to an embarrassing setback for the high priest of climate change, the UN's Intergovernmental Panel on Climate Change (IPCC). Climategate (the leak of e-mails between scientists) in November 2009 has since escalated to Glaciergate, Pachaurigate and Amazongate. Charges and counter-charges by lobbyists, scientists and environmentalists are finding increasing space in the media.
"I don't want to get into personalities.... IPCC is carrying out due diligence and has admitted its error."
The very basis of climate change is suddenly under attack. The babble of sceptics is gathering strength with allegations of political, commercial and scientific pressures being used to twist facts to dictate agendas of the various vested interest groups. It's not just the sincerity of over 2,500 eminent scientists that is under the lens. For schoolchildren who have spent years learning about global warming to some of the scientists associated with IPCC, the experience has been disheartening.
Complicating the picture are other pulls and pressures: countries pinning hopes on funds flowing from rich nations to undertake mitigation measures are anxious that climate concerns are not scuttled. It doesn't help matters that the media attacks stem from the UK and Australia—who, along with the US, have been dragging their feet on taking on Kyoto Protocol commitments.
At the heart of this messy situation is one man: Dr R.K. Pachauri, the head of IPCC, who is under attack professionally and personally. Leading UK papers have accused Pachauri of misusing his positions as head of the climate change panel and director-general of the Delhi-based research institute TERI. While Pachauri has denied the charges, he remains under intense pressure to quit.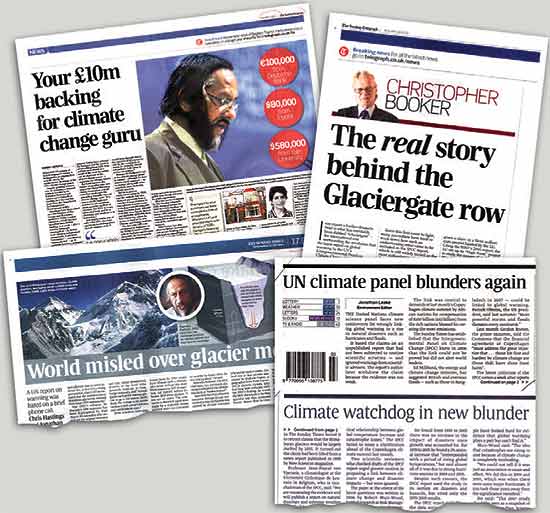 In the news Daily Telegraph (top two) and Sunday Times (bottom two) of London blow the lid off Pachauri's claims
The media pressure has forced IPCC to admit a major mistake in the Asian section of the fourth assessment report (AR4) published in '07 that refers to the possibility of the Himalayan glaciers disappearing by 2035 (300 years wide of the projection) if the current pace of carbon emissions continue. It's this section that set alarm bells off as the Himalayan region is source to 10 large Asian river systems. The rivers provide water to one-fifth of the global population.
"Scientists will now be more cautious vis-a-vis research...this could dilute concerns about Himalayan glaciers."
Clearly, the IPCC's decision to digress for the first time from well-researched and peer-reviewed reports to use "grey material" has badly backfired. These were sourced mostly from media reports and unpublished research material—but are now being described as "bogus science" set to create a scare. Indeed, before the retraction, the bit about the glaciers had set off alarm bells over the need to act on global warming, particularly the consequences of sea levels rising.
"No deliberate motives should be attached," stresses Dr Murari Lal, CESDAC chairman and one of the lead authors of the offending chapter on the Asia section. But the fact that the errors "inadvertently skipped our closer attention and was somehow missed during the several review processes as well" has come in for some flak and disbelief. The focus has naturally shifted to senior scientist Prof Syed Iqbal Hasnain, then chairman of the International Commission for Snow and Ice's working group on Himalayan glaciology, who had provided the date.
Taking collective responsibility for the "typographic errors that crept in", Dr Lal wonders how a senior scientist like Hasnain "who has received the highest honour is now denying it (the statement) and stating it is speculative". It is indeed curious that Dr Hasnain, who had also raised an alarm in '05 over a possible threat to the Siachen glacier due to heavy military presence, chose to keep quiet about the 'Himalayan blunder' till now. Dr Hasnain was unavailable for comment.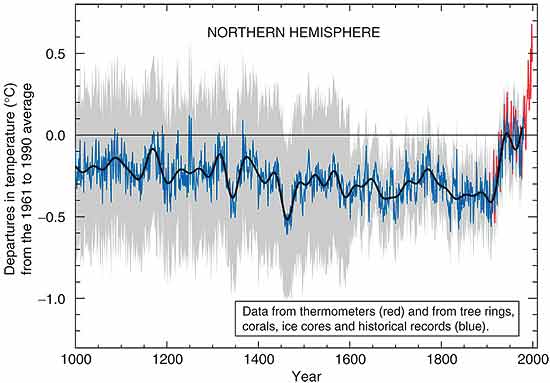 IPCC's 'hockey stick' graph
Of course, all this became magnified when Dr Pachauri referred to the discussion paper of a senior glaciologist, Dr V.K. Raina, commissioned by the ministry of environment and forests, contradicting AR4 projections as "voodoo science". This only served to escalate the "frigid air" between environment minister Jairam Ramesh and Pachauri (which were already strained due to differences over India's action plan in the run-up to the Copenhagen summit, according to official sources).
"Can you imagine... Dr Hasnain, who has received the highest honours, is denying his own statements."
Raina, who had also contradicted Hasnain's Siachen report in '06, strongly refutes the projection of 2035 for Himalayan glaciers vanishing. He admits "they are melting, sinking and retreating" but adds that "there has been no abnormal change in the last two decades that can be attributed to global warming".
The public acknowledgement of these mistakes has opened a Pandora's box of other charges against the IPCC of manipulating data to serve political ends. And this is at the heart of the move to oust Pachauri. Attributing it to powerful lobbyists in the US and other countries, Pachauri told Outlook, "Their attempt is driven by a desire to see me resign as chairman of IPCC, an action that I am certainly not planning to oblige them with."

To be sure, so far none of the member governments of IPCC have put forward such a demand. "IPCC has made mistakes about the Himalayas, but they were right in 80 other things...imagine if Kaka misses one goal, will we take him out of the Brazilian team? We can't do that," is the categorical answer of Brazilian environment minister Carlos Minc. Other countries echo this too.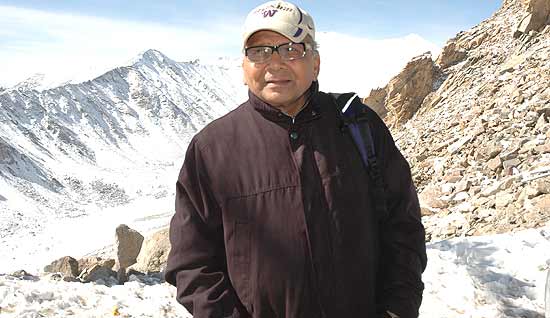 A 300-year leap Dr Syed Iqbal Hasnain
In India, however, no such defence of Pachauri has been forthcoming, signalling a clear distancing from Pachauri by the UPA government. "I don't want to get into personalities," says Ramesh, while expressing satisfaction that "IPCC is carrying out due diligence and has acknowledged its error".
For now, the tilt in the scientific community is for Pachauri continuing as IPCC head with many taking the line that scientists can make a mistake, and that it does not make science less important. As eminent climatologist Dr Stefan Rahmstorf of Potsdam University in Germany, who has been associated with IPCC, states, "The report is not unreliable and certainly not exaggerated. To the contrary, the more serious criticism of the report has been that it understates some of the issues of climate change."
---
Gettin' Hot In Here
Climategate, Glaciergate, Amazongate: IPCC's "growing mistakes"
Overestimating the total area of Himalayan glaciers by at least 15 times
Claiming the Himalayan glaciers will dramatically reduce by 2035 if current emission levels are not cut
Exaggerating the average melting of the Pindari glacier since 1845
Hacked East Anglia University e-mails led to charges that scientists' views inimical to climate change were suppressed
Unverified attempt to attribute extreme natural disasters—hurricanes, severe floods and heat waves—to climate change
Unverified scare that global warming could lead to a rise in diseases like malaria
Using unpublished research report as a basis to forecast threat to the Amazon forest due to reducing precipitation
Persisting with a "hockey stick" graph to forecast sharp temperature rise due to rising carbon emissions despite evidence to the contrary
---
On another front, the attacks against Pachauri have focused on the conflict of interest between his multiple roles as policymaker and head of research consultancy TERI that garners big projects in the green business. While Pachauri has rebutted these charges, there is no denying that among the many hats he wears, some—like chair of a committee to oversee the construction of the Commonwealth Games Village coming up on the Yamuna river bed—bring him no credit.
Similarly, there's the charge of TERI taking funds from NHPC and giving an environmental excellence award for its Uri power project. When activists brought to notice NHPC's poor environmental track record (including at the Uri project), former chief justice of India J.S. Verma resigned as the jury chairperson that gave NHPC the award (TERI had refused to withdraw the award). When Outlook called Verma, he refused to comment.
"Charges that IPCC's reports are 'political' are motivated...they are by people opposed to climate policy."
At the same time, Pachauri's accusations that energy company lobbyists are gunning for him may have some foundation in truth. Kert Davies, research director at Greenpeace's Washington office, says criticism of Pachauri is an example of the harassment of the scientific community by "the rightwing denial machine". Stressing that Pachauri came to the job at a particularly tough time, when the administration of George W. Bush was rubbishing the science of climate change, Davies says Pachauri has, given the circumstances, done an "incredible job".
Frank Maisano, an energy specialist at Bracewell & Giuliani in Washington, doesn't think those who complain about the IPCC would be happy with anyone picked to head the committee, let alone Pachauri. "The reality is that when you have someone speaking as loudly for the developing countries as Pachauri does, it's going to draw out what is the biggest flaw in this whole road (of increasing north-south divide) that we have been going down over the last 10-15 years."
Taking a broader view is glaciologist Graham Cogley of Trent University, who has been highlighting the Himalayan error. "Members of the public suffer from the need to simplify, which usually forces communicators of science to cut out estimates of uncertainty," he says. This leads to exaggerated scenarios.
Whatever be the explanations, it's clear that the IPCC's famed processes have suffered a huge blow. These will have to be rectified. As environmentalist Sunita Narain spells it out, there is real fear that the uproar over the IPCC mistakes "may make scientists more cautious about putting their research in the public domain and could dilute the concerns about Himalayan glaciers". Restoring confidence is paramount in an uncertain climate.
---
By Lola Nayar with Ashish Kumar Sen in Washington and Debarshi Dasgupta in Delhi