At the Aam Aadmi Party's (AAP) office in Delhi last week, from among the phalanxed mikes and cameras drawn there by its stupendous performance in the ass­embly elections, guess the first one Prashant Bhushan spoke into. It was almost natural, given its omnipresence, but you couldn't guess: for, beh­ind the delivery of your daily TV dose—indeed, the very ubiquity of television news—has been a relatively anonymous entity: Asia News Inter­national (ANI). For those who know, the agency has a multiplier eff­ect, the ability to spread the word—fast. Doordarshan, BBC, Reuters, many other foreign and local channels and services have fed off ANI's footage for over two decades now.
Besides the power of dispersal, the agency has amazing reach, adding to marketability. News breaks from the hinterland, a minister blundering or playing the boor somewhere he doesn't expect to be seen, village-level protests: ANI has a reputation for being where no other TV news agency has set its tripod. It has an impressive rec­ord of firsts, among them the destruction of Babri Masjid in 1992 and the horrific mid-air crash at Charki Dadri in 1998.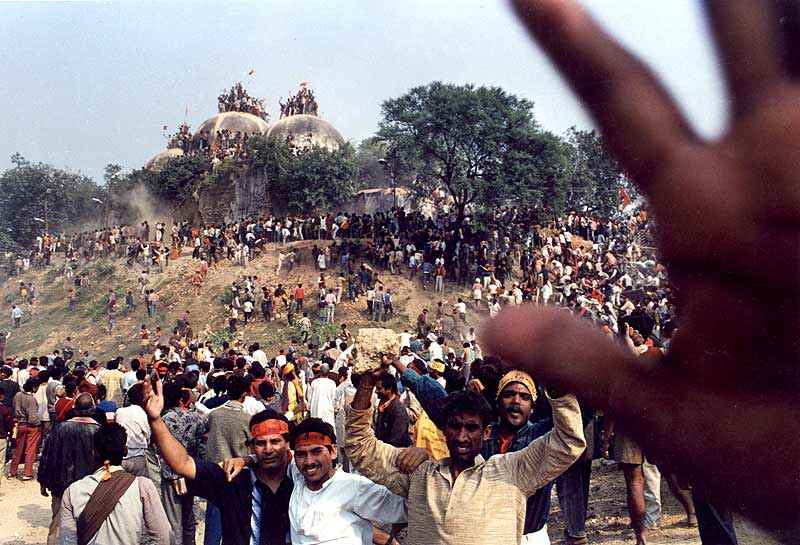 ANI covered the Babri demolition
In those years, before the proliferation of TV news channels, ANI cultivated a symbiotic relationship with Doordar­shan, the chief government broadcaster, that stands it in good stead to this day. It helped that Prem Prakash, the founder of ANI (it started off as Asian Films in the 1950s) became related by marriage to a government official named Ram Mohan Rao who eventually rose to the power position of principal information officer of the central government. The government has become one of ANI's biggest clients, even buying its documentary footage. Then came Zee, the first in the proliferation of private news channels that followed. By then, ANI had its business steady and sailing on even keel.
ANI is perhaps the closest to being ubiquitous. What makes it possible is its countrywide network of over 100 bureaus.
Along the journey, there have been a few major bloopers too. Unedited footage showed Prime Minister Manmohan Singh saying "theek hai?" after a speech in which he shared the distress of protesters agitating against the brutal gangrape of a young woman in Delhi last year. He was only asking if the speech had gone well, but the footage, which went viral, made him appear insensitive. In footage on the blasts at Narendra Modi's Patna rally, victims were identified as suspects, though quick corrections followed. And in covering the Tejpal rape case, ANI drew flak for trailing him on the flight he took to Goa for court and police station appearances.
But, despite the hitches and bloopers, few will disagree that the agency has come a long way since its days as a small studio set up by Prakash in the mid-1950s. As a cameraman, Prakash covered the Stafford Cripps Mission in the early 1940s and the 1971 India-Pakistan war. He could perhaps be called the first private entrepreneur in the field of visual news-gathering. The arrival of digitisation quickened the process—eliminating chemical processing—and ANI vigorously expanded its network.

ANI covered the Charki Dadri
Today it has more than a hundred news bureaus and crews countrywide. Among their biggest clients are regional TV news channels. In fact, an old-timer says it was ANI that fuelled the growth of regional channels, which had limited resources to begin with. "For a moderate fee, we offered footage," he says. "All they needed to add was a commentator." (It might also be added that some news channels have complained that ANI takes undue advantage of its position by at times demanding exorbitant charges for unusual or hard-to-obtain footage.) The government connection, meanwhile, continues. Says a senior official, "It's convenient to have news given to ANI. We can rest assured it will be disseminated to all channels."
ANI's success is drawing new entrants to the news video business. Started three years ago, NNIs, set up by Arup Ghosh, an old hand who has been with Channel 7 (now IBN-7), NewsX and Sahara Samay, is the prime contender. With a staff of about 100, the agency is looking to make its mark with the 2014 general elections; already, it has tied up with the Associated Press Television News (APTN) and its sister concern Sports News Television (SNTV). "We tell broadcasters to take the vanilla content from us and concentrate on their signature content," says Ghosh. "That way, they'll be free to use their own resources to differentiate themselves rather than waste it on what everyone else is trying to do. Brand NNIs also provides special coverage to inform our clients about the bigger events taking place." He also believes, like some in print journalism do, that in this age of mini newsbites, there's scope for the longform. His company hopes to cash in on documentary-making, for which onl­ine portals are already making queries.

ANI covered the Patna blasts
Also in competition is the Press Trust of India (PTI), one of India's oldest wire news services, still an integral, if receding part of newspaper menus. To stay relevant at a time when newspapers are differentiating themselves with slant, rather than plain 5W+H news, PTI aims to enter the news video market, cashing on its name for reliability and objectivity. Its 400-odd reporters are a strength it hopes to exploit. It is also in talks with Associated Press for sharing news videos.

ANI covered the Tejpal case
The main question for all these footage marketers will be: how to stay relevant in a world where anyone with nothing more than a cellphone camera and an internet connection can become a news provider? Innovation and sharp differentiation will hold the key. One example from the media abroad is of how wire services in England have bought weather stations so that they can break news on weather change. Fishing companies and food- and cold-storage chains are among their clients.
Similarly, news video providers, who look set for a boom time, will have to go beyond gathering raw footage—maybe by specialising in news about, say, sports or wildlife, or through strong regional presence, bespoke coverage and editing. Otherwise, there'll be hardly anything to distinguish them from the passerby who e-mails cellphone camera footage to a news buyer, hoping for some pin money.