It's a narrow, winding road high in the hills, well past the Wellington cantonment and the Madras Regimental Centre, that leads to the house of Rakesh Sharma. He lives close to the clouds here, drinking his favourite Orange Pekoe tea from the surrounding tea estates. From any point in his bunker house, the view of the world below is a small simulation of what he saw 25 years ago from the skies in a Soviet Salyut 7 space station. But even relaxing in the hills, there's no tint of nostalgia in his words. Sharma has been a fighter- and test-pilot all his life and that precision, economy and alertness still has a hold on him. He never allows his thoughts to drift, there can't be an anecdotal history of the event for him.
Advertisement opens in new window
Sharma, in fact, doesn't believe his space trip added much to the Indian space programme. "It was a hugely symbolic event...it brought the subject into the drawing rooms but only because we had a captive national audience. In real terms, it wasn't as big as it is perceived to be. I truly believe I have not done anything extraordinary. Any air force officer trained the way I was would have done exactly what I did," he says. Then there's a rider to this sense of dispassion: "It would have been nicer if I had done it on my own country's technology. Any Indian could have gone up in somebody else's launch. I would have perhaps reacted differently had I gone up on an ISRO launch," he adds. In a way, this explains why Sharma didn't even write an account of his space travel, despite being approached by publishers. "For me, as a person, the space flight was only a part of my life. Even if I wrote, it would have only been a travelogue," he says.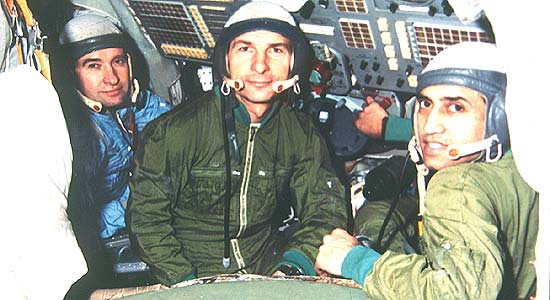 One for the camera: Sharma with Soviet cosmonauts aboard the Salyut 7 in '84
Advertisement opens in new window
He struggles to put thoughts further into context but lets out that ISRO was not keen on a manned mission. Its mandate then was to ensure that the benefits of space technology trickled down to the common man. "Mrs Gandhi must have been under pressure from the Soviets, so when ISRO did not show much interest the air force was approached. ISRO's role in the mission was minimal. They gave us some preparatory lessons in the experiments that we would be conducting. It's interesting that just a quarter-century later ISRO is planning its own manned mission with a non-communist Russia."
Sharma's pre-launch training in the USSR was typical of Cold War era events. There was no "forced bonhomie". "It was very ceremonial. Everybody would relate to me only on a need-to-know basis. In front of the media, there was a lot of back-slapping, but otherwise it was cold and business-like. For the Soviets, this had to be done because orders had come from the top. It was a flight that was scientific in content, but with a lot of pressing political aims," he says.
Advertisement opens in new window
"For the Soviets, the space trip had to be done for it was ordered from the top...it was a flight with a lot of pressing political aims."

So what about that lasting TV moment that transformed him into a national icon? For latecomers, that's when Sharma, in a live chat from space with Prime Minister Indira Gandhi, described India as "Saare jahan se accha" when asked how India "looked from up there". Those words—from Iqbal's nationalist anthem—captured the moment, magically knitting together our diverse republic in half-a-minute. It was not tutored, he says: "We couldn't see her. It was just a voice channel. If somebody had told us in advance about the chat, I would have been better prepared. You may actually find grammatical errors in my responses. I was certainly nervous," he recalls. Sharma may have fallen back on poetry, but space travel itself wasn't exactly an aesthetic experience. He says, "There was diligence, adjustment required. You were exposed to something extraordinary and you had to ensure that your emotional state did not interfere with official functioning. The seven days up there were very busy. Weightlessness is a pleasurable thing if you don't have to work. I'd love to go back up again, have nothing to do and just take in all the beauty...."
On his return, Sharma found it difficult to cope with all the adulation he got. Like when middle-aged women broke down and said they prayed for him. Those moments were touching at first, but he quickly felt the need to escape to the "anonymity" his air force job offered. "People always wanted to touch me...I'd sometimes get angry. It's like what happens to Rahul Gandhi when he's in UP," he says.
Advertisement opens in new window
It was a different time that catapulted Sharma to fame, a period when there was only Doordarshan. "If there were channels like now, it would have been a lot more intrusive," he shudders. Would it have been different had he gone up on an American spaceship instead of a Soviet one? "I don't think so... but the Americans are far more focused on aims, and there would have been no such thing as propaganda. Whereas for the Soviets, this trip was all about propaganda." As we leave, one tends to wonder. Did Sharma, who worked for US-based IT companies after quitting the air force, regret his Soviet association in the Orwellian year of 1984? If he does, the man's not telling.
---