North Main Road in Pune's upscale Koregaon Park will never be the same again. It's a street filled with interesting possibilities to spend an evening out, rummaging through shops that scream India in every ware. Spending agonising moments over the pavement-chhap chappals and sarongs and jholas intended for foreigners, walking past the Osho ashram, taking in the smiles—inspired by dope or nirvana—of foreign sanyasis in maroon robes; dodging crazy bikers showing off their latest acquisitions or their prowess with the machines. Also having to decide between the Khambucha—the special herbal drink at the German Bakery—or the marble cake there.

V-Day eve A shell-shocked inmate of Osho ashram at the site
The eve of Valentine's Day changed all that.
A blast that ripped apart German Bakery on February 13 brought to this street a heavy contingent of cops and a number of barricades. "This could be a street in Kabul or Baghdad. Sad, very sad," lamented Daurren Srivosci, an Irishman who has made Pune his home, and German Bakery a second one. The 400 sq ft space of food and fun—some allege dope too—that figures in the Lonely Planet has now made it to international headlines as well, but this time for the wrong reasons.
Pune has a steady stream of foreign tourists dropping in at the Osho ashram. Besides, it also has some 20,000-25,000 foreign students.

Sadly, but inexorably, a pattern's been building up. Foreigners have become the new targets of terror, and the places they haunt the new sites for attacks, as Leopold Cafe, Nariman House and the Taj-Trident hotels bore witness on 26/11. And in Pune too, of the 11 people who died and 60 who were injured, two of the dead and 13 of the injured were foreign nationals.
"For the last two years or so, Pune had become as vulnerable as Mumbai or Delhi," says Vishwajeet Kadam, secretary of the Bharati Vidyapeeth, a deemed university. This is not a random development—Pune fits into the terror jigsaw all too neatly. The fact is, it sees not just the foreigner ambling into Osho or other ashrams here, but also tourists drawn by the city's history, nearly 8,000 others who come here to live because they work in Indian and international mncs, as well as a large contingent of students both from within the country and abroad. Pune has an estimated 20,000-25,000 foreign students; the largest number can be found on the Pune University campus hostels. By attacking Pune, therefore, its perpetrators were sending out a message to the international community—mainly tourists, but students and executives as much—to stay away from India. Consider the build-up to—and fallout of—the Pune episode:
A week before the blasts, on February 5, Jamaat-ud-Dawa leader Abdur Rahman Makki in a public speech in Islamabad warned of attacks on places like Pune, Delhi and Kanpur;
The United Kingdom, United States and Australia issued travel advisories against India warning their citizens about the possibility of more terror strikes against foreigners;
On Feb 15, Al Qaeda Brigade 313 leader Ilyas Kashmiri warned "the international community not to send their teams to the 2010 Hockey World Cup, ipl and Commonwealth Games".
The fear quotient has been raised, as after every blast. Pune University began counselling sessions for students the next day. Iranian student Farzad (who wouldn't give more personal details) said he "desperately wants to go home after exams because this place may not be safe any longer", while others talked of "staying indoors" for a bit. Most, however, lament that their parents back home are more scared. Yet others, like Maadi from Saudi Arabia and Ahmed M. from Iraq, say Pune is no more or less safe than their own countries.

Leopold's in Mumbai
Even in Mumbai, fear does not factor in the foreigners' minds. "I could die anywhere, even crossing a street back home in Italy," says Nadia, an ngo volunteer who bonded with friends from home over beer at Leopold's Cafe. "Just how cautious can I be? I want to travel, see life; probably I'll see death too," says James, a backpacker from Australia on a six-month India tour, on another table.
"I could die anywhere, even crossing a street back home."

Quiet resignation is what the foreign tourist has embraced in McLeodganj too, the Tibetan settlement near Dharamsala where the faithful and the curious converge in the narrow lanes and cyber cafes. However, there is a healthy dose of caution too among some. Says Keren (name changed), "I have been spending two months here for the last three years. I cannot change the colour of my skin, but I think it is better to lie low and hope that nothing untoward happens in this peaceful place." Asif, a 21-year-old Kashmiri refugee who like many others sells handicrafts and embroidered woollens here, says he is "worried that Dharamsala could be on the terrorists' radar, but I have to earn a living." His customers—Chris, a machinist from Canada, and Raimonds, a musician from Latvia—though, are more blase, high as they are on India. If Chris is worried, it's because his mother might ask him to return.
Peace, though, is edgy a few kilometres away, in Dharamkot, home to the Jewish Chabad House. So panic-stricken is the rabbi here that he refuses to give his name. "It's not in our interest to draw attention to ourselves at this time," he says. "I am a religious teacher engaged in my work and I just hope there is no violence around here. A few weeks ago I requested the local police to provide us some security, but so far there is nothing. We are very vulnerable. These are tough times for us."

Backpacker haven That's Paharganj, offering cheap hotels
In Manali, Himachal Pradesh, where foreign tourist flows have always formed a steady stream, tour operators are anxious that all the anti-terror measures might lose them business in the oncoming tourist season. "The paranoid security measures we are being forced to adhere to," says one tour operator, "are also proving counter-productive. It is putting the tourism industry under pressure." However, others refuse to let terror get the better of their business or their spirit. Like Roddy Mackenzie, an Australian who made Manali his home 20 years ago, and runs India's only upmarket helicopter skiing operation on the high snows for 10 weeks during winter.
"Just how cautious can I be? I want to travel, see life, probably I'll see death too," says James, a backpacker from Australia.

Down south, Pondicherry is equally determined not to be cowed down by fear. Here, you could attribute this benign calm perhaps to the presence of the Aurobindo Ashram. "When you come to India, you don't mind dying in India," declares Pierre Elouard, chief executive at French-Italian restaurant Satsanga, which is frequented both by foreigners coming to visit this former French enclave as well as old-time foreign residents. At Le Cafe on the Pondicherry promenade, Jo and Robert from Montreal, Canada, are playing backgammon over a leisurely glass of lime juice. They have travelled all over India for the last three months, and brush off any risk, saying, "You can get killed crossing the road, so we are not going to be looking over our shoulder."

Haunted haunts Cycle-rickshawing in Pondi
Repeat the question to Jean Luc Maisere and his wife, Sylvie Aubert, both painters from Chartres in France, and they laugh and say, "It's more dangerous to go by taxi in India." The couple and their 17-year-old son Ferdinand are still recovering from the five-hour bone-rattling taxi ride to nearby Tranquebar, a former Dutch colony.
For holidaymakers on the beach under Varkala Cliff, 40 km from Thiruvananthapuram, the Pune terror attack is "as if it all happened in a distant country". Dor Barkan, 26 and a former Hummer driver in the Israeli Army, gives the hardened response: that terror attacks do not terrify him any more because they are part of everyday life in many parts of the world. "The best way to shame the terrorists is not to get scared. The best strategy in the war against terror is to defy the reign of fear and get on with life as usual, but with adequate precautions. Indian intelligence and Mossad should collaborate further in tackling the growing menace," he says.

Fated! The Kovalam-fatigued come to this beach in Trivandrum
As for the Pune blast, the investigation so far has thrown up the usual suspects. But
narrowing it down to one or more among them has so far proved difficult for the Pune police and Maharashtra Anti-Terror Squad. The clues gathered so far point to a complex international and national network of professional terrorists with the Indian Mujahideen (IM) playing the last-mile agent in Pune.
The Pune blast is believed to be part of the LeT's 'Karachi Project' that Pak-American David Coleman Headley had disclosed to his US interrogators. Mohammed Khwaja alias Amjad, the IM member caught in Sri Lanka and handed over to Indian authorities recently, had said his associates had been shown video footage of Pune's Osho Ashram and Chabad House near the German Bakery. The plot was probably executed by Mohsin Chaudhry, suspected to be working in tandem with IM co-founders, brothers Riaz and Iqbal Bhatkal. In short, IM is believed to have executed the blast with instructions from the LeT and aid from the banned Students' Islamic Movement of India (simi) activists.
Police say extreme security cover for tourist spots is impractical.

Another link could be Mohammed Manoos Asghar Peerbhoy, an IT engineer and a key member of the IM since 2006. According to him, Pune was a major recruiting ground for the IM. He had also revealed last year that the IM had four major units for strikes across the country. "I cannot make guesses—we need to catch the suspects before we talk of organisations," says Pune police commissioner Satyapal Singh.
Meanwhile, primary witness accounts from the injured or bystanders are hard to come by. The media has been denied access to survivors or the area near the German Bakery; they have also been warned not to reveal the identity of an injured waiter who's been registered as a "female" patient and is being guarded round-the-clock.
As for the bakery itself, its owners, the Kharoses, say "they will definitely rebuild it like the Taj, Trident and Leopold did after 26/11". German Bakery might stand again, but with fortress-like security systems.
---
The Firang Factor
Foreign tourists are a familiar sight on the Indian landscape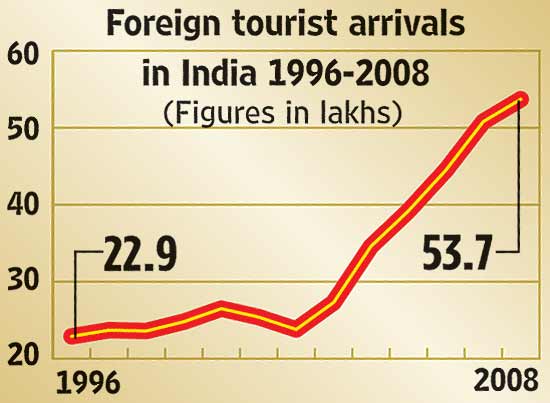 In 2008, India's forex earnings from tourism were Rs 50,730 crore, its share in inter national tourist arrivals 0.58%, and its rank in world tourist arrivals 41
Top 10 Countries Of Origin
Top 10 destinations
Foreign tourist arrivals in India in 2008
Foreign tourist visits in 2008

---

53.7 lakh foreign tourist arrivals; Israelis 35,000 annually
141.13 lakh foreign visits (each visit in each destination is counted separately)
Source: Tourism ministry
Source: State/UT tourism departments
Their Main Lure
Buddhism Dharamsala, Bodh Gaya
Skiing, Hiking Manali
Yoga Rishikesh, Mysore
Fairs Pushkar, Rajasthan Carnival Goa
Camels, Havelis, Fort Jaisalmer
Meditation Osho Ashram, Pune; Auroville, Pondicherry
Beaches Goa, Varkala (Kerala)
---
Or maybe not. Providing extreme security cover for tourist spots is easier said than done, say police officers. "We can't build forts all across the country. And we can't focus our attention only on foreigners as Indians too are targeted. We suffered more collateral damage when the Taj Hotel was attacked on 26/11," says a senior police officer. What can be done, he adds, is to improve the overall security and intelligence apparatus to neutralise the terrorists' plans. And that is another story
---
By Smruti Koppikar in Pune with Chander Suta Dogra in Dharamsala and Manali, Pushpa Iyengar in Pondicherry and John Mary in Varkala