For song-writing, the '50s and '60s were the best era. There were Sahir, Kaifi and Shailendra. They were addressing the whole nation. The films were on subjects involving everyone as against small pockets.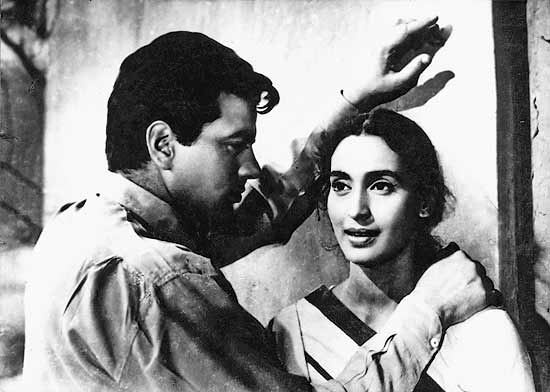 Nutan and Dharmendra in Bandini
The songs that made an impression on me were:
Cheen-o-Arab Hamara: It had the anger and complaint of every Indian
Waqt ne kiya kya haseen sitam
Allah tero naam, Ishwar tero naam is timeless. It brings Hindu and Muslim on one level. There are no bifurcations. The core of any problem and the solution lies in the line: Nirbal ko bal dene wale, Balwanon ko de de gyaan.
Duniya banane wale reflects the desi, lok shaili of Shailendra. The poetry was coming from within. They were not looking for a platform to speak.
With the entry of Gulzar with Mora gora ang laile, a modern style of writing came in that changed the idea of poetry. With songs like Tere bina zindagi se koi shikwa to nahin. His songs looked at the urban idea of love. In songs like Is mod se jaate hain the images are modern, as though he had opened the doors and windows for any word to be used.