Managing one of the world's fastest growing economies just got 6.8 per cent tougher. That's the quantum of the unexpected fall in the rupee vis-a-vis the dollar in September alone; it's now flirting with the psychological mark of Rs 50 to a dollar. If the Eurozone crisis and the dismal economic data from the US weren't bad enough, the weak rupee has just added another dimension of extreme uncertainty to the basket of problems which Indian companies and policymakers are grappling with.
Given the volatility in exchange rates, it's unclear which way the rupee will move. K. Gurumurthy, currency analyst with Calcutta-based Kshitij Consultancy, expects the rupee to reach levels of Rs 50.5 by the end of the year. "In the immediate range, for the next couple of weeks, we will be looking at Rs 48 on the downside and Rs 49.5 on the upside," says Gurumurthy. In another estimate, FIEO president Ramu S. Deora feels the rupee may go up to Rs 45-46 levels by next month.
Truth is, nobody really knows for sure; many see the rupee being yet another victim of global turmoil, which is upsetting other applecarts. Look, for instance, at the falling commodities prices. Even gold, which has recorded the highest jump in prices in one year, is witnessing a slide as there is increased movement towards the "safe haven", the dollar.
What is complicating matters is the RBI's reluctance to intervene to prop up the rupee. In a TV interview in New York last week, RBI deputy governor Subir Gokarn clarified, "If we do intervene at all, it would be with a very narrow perspective...of what might be a very volatile market situation, but nothing beyond that." Whether RBI intervention would boost the rupee is itself in doubt. Consider South Korea, which has seen a sharp fall in its currency value despite the intervention of its central bank.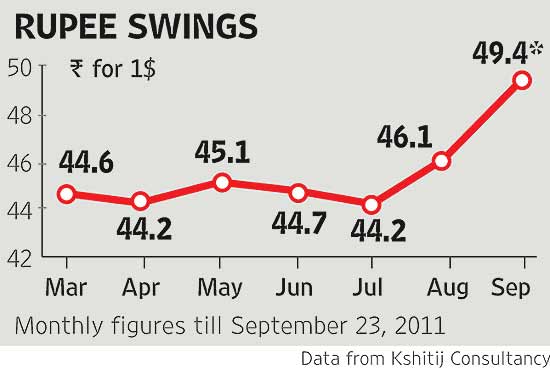 The falling rupee is stressing our forex reserves, as 42% of our forex obligations are due in the short term.
In India's case, there is also the potential stress on foreign exchange reserves given that $130 billion or 42 per cent of the country's external debt commitments have to be met in the short term. "The RBI strategy to intervene only to check any sharp fall is not unrealistic as we are facing a situation where there are more forex obligations to be met," underlines HDFC Bank chief economist Abheek Barua. Of course, the RBI knows that, for India, a weak dollar means a further ballooning of the import and subsidy bill, fuelling inflation, which it is watching like a hawk. For now, though, softening of global commodity prices (particularly crude oil) is a relief.
Prospects seem brighter for IT and the IT services sector (booming exports become more lucrative with a depreciating rupee). Having burnt their fingers post the October 2008 crisis, FIEO president Deora points out that currently most exporters book 50-70 per cent forward hedging. "I am doing 50 per cent forward booking for my company, so I am able to hedge my risks. We don't lose so much or earn so much during sharp volatility in rupee-dollar," avers Deora. In any case, the weakness in demand in the US and Europe could negate this advantage in future.
Of course, firms having import components in manufacturing—like gems and jewellery sector—are not so fortunate (particularly those who haven't hedged risks). Another major concern is for Indian companies who borrow overseas. "Indian companies will have to work with an increase in the cost of borrowing," points out Barua. For now, there's an uneasy wait—only a positive signal, globally, will prop up the rupee.