Promised Land: India Chapter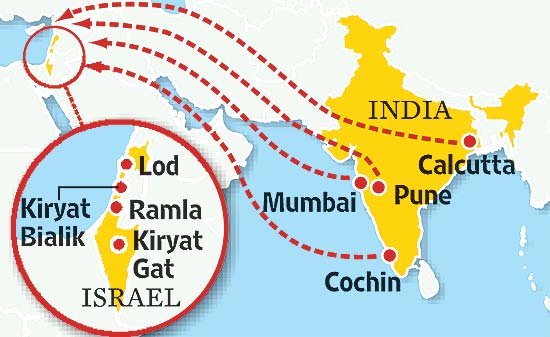 Seventy thousand Jews of Indian origin live in a country of seven million
Began migrating to Israel in the 1950s, after being wooed by representatives of the Jewish Agency, an organisation in charge of immigration
Migrated from Maharashtra, Gujarat, Calcutta and Kerala where they had lived
in pluralistic neighbourhoods and not encountered anti-Semitism
Settled by the Israeli state in undeveloped towns or farming communities
Most are unable to break the barriers of class, colour and status; but second and third generation are better off than first
Their cultural and community programmes reflect a proud connection with India
***
The dwindling Jewish community in India attracts the curiosity of tourists and hungry foreign journalists but the thousands of Indian Jews who came to the Promised Land seem all but absent from the narrative of Israel. Working on the fringes and surviving in obscure towns, they seem unable to break the barriers of class, colour and status. They remain largely invisible in Israel's big cities, big jobs and big politics and are not card-carrying members of the Israeli elite.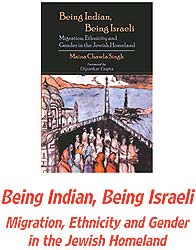 Why are 70,000 Indian Jews missing in action, as it were, in a small country of seven million? That's a loaded question in need of an answer. And for the first time an Indian academic has tried to understand the reasons for this invisibility. Maina Chawla Singh, a reader of English from Delhi University, has recorded many heart-rending stories of Indian Jews who left the hustle and bustle of Bombay's suburbs and the noise of Calcutta to come "home", only to find themselves settled by Israeli officials in harsh arid strips of undeveloped landscape. Being Indian, Being Israeli was a book waiting to be written, and Singh has plunged into the uncharted territory with gusto.
Her circumstances were special, no doubt, giving her the sort of access that may not have come easily to others. She is the wife of Arun Singh, who was India's ambassador to Israel from 2005 to '08—a happy marriage of facts that allowed her to meet the community from a good perch. She straddled the two worlds successfully, mixing and matching her academic training with the finesse of a diplomatic spouse. When Indian Jews came in large numbers for the flag-hoisting on August 15 or the Republic Day reception to the ambassador's residence, Singh was jotting down names and numbers of family patriarchs on napkins while ensuring the samosas were hot.
Singh didn't accompany her husband to Tel Aviv at first since she was on double duty as a mother and teacher back in India. She visited Israel on vacations and made a few friends at the Tel Aviv University, who encouraged her curiosity. "As I began performing my social duties as the ambassador's spouse at our gorgeous residence by the Mediterranean, I met more and more people from the Indian Jewish community," Singh recalled, in a conversation with Outlook.
"I was quite overwhelmed by the affection and respect towards us when we travelled to attend their community programmes even though they had relinquished their Indian citizenship when they chose to come to Israel," she said.
Singh soon realised those social conversations with the stalwarts of the first generation were "full of fascinating detail" and offered a win-dow to a new world. She began researching and found that virtually everything written was about Indian Jews—the exotic community in Cochin or Pune or Calcutta—and nothing about the "amazing migration stories" of those who came here. Had they become a lost tribe in Israel?
Indian Jews began "aliya" or migration to Israel in the 1950s, wooed by active representatives of the Jewish Agency who appeared in synagogues and talked about the homeland. They left settled lives and a rare country where Jews were not ghettoised. But when they landed on special flights, they were sent, as part of the experiment that Israel was then, to remote "development towns", to make a life with little support. They were clubbed with migrants from North Africa and West Asia or the Mizrahis who invariably faced harder times than Ashkenazis or Jews of European descent, who were the Israeli elite.
Poor schools and meagre opportunities sealed their fate as they remained stuck in those moshavs or farming communities. Discrimination and derogatory remarks about "dark" skin or being from a "backward" country were common. The comparatively gentle demeanour of these migrants, in a country known for brusqueness, was seen as "submissiveness" and they were dismissed as not capable of leadership. The Bene Israelis from Maharashtra, the largest group of Indian Jews, endured "serious rejection by many rabbinates" who questioned their purity for years. They were deemed "too Indian" because they had embraced certain Indian cultural traditions. Even after 40 years, the memories and scars are fresh, as Singh's book reveals.
Singh began systematic work in 2006, interviewing and collecting personal narratives, travelling to the infertile Negev region in the south where the early migrant Jews from India literally built townships from scratch. They laid water and sewage pipes, built access roads and planted the first trees.
For her research, Singh travelled to the small towns of Ramla and Lod where large numbers of Bene Israelis were settled. "One family led me to another, from town to moshav to kibbutz. I followed leads, called people and set up times to visit them in far-off little sleepy towns like Kiryat Bialik beyond Haifa and Dimona and Kiryat Gat in the Negev desert," she recalled.
Her enthusiasm was infectious and the community embraced her totally, sharing rare photographs and rarer moments. Taking "speed notes" and eschewing the use of a tape recorder lest it inhibit her older respondents, Singh did some hundred interviews and attended about fifty community functions, including loud Bollywood extravaganzas organised by second and third generation Indian Israelis. Many of the Bene Israelis still spoke Marathi and Hindi too. The book captures that flavour.
An efficient driver and Israel's good roads and small size made travel easy. Meanwhile, the diplomatic world swirled on around the ambassador's wife. Israeli officials were impressed that Singh knew her Israel and could rattle off names of small towns. "They were delighted that I was engaged in research on Israel," says Singh. Her work also helped alter their perceptions: "Many were not aware there were as many as 70,000 Indian Jews in Israel. They believed Indian Jews were 'a quiet community' so invisibility was perceived as something related to community behaviour."
Continuing with her dual role, Singh now lives in Washington where her husband is posted. She has already presented her pioneering research at various US universities to an enthusiastic response. Bottomline: You can always get more out of cocktail parties than you imagined, but only if you take notes.