What Industry Is Doing
Self-defense training—no evidence if this has warded off attacks
Asking women to leave early, work from home—not a long-term solution
Re-evaluating taxi services—office drops mandatory, but still need review
Sexual harassment committees—most often, employees can simply be fired for complaining
Changing labour laws—actually, industry is the biggest violator of laws, often putting safety aside
***
Neena Malhotra was the first woman in her family to become her own boss. A bank loan started her up in '72. In those pre-liberalisation years, few women ventured outside the home. There were simply no jobs, even for an educated woman, in a part of the world where women are encouraged to marry and stay at home, not work. Malhotra "pushed her way" into the male-dominated world of factories and offices with difficulty. Much effort went into convincing reluctant bankers that she meant business "despite being a woman".
Forty years later, Malhotra operates two small businesses. One prints, transcribes and laminates patient-cards for hospitals and employs only women. Some of the employees work out of their own homes, never coming to the small South Delhi office. Looking at the six women who do commute to work here daily, one gets the distinct impression that this organisation is more a social service than an economic exercise. Indeed, the women's incomes are tiny, and the profits smaller still. "Too tiny to even mention," says Malhotra.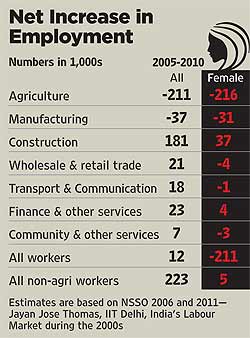 They stay on to work here, the women say, because the environment is "safe". "The reason I continue to work here is the reasonable timings and the assurance of safety. In another place, God knows what could happen," says Pratibha, who has worked here for five years. Even better offers have not lured her elsewhere as yet. "I know women come to work with many apprehensions, against which they need to be made secure," Malhotra says. She ensures that her employees leave by 5.30 pm and takes them home if they stay later. For the occasional night shift, she hires temporary workers—all men.
Take as macroscopic a view as you like: this is the niche most Indian women occupy when they step out to work—basic, low-skill, low-paying work, with "safety" a bonus. In India, only units that employ more than 10 workers are said to be "organised", with wages regulated, hours clocked, terms and conditions clearly defined. Just over 11 million units are organised—of a total 52 million manufacturing outfits. The rest often have terrible working conditions that, according to recent research, are deteriorating. "Wages are declining and, by all accounts, treatment of workers has worsened, which may show up as the near-absence of women," says Jayan Jose Thomas, who teaches economics at IIT Delhi and has done extensive work on India's labour market.
Thomas notes that there is very little research on gender-based employment in India, largely because government surveys don't capture the details of how or where women work. It's clear, however, that more rural Indian women work during periods of distress and difficulty, whereas fewer urban women work—as a percentage of the population—because the economy is simply not creating enough viable opportunities for them. Worryingly, employment in the services sector has begun to slow down, while agricultural incomes have also dwindled, reducing employment options for women.
"A woman has to balance work and life. More smart, qualified women will stay at home if safety in metros is an added worry."


Rachna Saksena, Randstad India (formerly Ma Foi)
A brighter spotlight has been trained on working women against the backdrop of a slew of violent attacks against women, mostly in the North, but generally spread across the country. A week ago, by way of response, Delhi University called for its women employees and students to retreat to the safety of their homes or hostels by 7 pm. More women have stated they would rather not work in Delhi or in the North, where men are considered more violent and misogynist than elsewhere. As far as reported rapes go, Delhi fares worse than Mumbai. The state also has an equally dismal rapist conviction rate.
Companies and industry organisations that, for the first time, participated in the recent spontaneous public protests on crimes against women have finally decided to take action. "The response comes from the fact that, over the last two decades, women have become a large chunk of the services sector workforce," reasons Manish Sabharwal of TeamLease.
In this context, industry lobby groups like CII and FICCI have sent recommendations to a new government panel convened under former chief justice J.S. Verma to explore how workplaces can be made safer for women. FICCI has said that every company, whether small or large, should appoint a warden-like officer responsible for its women employees' safety. It wants senior police officials to be held accountable when their juniors have been complicit or inept in dealing with crimes against women. They want resident welfare associations (RWAs) in city neighbourhoods to report atrocities against women.
Often, industry acknowledges, women employees returning home from late night shifts become victims. "More than anything else, we want companies to take responsibility for what happens to their women employees. That includes blue collar workers, not just executives," says Manju Kalra of FICCI Ladies' Organisation, who heads a new task force on women. It wants laggard companies to set up sexual harassment committees and is seeking proposals on a system to ensure women's safety.
How far these go is anybody's guess. According to a Mumbai-based senior HR executive, new norms for the safety of female employees pose a real challenge to human resource teams. "On the one hand, you are trying to draft policy befitting an equal opportunity work environment and on the other, you have to introduce norms that will mean special factors for female employees. It is a tough balancing act."
This, however, doesn't entirely explain the declining numbers of women employees, even in the service sector. "The issue is that Indian women stop working after turning 26 or so, around the age of child rearing. And there's no avenue for their return in place," says Sabharwal.
For now, women in the NCR have responded with abundant caution. S. Sahai, an employee of data analysis, research and advisory firm CEB India, says the December incident was a reality check. "I feel a kind of anger I never felt before," she says of the crime. Though already accustomed to call home while leaving work, she now does so under more urgent instructions from her family. Going home alone at night even with a driver and guard is little reassurance. She considered options other than Delhi, but decided, "My work is here; why should I leave?"