August 1947. Calcutta. Only a few more days before India is to become a free nation. Sarat Chandra Bose, elder brother of Subhas Chandra Bose, is very angry. He has just heard from Congress leaders, Jawaharlal Nehru and Sardarbhai Patel, that his beloved younger brother had lived with a woman in Germany since his dramatic escape from British house arrest in India, and that he had had a lovechild. Neither Sarat Bose nor the rest of the family in India knew anything about this. And there was no way he could contact Subhas on the matter. He was missing. Killed in an air crash reportedly, in Taiwan in 1945. Though his own investigations had convinced him that Subhas was still alive, somewhere, he had no clue where he was.
"The truth is that Netaji was married to the woman in question, a fact Nehru and Patel did not disclose to Sarat Bose because it served their purpose," Madhuri Bose, Netaji's grand-niece, told Outlook. Daughter of Sarat Bose's son Amiyanath, Madhuri belongs to a part of the family which has decided to "expose a long-kept secret about a vilification campaign against Netaji", perpetrated reportedly by imp­ortant Congress leaders. "Nehru and Patel were spreading calumny about Netaji," Madhuri says. She claims they tried to project him as some sort of a debauched womaniser "who got a girl in trouble".
The Bose family attributes this vilification campaign to "Nehru's jealousy about Subhas's huge popularity". As Madhuri Bose points out, "If you notice the timing of the campaign—it was around the time of Independence, when there were a lot of uncertainties about who would lead the nation and who would become India's first prime minister. Nehru, Patel and other Congress leaders may have been afraid that if Subhas returned, the people of India would want him."
Meanwhile, as Sarat Bose was expressing anguish about the campaign to malign his brother, in ano­ther part of the world—Berlin—a German woman, Emilie Schenkl, was just beginning to realise that the news of her husband missing was not the only bad news. Vicious rumours were doing the rounds in India about her and her husband, whom she had married after a brief courtship when she worked for him as his private secretary in Vienna, Austria. Though she refused to believe without proof that he had died in a plane crash in Taiwan, as was reported, it was traumatic enough for her that she knew nothing about his whereabouts. She was desperate to reach out to Subhas's family in India and write to them, clarifying things about their marriage. In an article written exclusively for Outlook, Madhuri Bose—who had lived with her grand-aunt Emilie for a number of years—shares some heretofore unseen confidential letters between Sarat Bose, Subhas and Emilie that she's in posses­sion of.
—Dola Mitra
***
In a letter dated March 12, 1946, Emilie Schenkl wrote to Sarat Chandra Bose, beloved elder brother of Subhas:
"Your brother asked me when I was in Berlin if I would accept his proposal to marry him. Knowing him since years as a man of good character and since there was a mutual understanding and we were very fond of each other, I agreed. The only difficulty was to get the necessary marriage permission from the German Government...we decided to settle it between ourselves and got, therefore, married according to Hindu fashion in January 1942.... On November 29, 1942, a daughter was born to us."*
Sarat Bose did not receive this letter from Emilie until two years later. It must have been intercepted and withheld by the then British authorities. In the same letter, Emilie had further written:
"The day before he (Subhas) left for the East he wrote a letter to you which he asked me to have photo-copied and sent to you in case anything should happen to him. This letter is written in Bengali and he informed you about his marriage and the birth of his daughter."**
In the meantime, unknown to Emilie, one Indian resident in Vienna took it upon himself to inform Jawaharlal Nehru and Vallabhbhai Patel about her and daughter Anita sometime in June 1947. Nehru and Patel did not communicate the information to Sarat Bose until August 1947 on the eve of Indian independence day. Understandably, Sarat was displeased.
These were tense times. For Sarat, independence had come with the partition of India on communal lines and independence itself was only partial as it meant acceptance of Dominion Status. On August 1, 1947, Sarat Bose left the Congress after 40 years—in his words, it had "lost its moorings" and was rapidly becoming only a 'Hindu' organisation. Congress was also being besieged by "corruption and nepotism".
With all sorts of unpleasant rumours about Subhas circulating in political circles, Sarat finally decided to write to Emilie Schenkl, whom both his sons Asoke and Amiya had met in Europe during the 1930s through their Uncle Subhas. In that letter dated April 10, 1948, Sarat wrote:
Dear Madame Schenkl, This letter will probably come upon you as a surprise. We have never met but, I am sure, we are not complete strangers to each other....

I have a desire to come to Europe some time towards the end of this year and if I am able to come, I shall certainly come to Vienna and meet you. In the meantime, if there is anything you would like to let me know, or if there is anything I can do at this end, please write to me.

It is difficult these days to trust many people here. Most of the eminent Congress leaders were political enemies of my brother and tried their best to run him down. Their attitude does not seem to have changed much, even after all that has happened since 1941.... I would, therefore, prefer to correspond directly with you." Sarat Chandra Bose
Sarat, his wife Bivabati and their three children, Sisir, Roma and Chitra, travelled to Vienna in the autumn of 1948 to meet Emilie and Anita. An emotional family meeting took place in Vienna when Sarat and Bivabati embraced Emilie and Anita into the Bose family. Sarat wanted Emilie and Anita to come to Calcutta to stay but since Emilie was the sole carer for her aging mother, she could not leave Vienna.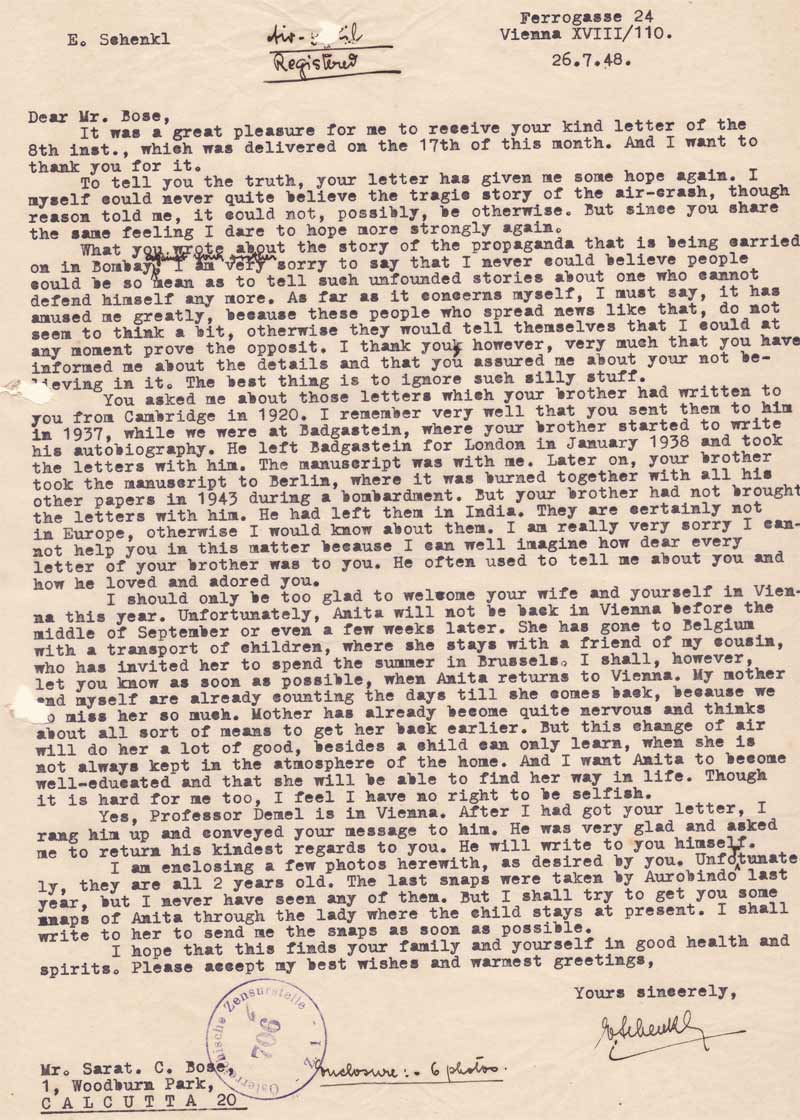 Exchange mechanism A copy of the letter Emilie wrote to Sarat Bose discussing her doubts about Subhas's death
Subhas and Emilie had first met in Vienna in June 1934 when Subhas had begun to write his book The Indian Struggle, a contemporary history of India drawn largely from memory during his exile in Europe. I first met my 'Auntie' Emilie in Vienna in March 1978, when I left Calcutta to study in Europe. I was to live with her for protracted periods until she passed away in March 1996.
In long fireside chats during my times with her, she told me that she had been recommended to work with Subhas bec­ause of her excellent English-language skills, a comparative rarity in Austria in those days. She was, of course, fluent in her mother-tongue German, spoke some French, and when I knew her remembered even a few words in Bengali. She used to refer to me affectionately as 'dushtu' (naughty) and said that she regarded me like a 'second daughter'.
Emilie told me she was in the kitchen with her mother and Anita when she heard the broadcast about Subhas dying in an air crash.
In her reminiscences of bygone days, she spoke of the difficult years of Nazi occupation, the uncertainties and privations in the aftermath of the allied forces' victory in the Second World War, and a temporary Russian occupation when incidentally she and her family experienced kindness and compassion from the Russian soldiers.
In discussions about Subhas, she told me that over the eight or so years that they knew each other, less than three were spent in each other's company, including their one year of marriage together from January 1942 until just before he boarded a German Navy U-Boat in early February 1943 heading for his historic mission in the Asia/Pacific theatre of war. They were not to see each other again.
When I asked Auntie if she had ever considered marrying again, she said quite simply that that was out of the question, that no other man could match the one she had married. She knew too and readily acknowledged to me that the first love of Subhas was India, and that the imperative of removing the binding chains of British colonialism was an overriding commitment for him. She herself would only have come to India in the company of Subhas.


Dividing a family Patel-Nehru (middle) told Sarat (left) about Subhas-Emilie, but not that they were married; Madhuri with Emilie
Emilie was a woman of strong convictions and principles, shunned any opportunities for 'reflected glory', and never took advantage of her position as the 'sahadharmini' of Subhas. She was the primary carer for her aged mother who lived with her, a doting single parent for daughter Anita, and breadwinner for the family.
Auntie told me that she was in the kitchen with her mother and Anita on a terrible day in August 1945 when she learned from a radio broadcast that Subhas had died in an air crash in what is now modern-day Taiwan on August 18, 1945. From an immediate reaction of intense pain, grief and anguish, over the following years she began to harbour strong doubts about the air crash story and her husband's death, doubts which she shared with her brother-in-law and my grandfather, Sarat Bose.
Indeed, to her last day Auntie did not accept the air crash story and never gave her consent to various determined attempts to bring to India the so-called 'ashes' purported to be those of her beloved Subhas, kept in an urn in Renkoji Temple in Japan.
* Original copies of related correspondence, including this letter, are preserved in the Private Collection of Amiyanath and Jyotsna Bose
** Emilie handed over the original handwritten letter of Subhas in Bengali when she met Sarat and wife Bivabati in Vienna in the autumn of 1948. This letter is now preserved in the museum at Netaji Bhavan, Calcutta.
---
(Madhuri Bose, a human rights defender, is the daughter of Amiyanath Bose, barrister-at-law who was a son of Sarat Chandra Bose and a nephew of Netaji Subhas.)