Mohandas Karamchand Gandhi was in Varanasi in February 1916 on Madan Mohan Malaviya's invitation when, during an address, he sought the permission of the chair to digress and recalled his visit to the Kashi Vishwanath temple, voicing his anguish at the dirt and squalor he saw all around it. Would the temples become clean after the British left the country, he wondered aloud in a stinging admonition. Nearly a century later, 67 years after the Brits left, nothing has changed in the timeless temple town; in fact, it's grown worse (see box). As if on cue, the latest Gujarati visitor to Varanasi, Prime Minister Narendra Modi, has pledged to clean up not just his constituency but the entire country in the next five years, apparently his way of saying 'thank you' to the Mahatma in the sesquicentenary of his birth, 2019.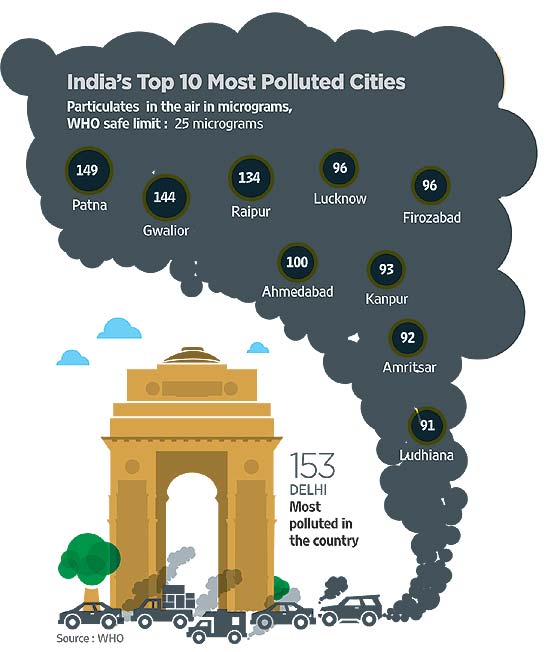 The ambitious, even imperious, call to clean up India in five years—which actually means clearing the mountains of garbage in our villages, towns and cities; cleaning the lakes, rivers and gardens; keeping our roads, public spaces and pavements spic and span; getting our fellow-Indians to eject their refuse in the way developed democracies do, to change their habits to not spit, chuck and litter—may be music to sec 'A' ears having visions of Singapore in their eyes.
But India has been on this cleanliness drive thrice before, in 1986, 1999 and 2012, and the sheer weight of history suggests it's not going to be easy for Modi's Rs 1,96,000 crore 'Swachh Bharat Abhiyan'. For outside the sanitised cesspool of social media, there are complex historical, sociological, economic and caste factors all lurking around to mess up the photo-op. For starters, sample these numbers:
India generates 1,27,486 metric tonnes of waste every day
13 of the world's top 20 dirtiest cities are in India, according to the World Health Organisation's statistics
Only 12 of 497 cities with a 1,00,000-plus population have anything like adequate infrastructure to deal with garbage and human and organic waste
Two out of every three rural households have no access to toilets. Less than 12 per cent homes have latrines connected to a piped sewer system.
Nearly 20,000 people die every year due to diseases spread by rodents and stray dogs feeding off garbage dumps
Merely because we have tried and failed before doesn't of course mean that Modi, with the momentum of a big mandate, cannot get his hands dirty. In speaking of "pehle shauchalay, phir devalay" (first toilets, then temples) during the election campaign, the PM-aspirant made the right noises. And from Red Fort to Madison Square Garden, he has relentlessly reiterated his commitment to the Mahatma's message, 'Cleanliness is next to godliness'. Full marks, therefore, for trying.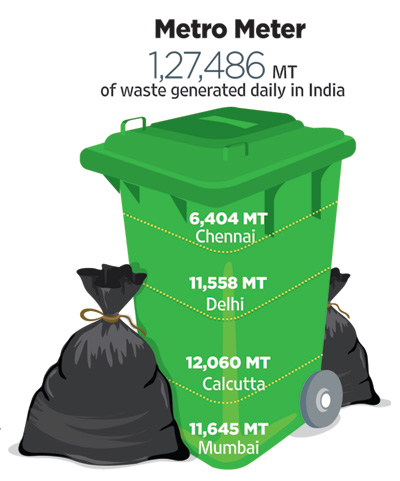 But unlike with his growth and development agenda, there is not even a 'Gujarat model' here. Several parts of the PM's home-state itself suffer from chronic shortages of water, forcing some villagers to admit that they open their latrines only when guests come calling and that they "store water and use it like ghee", in small quantities. State capital Gandh­i­nagar, which Modi lorded over for 12 years, is a story in itself (see box).
That said, the sight of a new PM wielding the broom is an endearing symbol for vast sections of urban India who have turned their noses away from the stinking reality that their fellow-citizens are condemned to live in. And in an age when perception is all, it's a pretty powerful one too, but it stands the risk of becoming just a symbol, a lot like the Union ministers who were riding bicycles during the 1991 Gulf War to show that austerity begins at home.
This, then, is the reality right under Modi's nose: policemen deployed not far from his bachelor pad making a beeline to Teen Murti Bhavan, not to see the museum but to use the loo. In the caste-marked countryside, men and women carrying 'night soil' on their heads. Outside railway stations, trash being pushed out into the open before the train arrives on the platform. Growing cities killing their waterbodies to fill up waste. The poshest of markets having no dustbins or spittoons.

New Delhi, September 2014 Garbage piling up outside Safdarjang Hospital, one of the capital's finest. (Photograph by Sanjay Rawat)
So what Modi is aiming at is a paradigm mindshift. Centuries of customs and habits, mostly bad, being overturned just because the 'pradhan sevak' says so. It's worth a shot only because Modi's oncoming also reflects a paradigm mindshift in which a prime minister is viewed. So a plan to build 11.11 crore toilets in five years, which in normal circumstances would have been laughed away as socialist dole, is seen as doable because corporates have offered to chip in. So a project which otherwise would have been the purview of some lowly minister is now seen as doable because the PMO is itself monitoring the project.
There is more than an element of theatrics in Union ministers travelling to states to clean up public places themselves; in babus being asked to initiate twice-a-day clean-up drives in government offices, cinema halls, markets and malls; in the railways requisitioning 10,000 brooms. But that's the zeitgeist: even the most earnest mission has to first be a tamasha, through photo-ops, SMSes, Facebook updates and direct mailers, all with the PM's headshot.

Mumbai, September 2014 Choked drains in Dharavi. (Photograph by Amit Haralkar)
So far, the Swachh Bharat Abhiyan has not been short of theatrics. Many ministers and babus have held brooms for the first time, and they did it as if their lives depended on them (and perhaps it did, such is the presumed force of Modi's writ). Some highlights:
A newspaper carried photographs and a report alleging that a stretch at the Red Fort was littered by attendants minutes before Union MoS Shripad Naik appeared before the media to clean the space.
The micro, small and medium enterprises minister Kalraj Mishra, the oldest member of the cabinet, did not venture out of his office, getting himself photographed between the tables with suitably awed section officers standing at their desks and watching him bemused.
Law minister Ravi Shankar Prasad and food and civil supplies minister Ram Vilas Paswan wore spotlessly clean and starched clothes while making their appearance even as HRD minister Smriti Irani dressed in a colourful sari made for a striking picture as she held the broom demurely, almost managing to look vulnerable.
A flashback: way back in 1969, the Gandhi centenary celebrations had spawned similar pledges for putting an end to manual scavenging, ending open defecation and cleaning up India. At the time, the government had loosened purse strings and released millions of rupees by way of grants. One of the beneficiaries was Bindeshwar Pathak, then a mere municipal employee. He was quick to spot the opportunity, quit his job to launch an NGO which now has grown into 'Sulabh International'.

Sabarimala, September 2014 Pilgrim hotspot Sabarimala, Kerala. (Photograph by N.P. Jayan)
With the Modi government having pledged Rs 1.96 lakh crore for the clean India project, both NGOs and corporates (many of them foreign) who have spotted a killing to be made in cleaning up India are licking their lips in anticipation at windfall projects for garbage and waste disposal, and recycling.
Now, it's not as if previous governments have not been alive to the problem. The Ganga Action Plan (GAP) and the Central Rural San­itation Programme (CRSP) were both laun­ched when Rajiv Gandhi was PM. The NDA government launched the Total Sanitation Campaign (TSC) in 1999 which the UPA renamed as 'Nirmal Bharat Abhiyan'. With Swachh Bharat Abhiyan in 2014, it's the NDA's turn to return the favour. 
Among the public sector organisations, the Indian Railways has been toying with 'green toilets' in passenger trains for at least 20 years. Successive railway budgets spoke of mechanical cleaning and 'onboard housekeeping' besides 'clean' train stations. The Comptroller & Auditor General (CAG) conducted a performance audit in 2007 and found that none of the promises had been fulfilled. The auditors, who revisited over 200 stations again in 2013, found little improvement.
But 2014 is different all right. Besides asking ministers and senior officers to take the lead and go out with brooms, government employees and school students were asked to attend offices and schools on October 2 and take the following pledge: "I will devote 100 hours per year that is two hours per week to voluntary work for cleanliness. I will neither litter nor let others litter...I will propagate the message of Swachh Bharat Mission in villages and towns. I will encourage 100 other persons to take this pledge which I am taking today. I will endeavour to make them devote their 100 hours for cleanliness."
With the prime minister keeping his ideas to himself, nobody appears to have any clue to whether employees would be required to keep a record of their voluntary work and whether their failure to do so would be held against them. Who will ensure that they actually log 100 hours every year? Or is the pledge just one more hollow rhetoric, taken to be forgotten? Or is big brother watching, without anyone knowing?
Conspiracy theorists among government employees meanwhile are having a field day speculating on what else might follow. The Government will stop recruiting and possibly reduce the strength of 'safai karamcharis', getting the work done by volunteers, some ventured to suggest. CCTV cameras could be used to monitor the 'voluntary work' in the office, suspect some of them. Others felt that NGOs of a certain kind and colour would be paid to supervise the voluntary work while the Left unions darkly discussed if corporate bodies had some stake in Modi's mission impossible.
***
We Are All Bewitched
Our favourite Union ministers take the long handle.
***
At this point, the mission is seen to be more political than social. After appropriating Vallabhbhai Patel and Swami Vivekananda for himself, Modi has gone ahead and grabbed the humble broom from the Aam Aadmi Party (which incidentally continues to have it as its election symbol). The prime minister, a pastmaster at marketing and branding, has not just stolen the thunder from AAP but has even robbed the Congress of its proprietary claims over Mahatma Gandhi. Modi may have fluffed while taking the Mahatma's name (twice referring to him as Mohanlal Gan­dhi instead of Mohandas, including at the Madison Squ­are Garden speech), but he's been astute in invoking the Father of the Nation on cleanliness and the need to change the world's perception of a dirty India, catching the Congress squarely out of position.
So can the man do it, can he clean up India? Well, it'll be a Himalayan endeavour. Apart from the ugly Indian, there is the climate, the high temperatures and humidity coupled with an ever-expanding population converging on unregulated and mushrooming cities to worry about. India, says the United Nations, is on the cusp of an urban revolution with as many as 337 million Indians already living in cities and the number projected to increase to 600 million in the next decade-and-a-half. Now forget waste management and recycling, imagine finding the landfills to handle the garbage generated by such cities put together with unregulated construction boom. On land, in the air, and deep down, India needs a clean-up. It's an uphill task Modi has embarked upon, there's mountains of garbage up ahead.
***
Top 10 Cleanest Cities
73.48 Chandigarh
70.65 Bangalore
69.09 Tiruchirappalli
68.26 Calicut
61.37 Pandalam
59.02 Kollam
57.96 Jamshedpur
57.34 Mysore
56.11 Rajkot
53.11  T'puram
Source: National City Rating, 2010 (GoI)
---
By Uttam Sengupta in New Delhi with R.K. Misra in Gandhinagar and Minu Ittyipe in Thiruvananthapuram