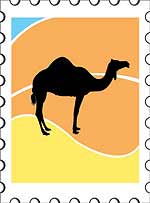 Enter the Sandman The plane entered a blinding yellow sky. I strained against the window to catch something of the approach, but the desert was hazy and featureless. The lady on the seat next to me clutched her stomach and closed her eyes, as if on the verge of a gastric implosion. Then the plane lurched and lowered itself into the burning still life, the city of sand. She turned to me, smiled feebly, and said, "In the desert, you can never tell when you hit ground."
Advertisement opens in new window
For several centuries, Dubai was little more than a struggling coastal outpost, a minor colle­ctive of fishing communities that survived at the edge of a real desert, full of cacti, rocky outcrops, shifting sands and daily storms that make every desert setting a yellow daytime nightmare. But now, in barely a generation, the natural ecology of the desert land­scape—rough, parched, pitiless—has been given the opposite lease. Man-made and unnatural to the order of Disneyworld. Des­alinated and air-conditioned like Las Vegas. She­ikh Mohammad bin Rashid Al Maktoum's super­human effort stretched architectural ideas bey­ond all limits of logic, defying all possible conv­entions. The tallest man-made structure, the Burj Khalifa; the biggest single mall, the Dubai Mall; the largest man-made island, the Palm Jumeirah.
Walk along the golf greens for the Dubai Desert Classic, the soft earth and grassy mounds have the tropical feel of an Indonesia or Thailand. During the short Dubai winter, television cameras follow Tiger Woods and Colin Montgo­merie, lea­ning on their clubs on thick grass aga­i­nst a bac­k­drop of formidable skyscrapers and sunny blue sky. A mix of tropical lushness and western urb­anism. Is it Hong Kong? Or New York's Central Park against the apart­m­ents of the East Side?
Advertisement opens in new window
---
The Reclaimed Fruit Our tour guide was a Christian from Kerala, the driver a Punjabi Pakistani from Lah­ore. Except for a Nigerian family, everyone was Indian or Pakistani. The 12-seater Mercedes van sped across the treeless coastal road to the Palm Jumeriah, a seafront car­ved in the shape of a palm tree. Million-dollar houses stretched out in curving rows, facing the shallow waters of an artificial inland sea. White sand in truckloads has been spread above the art­ificial concrete breakwaters to give the illusion of a natural beach. But—like the white expats and the brown workers—you are never sure if it bel­o­ngs there; or if it was trucked in from Australia. Along the way, the homes, part-Mediterranean, part-Florida, are topped by artificial wind towers to lend an air of Arab authenticity. "Shahrukh Khan and Hrithik Roshan both have houses here," said the guide for the benefit of the Indians.
An open bus, a windowless heap of clanking steel, passed us on the highway. I could see the dark faces, much like our own, chattering under yellow hard hats, heading out of their work shift. India in captivity, a miniature moment of displ­a­cement. A small part of the millions of Indian and Bangladeshi labourers trucked daily to building sites, the blood 'n guts builders of Dubai. The tou­rist route is carefully chosen to avoid any visual contact with such members of the Third World. Still, however hard they try to blend this mass of brown population into the dusty background, their blue overalls mark them out as foreign workers. Their shabby makeshift domiciles are in striking contrast to the glass and glitter of Dubai.
Advertisement opens in new window
---
Acrophony Our van stopped for a gli­m­pse of Atlantis, the splayed arms of 1,500 rooms looking out to sea, Dubai's famous expat hangout. Its arc­hitectural inspiration is hard to pin down: Ara­bian night windows, a high entrance archway, a Las Vegas frontage—the assembly owed more to casino design than to its desert setting. An Eas­t­ern fable on a giant western scale. Its displ­a­ce­m­ent was palpable; we drove away with the nagging feeling that Atlantis was only a tem­porary enca­mpment for a luxurious occasion. What's imm­e­diately obvious is the sheer weight­lessness of the constructions, a city from instant mix, a Lego set assembled on a metropolis's monumental scale.
I rode up the elevator's electronic hiss in the Burj Khalifa. From ground zero to the 132nd, the black soundless lift gave no indication—visual, tac­tile or acoustic—of this enormous hei­ght. I was deposited soundlessly on the obse­rva­t­ion deck. Looking down, the other glass towers below app­eared diminutive and frail—dwarfed and grounded in yellow dust. Dust remained sus­pended aro­und the glare of mirrored glass, the bro­w­n­ness extending to the hori­zon. Like a miniature city swirling in a muddy water tank. From that great height, Dubai looked like a grave mistake. An unfortunate marker to one man's folly. The city was a model that the Sheikh ought to have tested first in miniature.
Advertisement opens in new window
---
Other than the Sea, Dubai has no source of water. If, for whatever reason, the resource to desalinate ran out, Dubai will go the way of Fatehpur Sikri. A 21st century glass citadel, abandoned like Akbar's capital.
---
Delhi-based architect Gautam Bhatia is the author, most recently, of Comic Century; E-mail your diarist: gbhatia100 AT gmail.com