Have you ever visited a prostitute?
Have you had a child out of wedlock?
Would you sleep with another man if your husband wouldn't know?
Have you ever peed in a swimming pool?
Talk, shock and lock (the booty). This seems to be the new mantra on TV entertainment channels, if the strip-to-the-soul reality show Sach Ka Saamna (SKS) is any index of urban India's viewing preferences. About 30 million viewers across metros, cities and towns watch, say, a Namraj Joshi—or it could be a Ram Mohammed Thomas—shrug a bit uncomfortably, then shake his head and respond 'No!', when asked if he had ever slept with a woman while conducting sightseeing tours. Now why would anyone except Mrs Joshi be interested in either asking Joshi that question or knowing his answer? But millions of Indians are, some sorry and others secretly thrilled that Joshi's negative answer was caught out by the polygraph machine. He was branded a cheat by a machine whose verdict many take as irrefutable.
SKS addicts—a nascent community that gets its daily fix from watching people like themselves bare their darkest and deepest secrets on national television—are unabashedly lapping up lurid details of others' lives and thoughts. The channel, Star Plus, is back as the country's number one general entertainment channel after months, outsmarting upstarts like Colors and Sony. SKS producer, Siddhartha Basu of Big Synergy Entertainment, cloaks the moolah-making show as a way to "question our relationship with truth, tell the truth, and expose lies in a compassionate environment" in the land where Mahatma Gandhi titled his autobiography My Experiments with Truth. Contestants, who seem none the worse for being hooked to the polygraph machine, return to the arms of their families for an emotional reunion captured live; the 15 minutes of fame is a warm afterglow. Many, of course, are a few lakh rupees richer for their national tell-all effort; but none richer than the producer and the channel.
If a TV reality show is read as the barometer of a society's cultural tastes, SKS doesn't say anything flattering about the direction in which popular entertainment preferences are headed. To this reality show basket, add others such as India's Got Talent, Iss Jungle Se Mujhe Bachao, Khatron Ke Khiladi, Roadies, Rakhi Ka Swayamvar and of course Big Boss, across channels on prime-time slots, each netting between 2 and 4.6 on the TRP scale, considered well above average. Urban India in the post-globalisation era—prime-time society, shall we say—seems as mesmerised by reality shows as Rajiv Gandhi's India was by its Sunday morning dose of the venerable but tacky Ramayan and Mahabharat serials.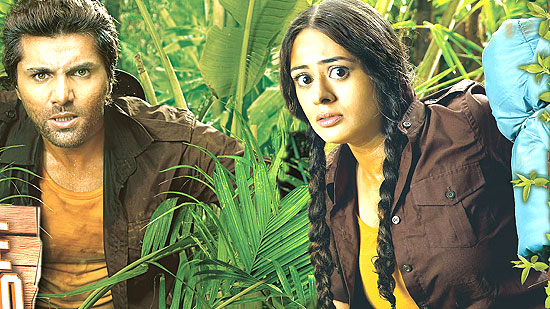 Trapped: Iss Jungle Se Mujhe Bachao
Television pundits reiterate in study after study that sex, suffering and drama sell. Ekta Kapoor scripted these elements into mind-bogglingly successful, though retarded, television fiction in the late 1990s. These stock elements, adapted to non-fiction, are now reincarnated as reality television. And this genre, which accounted for about two per cent of all programming till five years ago, now constitutes approximately 15 per cent, according to industry numbercrunchers. "This I call the disease of spectatoritis," says sociology professor and media commentator Nandini Sardesai. "We have become a nation of spectators who watch television that offers minimum thinking and maximum excitement, believing it's real stuff though we know it isn't."
All reality shows have had their share of criticism but none more than SKS, where personal skeletons tumble out, and dirty linen is deliberately washed before a national audience. Even as two petitions seeking a stay on SKS were dismissed by the Delhi High Court ("There are far more serious problems in this country which we have to settle," the court said), politicians of different hues demanded a ban on SKS because the show "goes against Indian culture", and social commentators lamented that we're becoming a voyeuristic and/or exhibitionistic society. Meanwhile, Siddhartha Basu and Star Plus are thrilled.
Psychoanalyst and author Sudhir Kakar, though he finds SKS a "deeply irresponsible" show, says the Indian culture argument is "spurious", given that the Mahabharata is replete with stories of adultery. "The popularity of SKS doesn't surprise me. Sexuality and the sexual lives of others are always interesting," he says. Sardesai agrees: "The 'Indian culture' argument is a sham because we have never been a homogenous community; we are a collection of over 2,000 communities with diverse material and non-material cultural elements."
The charge of voyeurism and exhibitionism is hardly new; it resurfaces every now and then, in different contexts. SKS captivates, says Smita Mandloi, head of programming at Star Plus, because there's "a public cleansing of sorts by PLUS (people like us)". Mumbai-based social psychiatrist Dr Harish Shetty says, "Indians are increasingly coming out of the closet, awakening to the possibilities of disclosure, challenging established social mores—and now this public unburdening on TV." Kakar offers that Indians have always been voyeurs: "We peep into our parents' bedroom at night. We play doctor." And Rukmini Bhaya Nair, head of Humanities and Social Sciences, IIT Delhi, likens the viewing of SKS "to watching a flogging in medieval England. And it's been found that a vicarious and voyeuristic experience of an event is better than a first-hand experience of that event itself." Veteran film critic Bhawana Somayya points to the stupendous success of magazines that wrote about film stars' lives—"whether as gossip or rumour or occasional truth"—as further proof of our thriving appetite for titillating details of others' lives.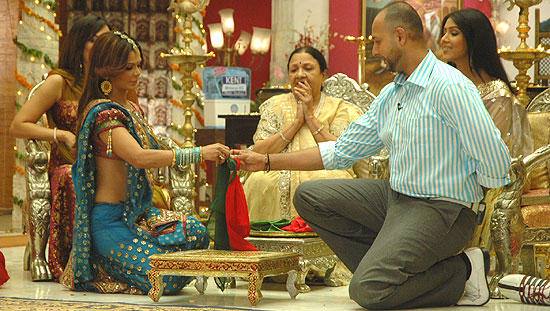 Suits her: Rakhi Sawant narrowing in
No wonder, then, that every reality show has attempted to rope in celebrities, even small-time or fading ones. Rakhi Ka Swayamvar unabashedly taps into the starlet's mini-stardom, Fear Factor toplined filmstar Akshay Kumar, while song and dance shows have always had a sprinkling of the glam set. "Celebrities across television, film and sports were approached for SKS, and an incredible number of viewers (wrote) asking for politicians to be a part of the show," reveals Mandloi.
Though politicians, for obvious reasons, are least likely to agree to participate in a public confessional show, for others, the cash-stuffed envelope at the end is a great motivation, apart from their moment in the limelight. Vinod Kambli, former cricketer who wept about old friend Sachin Tendulkar's indifference, went home richer by Rs 10 lakh, though he says money was not the reason he agreed to appear on SKS. Adds TV actor Yusuf Husain, one of the first SKS contestants, who confessed to having a love-child: "I did not do it for the money. I took it as a social responsibility." There are others like actor Bobby Darling, scheduled to appear shortly, who confesses to having accepted the offer for money because she needs it for gender-change surgery. "It was a very nice nice (sic) experience," she sighs.
Contestants have spoken of the feeling of "great relief" and catharsis after their confessional statements. Bobby Darling gushed that "meri atma dhul ke pavitr ho gayee, jaise Ganga snaan ke baad ho". There are those who desire that catharsis, and there are those who do not. Hindustan Times film critic Mayank Shekhar, who was invited on the show, turned down the invitation. "Why on earth would I bring into public what's in my private domain?" he wonders. Dr Shetty explains that "each of us carries stories that are embarrassing. Most hide, some confess to loved ones, a fringe section finds it cathartic to confess in front of an audience. It's as if the guilt is washed away".
Initially, Star Plus had a problem getting contestants, but once the show went on air on July 15, requests began pouring in. "I have 30,000 people wanting to appear," says Mandloi. If we are indeed getting addicted to public confession, could the next step be the Jade Goody kind—dying on camera?
Questions have been raised about the polygraph machine, which plays such a vital role in SKS. How credible is it to give the machine the final word on whether a contestant has given a true or false reply when polygraph results are not admissible as evidence in courts? Replies Basu, "No mechanism is foolproof, but anything characterised as a grey or indeterminate response by the certified polygrapher is never used."
SKS would have had some social relevance if it brought to us public confessions of criminals and lawbreakers, say its critics. "Get someone who would confess to evading taxes, get a terrorist to confess to mass murder—that would at least be beneficial to society," declares Najma Heptullah, BJP Rajya Sabha MP.
But to expect prime-time TV entertainment to undertake socially relevant missions is naive—it remains a slave to entertainment economics. Some may find Namraj Joshi's revelations exciting. Others might find the real-life ruckus about politicians' sexcapades in the j&k legislative assembly infinitely more titillating than Sach Ka Saamna. But there's no disputing the fact that reality shows, which now have double the viewership of serials, have become Indian television's biggest money-spinners.
---
By Smruti Koppikar in Bombay with Shreevatsa Nevatia in Delhi