Four Months Of Chaos
May 16 - The Poll Debacle BJP loses Lok Sabha polls. L.K. Advani offers to resign as leader of the Opposition. But the saffron party persuades him to stay on.
May 23 - Rebellion in the North The BJP's Uttarakhand unit turns against CM B.C. Khanduri. He is forced to resign on May 23. Now alleges he was unfairly sacked.
June 3 - New Controversial Appointments Arun Jaitley is appointed Leader of the Opposition in the RS. Sushma Swaraj is elevated as Advani's deputy in the Lok Sabha.
June 10 - The Letter Bomb 1 Jaswant Singh writes to the party leadership questioning the new appointments. Three days later, Yashwant Sinha resigns from all party posts and calls for introspection.
June 19 - Bomb II Arun Shourie writes to senior party leaders. He wants a debate on the party's poll debacle.
June 21 - Apte Committee Appointed A three-member committee appointed under Bal Apte to look into the poll debacle and recommend ways to revive the BJP.
August 13 - Vasundhara's Revolt Vasundhararaje is asked to resign as leader of the Opposition in Rajasthan. With the backing of 57 of the 78 BJP MLAs, she refuses to quit.
August 17 - Jaswant's Bombshell Controversial book praising Jinnah is released. Party disassociates itself from the book.
August 18 - Bhagwat Speaks Out RSS chief Mohan Bhagwat tells a news channel that the BJP has to be better disciplined and younger leaders must be encouraged.
August 19 - Jaswant Sacked At the chintan bhaitak in Shimla, Jaswant Singh is sacked for his book on Jinnah.
August 23 - The Aide Departs Sudheendra Kulkarni delinks himself from the BJP. Reason: "ideological differences".
August 24 - Shourie Strikes Rajya Sabha MP Arun Shourie launches a stinging attack against Advani, Rajnath Singh.
***
"Down, down, down. Would the fall never come to an end? I wonder how many miles I've fallen by this time?"
—Chapter 1. Down the Rabbit Hole, Alice in Wonderland.
For the BJP, the descent down the rabbit hole continues with no end in sight. Last week, BJP Rajya Sabha MP Arun Shourie quoted rather liberally from Lewis Carroll's classics when he heaped abuse on BJP president Rajnath Singh in a television interview. The party's other leading lights weren't spared either, taking hits in a more tangential fashion, through a somewhat incomprehensible three-part series of articles in a national daily. A stunned BJP looked pulverised after the Shourie mauling, particularly as it came on the heels of the furore over the Jaswant Singh book on Jinnah and the latter's subsequent expulsion from the party (without a chance to explain himself). Two sharp kicks to the shin of the once mighty party.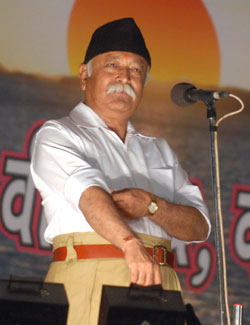 RSS chief Mohan Bhagwat
The question being asked is: has BJP-watching become a bloodsport that will end only with the last man standing? Should we liken party leaders to gladiators in the arena, drawing blood at every opportunity? At the time of writing, on Thursday (August 27), five days had passed without the BJP having an official briefing. Since the otherwise voluble party usually fields spokesmen on a daily basis, this seemed a clear sign that the saffron party was terrified by what other embarrassments could be in store. Senior leaders say they are disheartened and demoralised and have no idea when the madness will stop. The BJP may have stopped briefings but as the magazine goes to press, there were reports that RSS sarsanghchalak Mohan Bhagwat intended to go through with the somewhat extraordinary decision to address a press conference the next day, on Friday, August 28.
These are incredibly bad days for the party. Although Shourie ridiculed Rajnath in the eyes of the entire Indian public, the president who'd been so swift to act against Jaswant took no action and lamely asked Shourie for a written explanation. So twisted is the logic of the coteries that operate and so pathological the problems that sources say Rajnath's "advisors" believe Shourie has his uses—"he can be used to target Arun Jaitley". One twisted explanation on offer is that Shourie actually hates Jaitley but since the articulate lawyer/politician can't be ridiculed lightly, Rajnath Singh became the fall guy for the "Humpty Dumpty" and "Alice in Blunderland" barbs. No one actually knows why Shourie is so livid with the two. To quote from chapter two of Carroll's Wonderland saga, 'Pool of Tears', the intrigues in the party are getting "curiouser and curiouser".
A senior BJP leader: "You pay to take your child to the circus... this is a free performance."
Take, for instance, the cloak-and-dagger operation behind the Bal Apte report 'leak' when the party was engaged in the much-publicised introspection session in Shimla. There was indeed a real Bal Apte report that is yet to be made public although it has been shared at party forums. This report is full of homilies and generalities. But there is another document—purported to be the Apte report—that was put into the briefcases of the 25 select invitees to the closed-door meet. One copy was then apparently purloined. An internal investigation, it seems, has revealed that the document was then photographed on a mobile phone and sent by e-mail to a functionary operating out of Rajnath Singh's office who forwarded it to the media. All of this was apparently done with the purpose of again throwing some mud in the general direction of L.K. Advani, Arun Jaitley and Narendra Modi. Indeed, the version of the fake report initially available on the web is clearly photographs of pages. It's all terribly sordid and low.
A senior member of the parliamentary board told Outlook: "You pay to take your child to a circus. This is a free performance." He's one of the leaders who told Rajnath to tread cautiously on Shourie as "he can be more dangerous outside the party". The word "vicious" is repeatedly used for Shourie and there is an overall belief that he can cause greater mayhem than Jaswant Singh.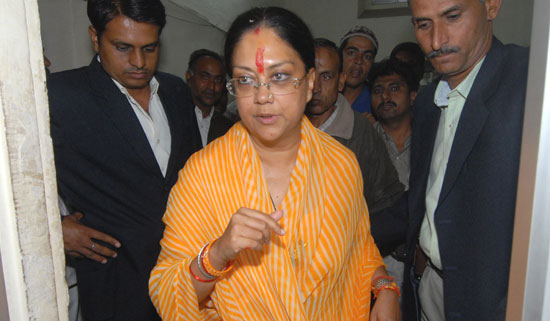 A defiant Vasundhararaje says she "hasn't decided on quitting"
Although not a product of the Sangh parivar, Shourie has written books and essays that give legitimacy to the Hindutva ideology. During the days of NDA rule, he was also a minister in two critical economic ministries (disinvestment and telecommunications) and part of many controversial decisions. In other words, sources say party leaders are afraid of Shourie, whose diatribe was apparently triggered by reports that he was unlikely to be given another Rajya Sabha seat when his current term ends next year. Sources say he had sent feelers to Narendra Modi but had been rebuffed. It was Shourie who had created confusion in the middle of the 2009 election campaign when he said that Modi could certainly be projected as PM. Significantly, even as he lambasted the BJP leadership, Shourie cleverly took cover with a so-called invoking of the name of the RSS. He suggested that the Sangh take over the party.
Of course, there are problems with this formulation. For there can be no direct takeover by the RSS. Senior functionary Ram Madhav has stated publicly that "we can only offer advice to the BJP". Since the Sangh is a voluntary organisation, it can certainly send its men to the BJP but can hardly take over a party accountable to the Indian public. Still, though many BJP members scoff at the idea of faceless pracharaks riding roughshod over them, others say the situation is so bad that drastic steps are required. An RSS source told Outlook that "it would have been better if the BJP leadership could decide about the future and keep us informed...but if that does not happen we will by November begin a process that would involve changes at every level". There is an overwhelming belief that both Rajnath Singh and L.K. Advani have to go soon or else the debilitating warfare will continue. It is their desire to cling on with eroded authority and diminished images that is seen to be at the heart of so many problems.
Take the Jinnah ghost, which must haunt Advani. There must be some soul-searching on why he failed to speak up in defence of Jaswant's right to analyse Jinnah's complexities. After the veteran had been expelled, former RSS chief K.S. Sudarshan added to the confusion. At a public function, he stated that Jinnah was once secular and committed to an undivided India but the actions of the Congress leadership drove him to embrace separatism. Those views were very similar to what Jaswant Singh had argued.
The BJP had nothing to say on the ideological contradictions as by then it had suspended all formal media briefings. But off the record, leaders were trying at least to make light of matters. Some samples: "Why are you calling? Is someone else abusing us?" or "We are as clueless as you" or the gem—"We can't brief you because we are translating Humpty Dumpty into Hindi to explain the meaning of the insult to the party president." One leader swore he heard an account of a party worker suggesting to Rajnath that since Shourie also called him Tarzan, it was actually a backhanded compliment.
The BJP has always had shades of the surreal and can indeed on days be called the Mad Hatter's party. But the situation is no longer funny now. Every day a new implosion takes place, a new charge is hurled or an insinuation made. In between the two big bangs by Jaswant Singh and Arun Shourie, there were minor implosions. Brajesh Mishra, principal secretary to Atal Behari Vajpayee, did further damage to Advani's tattered reputation when he said the former home minister endorsed Jaswant's journey to Kandahar. At the time of writing, the party was agog with anticipation over what the RSS chief would say the next day [He didn't really say much -- Ed, outlookindia.com] To conclude with another Lewis Carroll gem from the 'Walrus' Song' in Through the Looking Glass (which perhaps best describes the way the RSS has begun to view its wayward child):
"It seems a shame, the Walrus said
To play them such a trick
After we've brought them out so far
And made them trot so quick."