Out Of Action
Jaya's decision to boycott bypolls to five assembly seats has shocked many
She says her party has pulled out as polls were being rigged using EVMs
Critics say she has abdicated her role as an opposition leader
***
"I've been living like a sanyasin for the last 21 years, since the death of MGR." That was J. Jayalalitha, the AIADMK chief, responding to Tamil Nadu chief minister M. Karunanidhi in February, when he baited her about her vacationing in Kodanadu in the Nilgiri hills. But the question being asked after her announcement that her party would boycott the August 18 bypolls to five assembly seats is: is she also taking sanyas from being an opposition leader? Her allies, the CPI(M) and CPI, have broken ranks and have decided to contest four seats.
And why is she boycotting the bypolls? At a press conference held last fortnight in Coonoor (near Kodanadu, where she vacations at her resort), she gave three reasons: that the Centre and the state were "adamant" on using EVMs though many countries had banned them; that 51 lakh voters were taken off the rolls through "obvious misuse of the official machinery"; and that the DMK would once again use the "Thirumangalam bypoll formula", a reference to the alleged use of muscle and money power for the victory of Karunanidhi's son M.K. Azhagiri.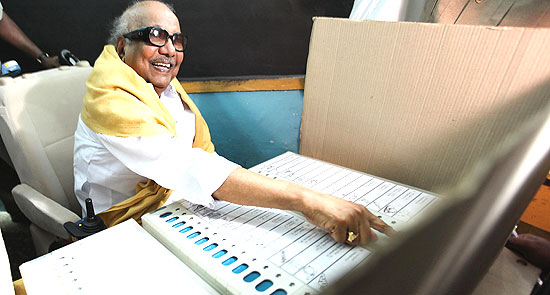 Machinations? Jayalalitha alleges that Karunanidhi's party is misusing EVMs
People do believe the DMK used every possible trick to win the Thirumangalam and the May general elections. But the AIADMK chief's boycott is more about not wanting to be seen as a loser, what with assembly elections slotted for 2010. "After losing the 2004 Lok Sabha polls, the 2006 assembly elections and the 2009 Lok Sabha elections, she doesn't want another loss," says an analyst.
The way she went about dealing with the situation was vintage Jayalalitha: a peremptory surprise when it's least expected. But her alliance partners were presented with a fait accompli. The MDMK, bruised in the Lok Sabha elections, quietly fell in line even though it had held the Todamuthur and Cumbum constituencies till its MLAs recently crossed over to the DMK. The PMK had nothing to lose, so its leader S. Ramadoss endorsed the boycott and when asked if it wasn't against the spirit of democracy, shot back: "Where's democracy in Tamil Nadu? Boycott is the right way to save democracy, which has been strangled by the DMK."
As is typical of such decisions, especially in parties built around a single leader's whims, there were fluctuating signals from the AIADMK, some from insiders who themselves may not have been able to figure out the leader's motives. To a Left leader's remark that a boycott wasn't prudent, one AIADMK insider said Jayalalitha was misunderstood and that "the idea was not to shy away but to get the Election Commission (EC) to act". But although Jayalalitha has reiterated that the "EC cannot afford to ignore the decision of a major political party", her reasoning that "the AIADMK has no other option" does not ring like that of an opposition leader who has so far preferred to go over the top rather than underplay her party's role. Her latest to the EC: "Don't waste taxpayers' money because everyone knows who will win."
Even so, the feeling that she has failed as an opposition leader is gaining ground. Even Congress leader S.R. Balasubramaniam says she has missed an opportunity to highlight people's issues. Her tragedy is that leaders here put her actions down to her tantrums. It's not so much about the boycott, which is a first-time ploy for the AIADMK in its 37-year history, but about Jayalalitha not taking her role as a leader of the opposition seriously.
Many remember that Jayalalitha went on a fast at Marina for Cauvery waters when she was the chief minister. But she has never hit the streets or mobilised agitations now, when she has 61 MLAs in a house of 234. In fact, in the recent assembly session, with her staying away, her MLAs staged fewer walkouts, a reflection of them feeling a lack of leadership.
But BSP leader and writer Sivakami has a different take. "Jayalalitha has been saying for long that malpractices occurred. It's up to the EC to disprove it, because she is at liberty decide whether to contest or not," she says. Sivakami dismissed murmurs about Jayalalitha being an absentee opposition leader (last year she spent four months at Kodanadu), saying, "With technology and communications, she can operate from wherever she wants to." But as a detractor points out, former defence minister George Fernandes had to speak to her on the telecom at Poes Gardens in 1998 because she suddenly decided to not meet him.
So when will Jayalalitha connect with the people? Many in her party believe that she should emulate Andhra Pradesh chief minister Y.S. Rajasekhara Reddy and take a padayatra across the state. It was YSR's yatra that ensured Chandrababu Naidu's defeat in 2004. But for now, there is no indication that the AIADMK chief will begin such an exercise. Her supporters believe things will change as the 2011 assembly elections approach. That is when Jayalalitha will change gears, they say. For now, she seems happy enjoying cooler climes at her Kodanadu estate in the hills.