Ishant Sharma seems to have lost the arrogant, Achilles-like rage of the pacer—when hit for a four or a six, he's no longer steaming back to bowl a nasty bouncer. Recent Indian cricket is replete with cautionary tales involving men who hurled the ball fast and made it curve like a crescent, and coaches fear that Ishant too could be on that road to early cricketing perdition. "The debacle has started," says coach Shravan Kumar. "Ishant needs to work really, really hard on his game when he returns from South Africa."
Most cricket commentators agree that Ishant has lost pace and swing and, with them, the dread he used to inspire in the best batsmen in the world, all in a few months. But Shravan's pronouncement has to be taken more seriously because he happens to be Ishant's coach.
India needs Ishant; though he leaks runs in one-dayers, his record in wins is markedly better than in losses. As India fared poorly in yet another ICC event, the Champions Trophy, Ishant's performance was distressing—three wickets in the first two games, at nearly six runs an over. At this rate, there is serious danger of him being lost to Indian cricket.
"No bowler has grown after joining the Indian team. Why are Praveen, R.P. bowling worse? Why has Ishant declined?"
Men like S. Sreesanth or Munaf Patel have limped away to the sidelines, out of the reckoning; R.P. Singh and Praveen Kumar have lost the edge. Then there are the batsmen—Rohit Sharma, Suresh Raina, Robin Uthappa, Manoj Tewary, to name just a quartet of the best prospects. This was the bunch expected to form the nucleus of the Indian squad, meant to wage war for the 2011 World Cup. But the bench strength hasn't exactly been 'strength'. After promising starts, the youngsters have faltered on the international arena, causing the selectors to panic and recall men like Rahul Dravid or Ashish Nehra. With Virender Sehwag, Zaheer Khan and Yuvraj Singh out of the Champions Trophy with injuries, the reserves and the hopefuls had another opportunity. It was wasted. Why has young talent been losing the way?
Former India allrounder Manoj Prabhakar believes India doesn't have the right bowling coach. "I would not call Venkatesh Prasad a coach—he's more of a baggage handler!" he says. While that may sound mean, Prabhakar poses a barrage of relevant questions: "Why's it that no bowler has grown and learnt more after joining the Indian team? Why's R.P. Singh bowling worse than ever before? And Praveen Kumar? Where is Sreesanth? He's won a Test in South Africa, of all places! And Ishant was a gem handed to Prasad, why has he declined?"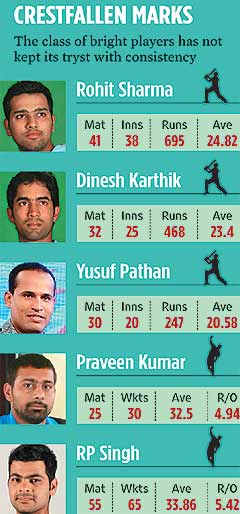 Prabhakar, highly regarded by the Delhi bowlers, with whom he'd worked as a bowling coach for a season, has the diagnosis. He says Ishant's problems are both physiological and psychological—and compounded by Prasad's influence. "Ishant's left shoulder is dropping at the time of delivery. It's causing him to lose pace," says Prabhakar. "And since Prasad bowled a good leg-cutter, it seems he's trying to teach it to Ishant, cluttering his mind, affecting his grip and wrist position. That's why he's unable to swing the ball now." All this, says Prabhakar, has made Ishant scared of being hit.
This dread of taking a bit of stick, says Shravan, inevitably alters the mechanics of a bowler's action. This fear is particularly widespread in T20. "Every bowler must try new skills to get wickets, but in T20, the only skill that's valued is getting dot balls," Shravan says. "So the bowler hits the pitch hard to make it difficult for the batsmen to score—but that reduces his ability to swing the ball."
Unsurprisingly, professional coaches are worried about what Twenty20 cricket and easy money might do to the game. "I think T20 and IPL are very bad for cricket," Dinesh Lad, coach of the talented Rohit Sharma, says. "I think cricketers doing other stuff—like dance shows on TV—isn't good. These distractions can't do you any good. You should focus on cricket alone," he adds.
These views might seem anachronistic to the fan bred in modern times, but these coaches have spent their lives teaching cricket to children in the hope of creating international players; their opinion must be heeded. "Players don't practise as much as they did before they became international players—they just don't have the time!" says Shravan. "And when they do, sponsors use it for promotional programmes or advertisements. The players can't refuse, because they're giving them crores of rupees."
Former captain Bishan Singh Bedi blames the board for nipping talent. "They're playing so much cricket, and the BCCI should be blamed for trying to flog players towards an early decline. Where's the time to recover from injuries, or to learn new skills? T20 will destroy all young cricketers in the world."
Fitness, of curse, is Indian cricket's perennial problem. Bowlers are bowling more than ever before, in Tests, ODIs and now in the T20 leagues, which involve much travel and incredible intensity. Bedi rightly cites Glenn McGrath as a supremely fit cricketer. In his first Test, McGrath bowled 55 overs—and 50 in his last. None of our young pacemen has bowled 50. And despite the focus on young blood, it's Sachin Tendulkar who's been central to overseas success in the recent past—like in Australia in early 2008 and in Sri Lanka last month.
Captain M.S. Dhoni's Midas touch owed a lot of substance to Ishant's bowling—he'd be loath to lose it. The BCCI might, to preclude that, want to do something it has rarely done before—nurture, protect and rest Indian players, and guide them towards the summit that the aureole of early success often points to.