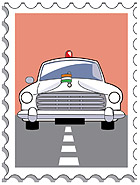 Capital Nous
Every election we play a childish little game at Outlook. The editors and reporters are invited to make their predictions based on what they see, hear, read and feel. And they are allowed the luxury of revising their numbers as many times as they wish in the run-up. Each prediction is duly recorded and when the results come in, the winners are named, and the losers are shamed into buying discounted dhoklas from Bengal Sweets. The idea is to see whether the resident know-it-alls really do have their ears to the ground or if we are just hearing our own voices in the various echo chambers we inhabit.
Since we are not all-seeing pollsters or astrologers, we get it mostly wrong, of course. But Delhi, the city we live in, move around, work out of and think we know? Only our executive editor Bishwadeep Moitra got the aap tally somewhat right in 2013. This year was worse—and how. None of our wise women and men gave the Aam Army more than half of the 67 it got. Two new colleagues in our current affairs section, Mihir Srivastava and Pavithra S. Rangan, were braver but even their prognosis of 47 and 45 respectively was way short.
Only our photo-editor Narendra Bisht got the BJP score bang on—well, at least one digit of the 43 he gave it. Yours truly, on the other hand, is always armed with the late New York Times executive editor James 'Scotty' Reston's classic line after observing India at the hustings: "An election is a secret communion between a voter and democracy. It's sacrilege to peek in."
---
Reverse Sting
A big fat cheque makes Indian cricketers do some strange things, but it is about time someone asked Sachin Tendulkar if he is beginning to lose his masterful touch. As it is, the "Narendra Modi of the 22 yards" is an automatic entry in the 'Encyclopaedia of Reverse Osmosis' as the world's only Bharat Ratna selling RO systems to his countrywomen who walk kilometres to fetch a clean cup of water. But what is one to make of his utterly ridiculous advertisements touting the World Cup for Star Sports, the TV station that will air the tournament to us? "I did not dream of scoring 34,000 runs. I did not dream of scoring 100 centuries," says the lord blithely as he surveys a ground he mastered. Ergo: all he wanted to do from the day he walked on to an international field (ironically as a substitute fielder for Pakistan) was to win the World Cup. Really? Doubtless, Tendulkar was a frizzy-haired 10-year-old when Kapil's Devils stole the 1983 World Cup, but to think that the Master Blaster deems that all his fantabulous Test match knocks count for nothing in front of winning the 2012 World Cup is plain hogwash. In fact, an insult to himself and his fans, not to speak of the great game itself.

After the first season of the Indian Premier League, the Australian batsman Matthew Hayden asked Rahul Dravid, in jest, if all the runs scored by them mattered in the frenetic era of Twenty20 cricket. The mind boggles to think that 'God' can deliver gibberish as gospel to his devotees.
---
Hips Don't Lie

While South Delhi's superslick women are going the extra mile to shed theirs, a big bottom has become all the rage across the world. From Scarlett Johansson to Kim Kardashian, from Shakira to Beyonce, the internet is creaking under the collective weight of their derriere as the gazillions of gigabytes get downloaded onto desktops and hand-held devices. Well, feel guilty no more of opening files marked nsfw: you are merely doing parental research.

A new book titled Why Women Need Fat by Prof Will Lassek of Pittsburgh University says the secret to human intelligence lies in the female bottom; the curvier a woman's backside, the more it helps her baby's brain. Apparently the fat in women's buttocks contains a particularly important component in the human brain called docosahexaenoic acid. Nearly 80 per cent of the DHA needed by a baby's brain comes from a mother's stored fat.

So, when you look at the pictures on our Glitterati page, artfully chosen for 20 years running by our chief photo-coordinator S. Rakshit, make no mistake: he has nothing more devious than developing human intelligence in mind.
---
EEDU, We Do

Members of Willingdon Club in Bombay have done it for ages, but Delhiites (all three of them) who can't get enough of Arvind can bite into 'Kejriwal' for just Rs 195. 'Eggs Kej­riwal', the cheese-egg-n-chillies sandwich pioneered by Devi Prasad Kejriwal, a Marwari businessman whose brother's grandson launched Games2Win.com, is on the menu of SodaBottleOpenerwala, the Bombay-style Parsi eatery in Khan Market. If AK-67 can convince A.D. Singh to bring down its price, he'll have every Khas Aadmi in his pocket.
---
Last Week

I learnt that the Union health ministry had presciently declared February 10, the day of the Delhi results, as 'National Deworming Day'
---
Krishna Prasad is the Editor-in-Chief of Outlook. Follow him on Twitter @churumuri; E-mail your diarist: krishnaprasad [AT] outlookindia [DOT] com