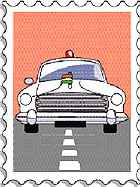 Folly de grandeur
I am distantly rela­ted to Vallabhbhai Patel through marriage, but I find this statue business distasteful. The Gujarat government has earmarked Rs 2,500 crore for the statue of the great man. It will be the tallest in the world, taller than the Statue of Liberty. It raises the inevitable question: how many toilets or schools can be built with that kind of money? And why one of Patel and not of Gandhi, the Father of the Nation, also a Gujarati and a more unifying figure? The Maharashtrians won't be outdone. They are planning a statue of their icon, Chhatrapati Shivaji, also 'biggest in the world'. I suspect they will wait and see what the Gujaratis come up with before erecting something higher. This one will be in the Arabian Sea facing Marine Drive in Mumbai. The Sardar will be seen standing while the Maratha will be on a horse brandishing a sword. When will such folly end? A few years down the road, some despot in some banana republic will, no doubt, put up one that will dwarf both. Such grandiosity is now a Third World phenomenon; it happens only in countries that can least afford them.
---
Ishq Parsiana
It seems an idiosyncrasy to name something 'Sodabottleopenerwala', but it's appropriate. The new Parsi restaurant in Khan Market is a witty take on the Irani cafes that were once ubiquitous in Bombay. I was verbally invited by the owner to its opening, when we bumped into each other at a party, but I did not go. I was peeved that he did not follow it up with a more formal invitation. But I did go later as a paying customer and I am happy to report that the place passes muster. The decor is quirky, as one would expect with a name like that, and the food is a delight. There are the perennial favourites, sali mutton, dhansak and berry pulao, all very Parsi. Also on the menu is Mumbai street food. The owners are listed as AD, Sabina and Rustom Sodabottleopenerwala but I doubt if anyone by that last name exists. Too good to be true! For my money, Parsi cuisine is the best among all Indian cuisines. It is a subtle mix of what they brought with them when they fled Persia and what they found when they landed on our shores.
---
Island forever
Fiji's high commissioner in New Delhi, Yogesh Karan, has done the unthink­able. With his government's support, he has persuaded the Indian prime minister to make an official visit to a country with a population of less than a million before he sets foot in countries like Britain and Russia. Narendra Modi will be in Suva, the capital, later this month. At one time, the Indian population in Fiji was larger than that of the ethnic Fijians, but following several coups targeting Indians, many of them migrated. The racial balance now favours the Fijians and tensions between the two communities have been greatly reduced. This year, under a new constitution, the two communities voted together for the first time on a common electoral roll. Some of closest aides of Prime Minister Frank Bainimarama are Indians. The improved Fiji-India ties have got Australia, a regional sup­erpower, worried. It considers the South Pacific its backyard. One sign of Fiji-India bhai-bhai is India's offer of land in posh Chanakyapuri to the Fiji high commission to build its chancery. Other diplomatic missions are being persuaded to go to Dwarka, on Delhi's outskirts. I left Fiji as a teenager, but still proudly carry a Fijian passport, together with a PIO card.
---
Deathly blues
One of the advantages of living in Sujan Singh Park is that you are close to the Lodhi Road crematorium. I turned 78 last month and when I go there to see a friend off, I wonder if there is much point in going back home. I am often asked what I do now that I am retired. Well, I have written four books, including a novel that was on the bestseller list. There is a screenplay in my drawer waiting for a producer. And it's a good one. Not bad for my age. Most times, I enjoy converting beer, wine or whisky into urine. It's a rewarding experience. They say alcohol doesn't solve any problem but neither does milk. I am stiff in all the wrong places. I take half a Viagra every morning. It prevents me from pissing on my shoes. More seriously, as I get older and wither, I begin to doubt my ability to make a difference in the world. It is at these times that my hopes are boosted by the remarkable achievements of others even older than me—Khushwant Singh, for instance. He continued to deflate egos and speak out against injustices and intolerance till the end. He died recently at the age of 99 without a trace of senility. He was my mentor, my inspiration, my neighbour. I miss him very much.
---
Last week...
I saw a warning printed on the menu of a Khan Market restaurant: 'No feet on chair, no shouting at staff, no talking softly'
---
Bhaichand Patel, formerly with the UN, is the author of Mothers, Lovers and other Strangers; E-mail your diarist: bhaichandp [AT] gmail [DOT] com