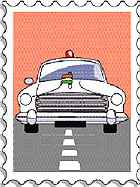 The Foreign Indian Hand
Am I the only one who is a bit nauseated by the constant demand from the American side: "What can you do for us?" In all the discussions and debates with US policymakers and the media, only one question is being asked: "What does Modi bring to our table?" The list of requirements is formidable. They all revolve around India making life easier for US multinationals. As a result, on this visit our prime minister is always on the defensive­—he needs to "walk the talk", "cut red tape", "make environmental clearances instant", "change the country's laws to suit American companies", "woo US corporate chiefs" etc etc. Unfortunately, Modi has fallen into the trap. It would seem India is the supplicant. It seems India must go the extra mile for enticing Kentucky Fried Chicken to invest more.
It is all hopelessly one-sided. In fact, the US should be wooing India. America needs India more than India needs America. Of course, we must remove unnecessary hurdles hindering business development, but not just for the US, we should do it for the entire international community. With our 1.2 billion population and 400-million-strong middle class, India offers a market no other country can match. It is we who should be setting the terms. Alas, it is the other way round. Who is pushing India into the beggar's role? The same people who were chanting "Modi, Modi, Modi" at the Madison Square Garden. The three million NRIs and PIOs, who have suddenly discovered how much they love India, play an extremely negative and selfish role in boosting Indo-US relations irrespective of the consequences to their home country. It is time we woke up to that fact.
---
Speaking Easy
Pseudo-secularists have taken a terrific beating in the past few weeks. We have been taunted and challenged as we are asked to give a verdict on Prime Minister Modi's performance in the promised land. Well, this pseudo-secularist has no difficulty in saying he performed brilliantly. And he also reversed his ghastly personal image. While I thought he should have made a fully scripted, less rambling speech at the UN General Assembly, his session with the Council for Foreign Relations, where he answered questions ranging from China to climate change, demonstrated his mastery over facts. Speaking without notes or the help of an aide, he effortlessly provided intelligent answers to all the queries. Modi may not have degrees from Cambridge or Yale, he may not have any serious formal education, but he has done his homework. His replies are often laced with humour, showing his ease and comfort level.
I have said this before, and I will say it again. Mr Modi's critics, and their number is legion, should judge him on his present while not forgetting his past. However, the past is the past and we live in the present. On his part, Prime Minister Modi must rule with fairness, resisting those elements in the parivar—and their number, too, is legion—determined to dismantle India's gift to the civilised world: harmonious diversity. If the BJP has visions of becoming the national party of government, a vision which is within its grasp given the disarray in the Congress, it does not necessarily need a leader in the Atal Behari Vajpayee mould. Modi can rule with his own distinctive style as long as he rules all of India, not part of India.
---
Dhanshak in Cyburbia
Have you been to Cyber City in Gurgaon? I went for the first time last week to see my publishers, Penguin (The sequel to Lucknow Boy is coming out in December) and I thought I had come to another country. Officially, Cyber City is described as a "state-of-the-art business park", but the desc­ription is inadequate. I felt a bit dizzy walking around the futuristic city and also wondered where I was. California or Gurgaon?
It was brimming with mostly under-30 techies and executives who have a slightly superior air. They are casually but trendily dressed. Very few 'suits' visible. Those who inhabit this brave new world do not appreciate tourists gazing! Then we travelled for lunch. That was another experience. In a mall a kilometre long are situated around 50 stylish restaurants with names like Zinos, Imperfecto, Canton Spice Company, Angels in the Kitchen, Sol 7 Plus and Brewery, and The Wine Company (with outdoor seating). We settled for A.D. Singh's Soda Water Bottle Openerwallah, serving great Parsi food (a branch is opening soon in Khan Market). It was packed. When I enquired if these places were deserted at night, I was told, "They are more full. People from all over Gurgaon come for dinner."
---
Taut quote
I am re-reading Harold Evans's Paper Chase and found this: "A newspaper is an argument on the way to a deadline."
---
Vinod Mehta is editorial chairman, Outlook, and its founding editor-in-chief; E-mail your diarist: vmehta [AT] outlookindia [DOT] com
Corrected Online: Because of a typographical error, an earlier version of the piece mentioned 300 million as the figure of NRIs and PIOs in the USA. This has been corrected to three million (3.18 million according to American Community Survey of 2010 data)