My Own Sort of Hindu
"What is wrong with faith?" an angry gent asked me recently. He was not a knickerwallah but a soft-spoken air force officer. He argued with some passion that this magazine's criticism of the Allahabad High Court judgement amounted to a rejection of faith. The officer explained he respected every community's right to their belief; therefore, those other communities should respect the Hindu's right to belief. He then asked me if I was a practising Hindu. I dodged the question.
I may not be a practising Hindu in the formal sense but I am not an atheist or even an agnostic. If anything, I am a vague sort of Hindu, the kind who prays at temples, mosques, churches and gurudwaras. I reckon if god exists, and it turns out He is not a Hindu, why take a chance. Spread your bets. Before someone stole my M.S. Subbulakshmi CD, I used to listen to her bhajans. The calm and peace they brought is indescribable. Moreover, if there is any religion I admire, it is Hinduism—but of the pseudo-secular variety. In other words, a Hinduism which celebrates tolerance and favours inclusiveness. Indian secularism, which has stood the test of time and which is acclaimed even by our Pakistani brothers, is a consequence of our great Hindu civilisation. You couldn't have one without the other.
But faith and religion have been wisely excluded from our Constitution, a document which is enshrined to protect all faiths equally. Whether the Ayodhya verdict leads to an out-of-court settlement is not the issue. The Muslims might agree to settle because the poison of the temple-vs-mosque dispute has plagued their lives.
A couple of years ago, the Kondhs of Niyamgiri asked the Supreme Court to deny Vedanta permission to mine bauxite on their mountain since their god is virajman there. Do you have any proof, asked the court. No, said the tribals, it is our belief He lives there. The tribals lost the case because the highest court in the land refused to take cognisance of just belief. So.
---
The Victoria Police Manual
I don't know how the Commonwealth Games are going to end in terms of further mishaps and accidents. But I have to say this. M.S. Gill's much-ridiculed remark about the Indian wedding has proved prophetic. The late managerial surge somehow managed to put things in place. I was present at the opening ceremony, fingers crossed, and had the opportunity to talk to many western officials and athletes. The almost unanimous opinion was that the stadia and games village conformed to world-class standards, possibly better than Melbourne. Moreover, the desi human touch received very high marks.
Criticism from other countries is acceptable. But not from Australia, a land largely made up of descendants of convicts. The Australian media has yet to forgive India for hammering the Aussies for the racism present in large sections of their society. This is once again confirmed by the latest e-mails exchanged by members of the police in Victoria—where most of the attacks have taken place—who seem to have an institutionalised anti-India colour bias. I feel specially sorry for the Australian high commissioner, Peter Varghese (who is of Indian extraction and looks it), for having to constantly defend the atrocious behaviour of his country's police and politicians. He should quit or seek a quick transfer.
---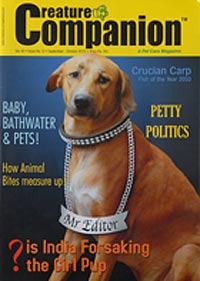 Best Woof Forward
As I threatened in the Diary page a couple of issues ago, here is the complete lowdown on Editor's debut as 'Guest Editor' of the magazine, Creature Companion (CC). First, my big grouse. I have been an editor for over 30 years and no publication has thought it fit to put my handsome mug on the cover. Meanwhile, our Mr Editor sits casually on the cover of CC looking smug, regal and condescending, as if he is bored by all the trashy publicity and fuss made about him in the media. In his Editorial, like most editors of the other, inferior kind, he's a real windbag. He pontificates on a host of issues (mercifully, he is silent on the Ayodhya verdict), from inbreeding, to the girl pup, to being born in a ditch, to his fellow strays. He even thinks he has a sense of humour. He ends the editorial with a silly joke: 'To all at the magazine, and to you my animal-loving readers, a woof and lick from me."
The publishers of CC say they are both surprised and impressed with the professionalism and skill the guest editor has shown in putting together the issue. I think they are just being kind. I'll wait for the letters to come in before I give him a pat on the back.
---
So Much for Us
At Chennai airport, a gentleman came up to me, shook my hand and said how much he enjoyed watching me on TV. When I asked him if he had heard about Outlook, he looked puzzled. "Outlook, which channel shows that?" I quickly moved away.