Escaped Artist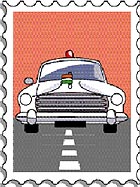 The curious case of M.F. Husain gets curiouser and curiouser. Let me first declare a minor interest. I have two Husain paintings proudly displayed in my living room. Moreover, since I am a pseudo-secularist, I have absolutely no difficulty with his depiction of Hindu gods. I prefer the non-Sita work, but that is merely a personal choice. Therefore, I readily concede that he is probably the best thing Indian art has produced over the last 60 years. What I do not concede is that Husain is a saint, a high-principled creative genius fleeing persecution. And is pining away in his Dubai penthouse, Ferrari at hand, for his beloved homeland. That is pure humbug.
In the past 10 days, Husain has provided his admirers at least five different accounts of why he is seeking exile: he is being hounded by Hindutva bigots; he is feeling let down by the Indian government and his supporters for failing to speak up for him; he is having serious tax problems which force him to live abroad; he is overseas because he is finishing some profitable assignments for the sheikhs of Arabia; he is simply waiting for the appropriate time to return. If you examine the provocations, you will notice that he has covered all possible bases. Husain has successfully managed the media and the discourse regarding his status so that he can pick any of the aforementioned justifications as and when it suits him. I cannot think of another instance where a "cause" has been so brilliantly manipulated.
Like many others, I have followed Husain's career for over three decades. He is obsessed with being the most famous, the most pricey, the most discussed, the most eccentric artist of post-independence India. Someone who knows him well told me he gets severe stomach ulcers when an Indian artist fetches a higher rupee than him on the art market. If he is not in the news, he creates it. In the late '80s, he decided to grace Mumbai's exclusive and snooty Willingdon Club with bare feet. The press was duly informed. The next day the papers were full of his forced ejection.
Husain is a great artist—even his critics grudgingly admit the fact. But he is not such a great human being.
---
Ladies' Coup
The historic Women's Reservation Bill is truly an occasion for high celebration not so much because it empowers 50 per cent of our population, but because it has brought together parties across the political spectrum in a rare show of unity to enact a piece of vital legislation. The picture printed in some of the papers on Wednesday morning of Brinda Karat and Sushma Swaraj hugging joyfully is something to savour. In our nasty public life you couldn't find two bigger enemies than the CPI(M) and BJP. Their alliance on this issue proves that when it matters, we as a country can come together. Sonia Gandhi, rightly, is being hailed for her leadership and determination, but along with Sonia let us also raise a toast to Indian democracy, and especially to the parties on the left and the right who put aside bitter personal and ideological differences. This could be their finest hour!
---
What the Hitchens!
The noted contrarian, Christopher Hitchens, in his soon-to-be-published memoirs, Hitch-22, offers this sage advice on how to drink liquor intelligently:
Don't drink on an empty stomach; the main point of the refreshment is the enhancement of food.
Don't drink if you have the blues; it is a junk cure. Drink when you are in a good mood.
Cheap booze is a false economy.
It is not true that you shouldn't drink alone: these can be the happiest glasses you ever drain.
Hangovers are another bad sign and you should not expect to be believed if you take refuge in saying you can't properly remember last night. (If you really don't remember, that's an even worse sign.)
Avoid all narcotics: these make you more boring rather than less and are not designed—as are the grape and the grain—to enliven company.
Be careful about upgrading too far to single malt: when you are voyaging in rough countries it won't be easily available.
Never even think of driving a car if you've taken a drop.
It's much worse to see a woman drunk than a man: I don't know why this is true but it is. Don't ever be responsible for it.
---
The Inner Tympanum
Bad news. Editor has had two major surgeries on his right ear which got infected and swollen. It was like a tennis ball. He is in considerable pain and discomfort. Dr Narendra Gandhi, his vet, has put a humungous collar around his neck to stop him from scratching the wound. He looks a little bit like Queen Elizabeth I. My wife, who is a practising Buddhist, made me pray for him. Recovery, alas, is slow. If Editor pulls through, I plan to become a Buddhist.