In dinon garche dakhan mein hai badi qadr-e- sukhan
Kaun jaaye 'Zauq' par Dilli ki galiyan chhod kar
(These days poetry commands great respect in the Deccan. But who, O Zauq, can leave the streets of Delhi).

—Zauq, the poet in the court of the last Mughal emperor, Bahadur Shah Zafar, while turning down a lucrative job in the Deccan
***
Right now, Delhi is certainly the most interesting city to be in India. In the city that has witnessed many battles down the centuries and where contemporary politics is played out at its best and worst, there is yet another election. This one, for the city-state, is being seen as a mini-referendum on the Narendra Modi government that in any case rules from New Delhi. The cast of characters in the fray makes it utterly fascinating, as do the ideological battlelines that some would see as between the haves and the have-nots. It's a classical good versus evil type of battle from the point of view of the committed on either side of the ideological fence. Those passionate about Modi seem to loathe Arvind Kejriwal and—needless to say—vice versa.
In its tourist brochures, the national capital is usually celebrated for its great monuments, parks and Lutyens bungalows. But many of its 20 million residents actually live in resettlement bastis, unauthorised colonies and urban villages. Walk into Trilokpuri, a large resettlement colony in East Delhi carved out in 1975-76 after the slum demolition ordered by Sanjay Gandhi during the infamous Emergency. Located just behind the apartment complexes of Mayur Vihar and Noida, Trilokpuri (one of Delhi's 12 reserved seats) is the home of the working classes who service the middle class. Electioneering is in full swing here as loudspeakers blare with campaign ditties set to the tune of Hindi film songs, campaign vehicles pass each other on the streets, and everybody has an opinion in each lane and bylane. If the paanwala around the street corner says he's voting AAP, the local butcher, a Dalit, says he will go with the BJP.

BJP brahmastra Kiran Bedi on a road show through Karol Bagh. (Photograph by Jitender Gupta)
The BJP and AAP offices are busy. The Congress office is completely deserted, astoundingly not a single person is around when this correspondent shows up, although a man does come rushing and says with a wry smile that "everyone" has gone to campaign. Trilokpuri has its place in Delhi's history: it was the stage for the most vicious slaughter of 350 Sikhs during the 1984 bloodbath that followed the assassination of Indira Gandhi. Three months ago, in November 2014, there was an attempt to stir up another kind of riot when residents (now mostly Dalits and Muslims, as Sikhs have moved out) fought pitched battles on the streets, and vandalised property. The mini-riot in Trilokpuri was described in the media as a pre-election warm-up exercise by the BJP candidate Sunil Kumar, who was defeated by AAP in 2013.
Sunil Kumar died two months later and his wife Kiran Baid has been given the BJP ticket. She is seated in her party office and defends her husband fiercely. "AAP spread lies about him. He was never involved in rioting," she says. Seated next to her in saffron clothes is one of the BJP's sadhvi MPs, Savitri Phule, who won from Bahraich, Uttar Pradesh, during the 2014 Modi landslide in the state. Seen as an effective Dalit campaigner, she has been commissioned by the party to focus on Trilokpuri. Does she, like fellow Sadhvi Niranjan Jyoti, see it as a fight between Ramzadas and haramzadas? "It is the job of the opposition to make charges. Some things must be let go off," she says, skirting the question. Outside the BJP office, Slumdog's Jai Ho reaches a crescendo and drowns out all voices.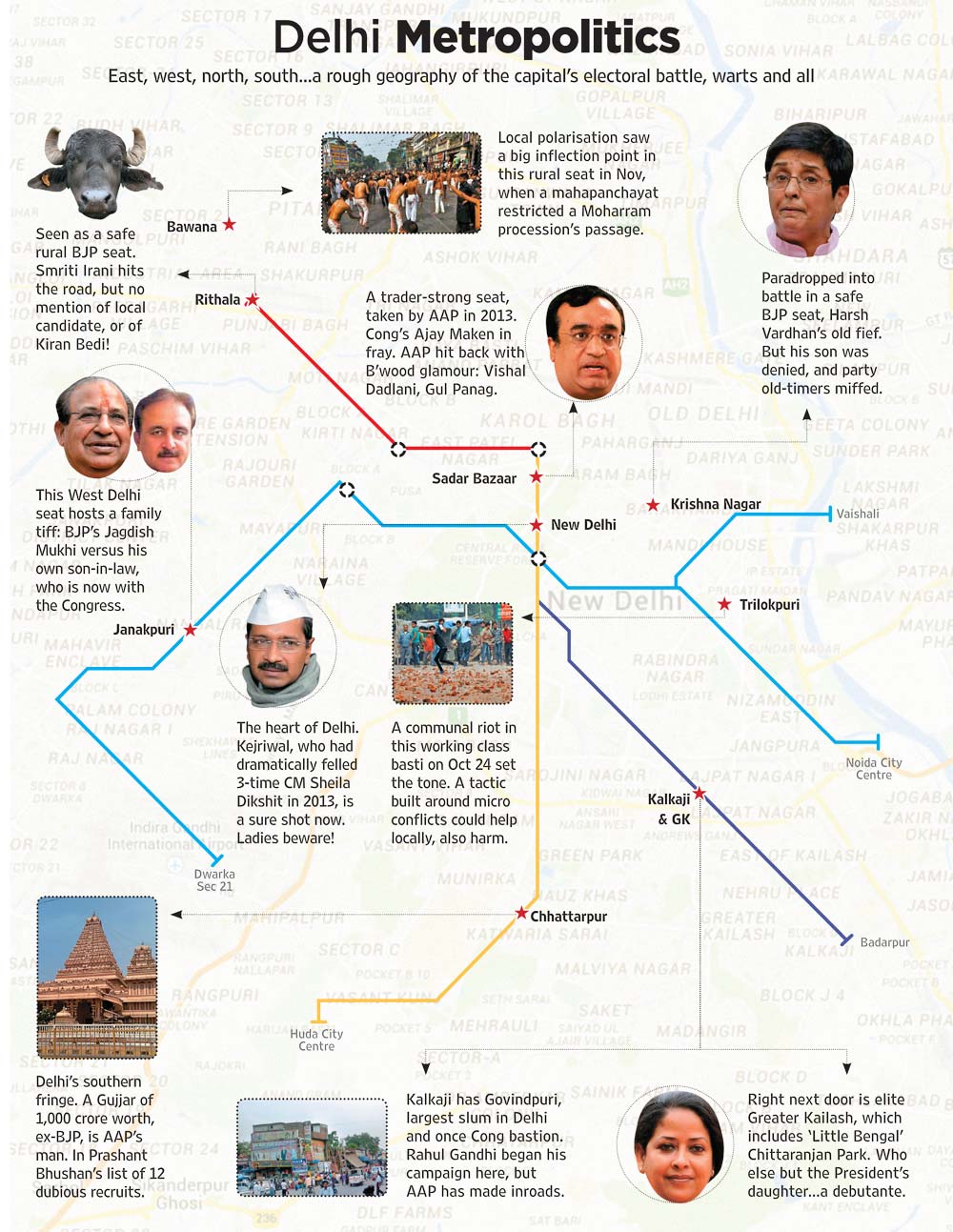 Some distance away, a group of men wearing AAP caps is walking down the road. One of them turns out to be Raju Dhingan who had defeated the sitting BJP MLA Sunil Kumar in 2013. Dhingan says he's been campaigning for the entire year. Before he became an MLA, he was a gym instructor, another example of the incredible cast of characters who have come to constitute the fighting force that AAP seems to have become. "I used to teach physical fitness to children here in Trilokpuri where I live and also take some private lessons to support myself," he reveals. He will certainly need to flex all his muscle given the limited financial resources AAP has compared to the BJP.
"I predict that Kiran Bedi as CM will last only a few months as she is not one of us," says a senior BJP party leader.
As the contenders enter the dead heat of the elections for the city state, thousands of BJP and RSS cadre have trooped into the city and the council of ministers has been pressed into electoral action. The PM himself would have addressed as many as five rallies by the time 1.3 crore voters of the city-state get to press that button on February 7. In Krishna Nagar, the seat from where the former police officer suddenly projected as BJP's CM candidate, Kiran Bedi, will contest, the office is crowded. At the heart of the action is a man holding a register. He is taking down the names and contact numbers of out-of-town workers and making arrangements for their stay. They will be put up in dharamshalas, homes of workers, temple guest houses, small hotels whose owners would want to curry favour with the nation's pre-eminent party. Gyan Singh, an RSS worker from Rae Bareli in Uttar Pradesh, has worked for the party in Bihar, UP, and now offers his services in Delhi. Deepak Kohli, a mobile shop owner from Chandigarh, has come with his son and is collecting campaign leaflets from the office and distributing them in Krishna Nagar. Nitaben Karla, an additional district judge from Rajkot, Gujarat, is a believer in Modi and Bedi, and has come in what she calls her "spirit of volunteerism".
The BJP expects to see a minimum of 3,000 to a maximum of 5,000 cadre per seat, which means two to three lakh cadre overall on the ground in Delhi. AAP strategists say the BJP is exaggerating their cadre strength and accurately point out that 48 hours before voting day all the out-of-town workers will have to leave because if they stay and get involved in campaign work, it would be a violation of the code of conduct. AAP says they have made arrangements for three workers at each of the city's 9,128 polling booths. They say they have about 35,000 people working for them and at a stretch it would be 50,000. If the BJP claims are accurate, that means they have put 10 times the cadre of AAP on the ground. The AAP strategist handling such arra­n­gements says bluntly: "They have more experienced volunteers. But we have also learnt our ropes. For instance, we are keeping an eye on all those workers at dharamshalas and so on. Even if the police favours the BJP, if there is a complaint made on the 100 number, they have to respond." Still, the David vs Goliath cliche cannot be avoided.

Riding the broom AAP supporters campaigning in Mandawali. (Photograph by Sanjay Rawat)
It should have been a cakewalk for Modi and BJP president Amit Shah (backed by the largest cadre organisation in the world) as the party led in 60 of the 70 assembly segments of Delhi in the Lok Sabha polls.
But clearly it is not or the emergency button would not have been pressed. The sudden projection of Kiran Bedi as the BJP's CM candidate has still not been digested by the party and the cadre, although she does have admirers among potential voters. A senior party leader analyses it thus: "The way she is shooting her mouth off makes it clear she's not going to be an easy chief minister to handle. Uma Bharati was a vote-catcher but she was not allowed to be CM again in Madhya Pradesh. But since she had a history with the parivar and party, she has been accommodated years later. I predict that Bedi as CM will only last a few months as she's not one of us."
BJP strategists say that AAP has put up such an unexpectedly good fight that their victory hinges on two things now: first, since AAP voters come from the poorer sections of society and the lower middle class who vote enthusiastically, the challenge really is to generate enough motivation among the more prosperous sections to step out on voting day and press on the lotus symbol. Ironically, the second calculation of the BJP strategists rests on hoping that the Congress does retain some of its voteshare as a complete collapse of that voter base would only benefit AAP.
The Congress is hoping AAP wins to counter BJP; BJP wants Congress to retain its voteshare so that it doesn't go to AAP.
Were AAP to pull off a win, it would be a little more than just a loss of face for Modi and the ruling party. It would make the Delhi secretariat the platform for a constant barrage against the policies that the Modi regime would choose to promote nationally. The AAP rhetoric is very clearly located in politics that is anti-big business even as they promote subsidised power, medicines, healthcare and education. Kejri­wal in his speeches speaks against slum demolition and against the rising cost of medicines. Most significant is his promise on cheaper subsidised power. That's actually forced both the BJP and the Congress to also promise cheaper power. So although Kejriwal is playing for victory, were AAP to be confronted with defeat, they can certainly take consolation in the fact that they did set the agenda for the elections. All the BJP's moves have been reactive, not active; these have ranged from complacency, blunders, sudden panic to last-minute shift in strategies.

Free water really? A Delhi Jal Board tanker in the New Ashok Nagar area of Delhi. (Photograph by Sanjay Rawat)
But hopes are still pinned on Modi, cadre, and Bedi in that order. The cult of Modi continues to be the prime election plank of the party. In the BJP's Delhi headquarters on Pandit Pant Marg, less than a kilometre away from the national headquarters on Ashoka Road, there is a technology available through which a worker can stand next to an image of Modi and click a selfie that would look as if he were actually with the PM. The cult of masks and selfies has by now gradually extended from Gujarat to the national capital. No wonder Modi does not feel embarrassed to wear a suit with his name written all over it!
In the BJP, there are also people who have been sidelined and pushed aside, but given the way things are, nobody would dare to appear the dissenter. So there is Satish Upadhyay, state unit president, who was not allowed to contest elections, holding a press conference. He goes through the ritual of what the party workers call "the joining". Before the press every day, the Delhi BJP produces a few faces of people who were apparently workers of the Congress and AAP and have now joined the BJP.
The crass has always been part of the political routine in Delhi as has corruption and bureaucratic obseqiousness. It's a city with the most exquisite mon­uments and the worst pollution. It's also a city with swank flyovers whose residents display the most medieval attitude towards women and a rough way with words. It is a great city, a vile city. It is however one that certainly deserves an elected government.
***
Total seats: 70, mix of core city areas and rural ou tskirts. Despite expanding urbanisation, 8 constituencies are still predominantly rural, another 24 semi-rural, that's 32, almost half the seats
BJP won 15 seats in '98, 20 in '03, 23 in '08—but even at its lowest, it held on to a core loyal vote of 34.02% and saw a high of 36%
In December 2013, new entrant AAP dramatically upset the two-party pattern, bagging 29 seats (29.5 per cent voteshare)
Delhi's total electorate in 1998 was 84 lakh. For the 2015 election, that has increased to 1.3 cr, a whopping increase of 55%.
With AAP's entry in 2013, Congress share plummeted to 24.6 per cent. The BSP too plunged from 14.05 per cent in 2008 to 5.35 per cent in 2013. There was now a new claimant for the Dalit votes in the JJ clusters.
***
Cracks In Kejriwal
Running away from responsibility and resigning as chief minister a mere 49 days after taking over in a sensational, unexpected debut, on the pretext that the government was not passing Jan Lokpal Bill
Shedding all aam aadmiyat and preparing to move into a 10-bedroom accommodation on Bhagwan Dass Road, and then, after much criticism, settling for a more 'modest' three-bedroom Tilak Lane house on 'rent'
Supporting law minister Somnath Bharti, who stirred up a whole diplomatic row, when he instigated a crowd and conducted a 'midnight raid' against hapless Ugandan women in Khirki Extension on suspicions of a sex and drug racket
Sitting on a dharna with his ministers on January 18, 2014, outside North Block to demand the suspension of four police officers who had allegedly failed in performing their duties
***
Kiran Deficits
Claiming executive class Air India fare from her hosts at various commissions and seminars, while actually travelling economy and availing the 75 per cent discount for gallantry award winners
Going on protest leave and eventually seeking voluntary retirement when she, along with three other candidates, was passed over for the post of the commissioner of police for Delhi
Using state quota to get her daughter admitted to Lady Hardinge Medical College in Delhi while she was posted in Mizoram
Taking credit for towing away Indira Gandhi's car when it was sub-inspector Nirmal Singh who issued a challan for a car from the PM's fleet. She also said she was transferred to Goa for this transgression when she actually stayed on and manned the traffic for the 1982 Asian Games.
Ordered a lathi-charge on striking lawyers at the Tis Hazari courts