The nation, it seems, is in the sickroom this monsoon. Hospitals in Delhi are overcrowded with dengue cases, running into a few thousands, and last week, more than 75 cases were detected on a single day. Outbreaks of chikungunya have been declared over the last two months in as many as 14 states. Doctors in Mumbai are worrying over a major malaria epidemic. Cholera is rampant in Orissa, conjunctivitis in Pune and many other cities and towns, meningitis in the northeastern states, viral fevers almost everywhere. The swine flu virus is very much active and spreading in many regions. Stubborn infections aren't responding to whole arsenals of antibiotics. Mystery fevers are leaving medics baffled in Tamil Nadu and Uttar Pradesh. Illness figures from across the country are alarming. If you haven't had to visit a doctor, be thankful—though you aren't yet fully past the minefield of bugs.
Medical experts say two factors have contributed to a worse situation than what is usual every monsoon: first, almost all diseases are showing changes in aetiology, symptoms and even geography; second, most diseases are showing a hardy, worrisome drug resistance.
"Today, malaria may behave like dengue, and dengue like malaria," says Dr Khusrav Bajan, consultant physician at the P.D. Hinduja Hospital, Mumbai. "It's becoming difficult for doctors to diagnose these diseases. This year, malaria even led to heart failure in some cases. It's happened for the first time; research into this is still in a nascent stage."
He explains the unusual malaria outbreak in Mumbai as multifactorial: overcrowding, pollution, excessive rainfall, the proliferation of construction sites, which have become breeding ground for mosquitoes. Brihanmumbai Mahanagar Palika puts the number of malaria cases this season at a record 17,000-plus. The 70 malaria-related deaths of the past few months, however, are truly alarming.
In Delhi, where a much-extended monsoon is yet to recede, the largest number of dengue cases have been reported since the 1996 outbreak. There have been five deaths. In Kerala, too, the number of dengue cases is over 2,000, the number of deaths 12. Other states with dengue outbreaks are Karnataka, Tamil Nadu, Maharashtra and Gujarat.

Other infections have also surfaced and are spreading their tentacles. According to the Directorate of National Vector-Borne Disease Programme, 14 states have reported as many as 17,000 cases of chikugunya till August 2010. While 6,000 cases have been reported in Karnataka, Delhi and Haryana have also reported cases. This viral illness, spread through the bite of infected mosquitoes, resembles dengue, and is characterised by severe, sometimes persistent, joint pain, as seen in arthritis, as well as fever and rash. "There is no treatment for chikungunya. Prevention centres on avoiding mosquito bites and in eliminating mosquito breeding sites," says the national board's booklet of guidelines.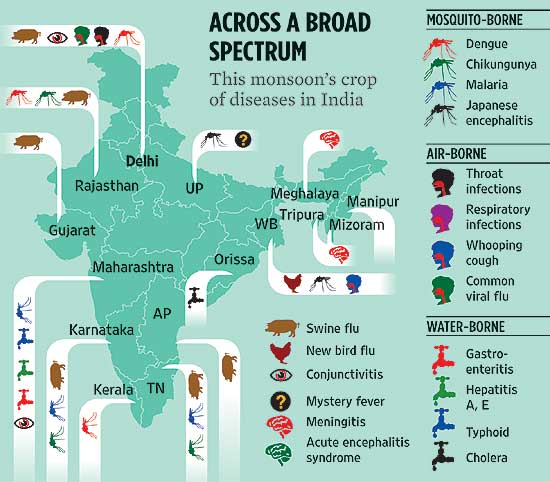 And while WHO claims that the swine flu scare is over, many states are still presenting high figures. In Andhra Pradesh, 49 people have died of the flu since January. While the H1N1 virus has been receding of late, the state H1N1 coordinator, Dr K. Subhakar, says that while this is good sign, one cannot say the virus has completely abated. "Swine flu has affected people in Vizianagaram, Nalgonda, Medak, Mahboobnagar and Warangal," he says, warning that the virus will remain active till winter. Also, viral fever continues to hold Hyderabad and Secunderabad in its grip. Anyone with fever and bodyache for more than two days is tested for swine flu and dengue, say doctors at government and private hospitals.
Viral infections are now increasingly becoming specific to certain locations. For example, the unidentified encephalitis that killed nearly 500 children in 2007 is back regularly every monsoon in Baghpat, Saharanpur and Moradabad in Uttar Pradesh. This year, already 10 children below eight have died of the mystery fever, for which health experts have found no solution. Also, a mystery brain fever has affected several people in Gorakhpur and eslewhere in UP since late 2009, taking the death toll to nearly 500 last year. Most of the other deaths were due to Japanese encephalitis. Earlier this year, an "unknown disease" took 10 lives in some districts of Orissa.
Health officials blame the spurt in diseases on the rains and the spike in construction everywhere. In a recent survey, the health ministry found "there is a substantial increase in construction works across states, which during the rainy season has led to extreme accumulation of stagnant, dirty water and therefore the spread of communicable diseases".
Orissa has declared an outbreak of cholera and in Calcutta too the disease is laying many low. Whooping cough, diarrhoea, Japanese encephalitis and a new bird flu have spread across eastern parts of the country. The northeastern states have been struck by a severe meningitis outbreak since last year. Assam, Jharkhand and Chhattisgarh have reported a large number of malaria cases, taking the all-India figure to about 2 lakh.
Drug resistance is also posing a serious threat. "It's becoming increasingly difficult to treat dengue and malaria as they are becoming resistant and virulent. This is due to the misuse of drugs and over-the-counter medication," says Dr Bajan. The ministry of health accepts that drug resistance is a major health problem in India. Anti-malarial drug resistance was first reported in 1973 from Assam and today there are pockets all over the country where malaria does not respond to the usual drugs or drug combinations. Reports are also emerging about drug resistance to swine flu and dengue medication. Health experts believe that the excessive and free distribution of Oseltamevir for H1N1 has led to the medicine no longer giving the desired results and the poor management of dengue medication is leading to rapid drug resistance in many patients.
Perhaps, the fear all this has provoked will force a rethinking of public health and drug dispensation policies.
---
By Amba Batra Bakshi with Snigdha Hasan and Madhavi Tata