Film-buffs in India were in for some bad news this week when Sony Pictures announced that it wouldn't be releasing its much-awaited The Girl With The Dragon Tattoo, David Fincher's take on Swedish writer Stieg Larsson's popular novel. "The Censor Board (of India) has adjudged the film unsuitable for public viewing in its unaltered form. And while we are committed to maintaining and protecting the vision of the director, we will, as always, respect the guidelines set by the board," said the official statement. The Daniel Craig-Rooney Mara starrer, which has grossed almost $185 million worldwide, was scheduled to be released in India on February 10 and the buzz surrounding it had increased manifold after it rustled up five Oscar nominations: actress in a leading role (Mara), cinematography, editing, sound editing and sound mixing.
Sony's decision has not just disappointed viewers, it has also shocked the Central Board of Film Certification (CBFC). "We are disturbed at the bad press it has generated, especially internationally. If they were unhappy with the decision, they should have brought it to the notice of the senior officers. We did not hear from Sony Pictures, nothing was brought to our notice, till we read about it in the papers," says CBFC CEO Pankaja Thakur.
On the face of it, Sony's stand for creative liberty and freedom of expression is understandable. Censor cuts have played havoc with some foreign films in India, like Darren Aronofsky's Black Swan and Alejandro Gonzalez Inarritu's Biutiful. "It's a common practice faced by every studio, full frontal nudity isn't permitted, the sex scenes are snipped or pixellated," says a studio representative.
The CBFC's proposed cuts for Dragon Tattoo include two graphic lovemaking scenes between journalist Mikael Blomkvist (Craig) and computer hacker Lisbeth Salander (Mara), a lesbian sex scene between Lisbeth and a barfly, a rape sequence and a scene in which she tortures her rapist, with a video of her being assaulted playing in the background.
But there are curious turns in this script. Thakur says the film was issued an "A" certificate, with cuts, as far back as December 19, 2011. So what took Sony so long to arrive at the decision? And if they had decided on not releasing the film then, why did they not announce it earlier? In fact, Sony is reported to have held a preview of the film's uncensored, uncut version for journalists in Mumbai in mid-December last year and was originally planning to release it in January.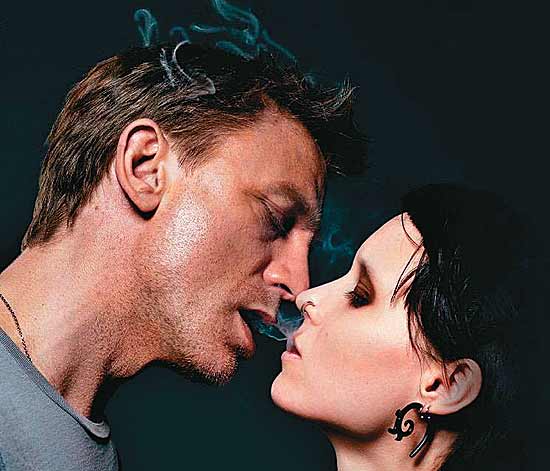 Among the cuts proposed by the Censor Board were graphic sex scenes with the leads, a lesbian sex scene, a rape and a torture sequence.
Sony Pictures seemed unwilling to talk on the issue. Outlook's attempts to reach them met with no success. "The news reports have been misleading and distorted. Some of the publications, without having any direct contact with David Fincher, are making it seem as though he is seething in anger," said a studio spokesperson. What's also interesting is that Sony didn't follow the standard practice of going to the revising committee to appeal against the cuts. "CBFC functions like a quasi-judicial organisation. From the lower court you go to the High Court and Supreme Court. So if they had a problem, the producers should have taken it to the next level. Filmmakers have a chance to be heard, cuts are discussed with them. They have lost so much time by not bringing it to our notice," says Thakur. Sony's spokesperson was quick to brush this off: "No appeal ever works."
Another issue irking the CBFC is that Dragon Tattoo had faced similar censorship problems in Malaysia and the Gulf countries. Japan rejected the original film too and okayed a revised version with pixellated scenes. "If they have accepted that in Japan, then why take such a stand in India?" asks Thakur.
All this comes as a blow at a time when the CBFC has been trying to take a step forward towards becoming less restrictive. Last year saw a clutch of mainstream Hindi films given "A" certificates without cuts. A long, gay kiss was allowed in I Am and Delhi Belly got away with foul language and references to oral sex. Anand Patwardhan's documentary on contentious caste politics, Jai Bhim Comrade, is said to have been given a "U" certificate recently. But the CBFC needs to go a lot further, especially now when avenues for screening are available online. Dragon Tattoo, for instance, has already been downloaded illegally and seen by countless cine-buffs. Recently, Ashvin Kumar bypassed the censors and released his new documentary, Inshallah Kashmir, for a day on January 26 on streaming sites Youtube and Vimeo. Free of charge.
What would go a long way is a sound rating scheme rather than censoring or bans. The CBFC has three broad categories at present: U, A and U/A. A system with four categories—U, 12+, 15+ and A—is proposed. They are hoping to table a bill during the next Parliament session for incorporation in the Cinematograph Act of 1952. But X-rated movies will still be a no-no. "Unlike foreign countries, law enforcement is very poor in India. You can't ensure that an adult film will not be seen by kids," says Thakur. Whether Dragon Tattoo eventually releases in India or not, it has once again stoked the censorship debate.