In its sixth season, with a week to go for the finals, the Indian Premier League was heading for a ripper finish. The stadiums were spilling over, TV ratings were off the graph, 10-second ads cost more than the starting salaries of IIM grads, there were preening owners and administrators everywhere. Twenty20 cricket, as we were being told ad nauseam, was the new cool. So it was all jumping japang, jampak, jampak when Shantakumaran Sreesanth of the Rajasthan Royals kissed his finger, crossed his heart and tucked a white towel in his blue pyjamas for his second over against Kings XI Punjab on Thursday, May 9, in Mohali.
A week later, though, he was being led off to a court in Delhi, head masked. Sree had allegedly, in collusion with cousin and bookie Jiju Janardhanan, done a bit of 'spot-fixing', giving away a predetermined number of runs in an over. Suddenly, for the second year in a row, the Indian cricket board's cash cow was in danger of ending up in blazing inf­amy—and letting its unsuspecting fans and followers down.
The Delhi police had two other Royals in tow­­—Ajit Chandila and Ankeet Chavan—fitted with similar headgear, all three booked under Section 420 and 120-B of the Indian Penal Code. Which elaborated their crimes, no less. Their gains: Rs 20-60 lakh. Piddling stuff compared to the zillions being bilked by others in less colourful attire but if the arrests do not bring the full extent of the spot-fixing racket, the bloodlust of bookies, the greed of corrupt players and the betting-addicted cricket fans, then this small report which appeared in the Mumbai papers earlier last week might help. The teenaged son of a diamond merchant was killed in a kidnapping gone wrong. The perpetrator: his own cousin who had planned to recoup some Rs 30 lakh he had lost in betting on IPL matches through the ransom.
"T20 is full of vulnerable players who feel they didn't get enough at the auction. They just want to make quick money."
Predictably, those involved with the IPL can only mouth cliches, the scandal is but the "tip of the iceberg". Meanwhile, can we get on with the show, please? Former Mumbai police commissioner M.N. Singh says, "It isn't a new problem, boo­kies have been in operation for a long time. But what was just an organised crime racket has now acquired gigantic proportions. Of course, the underworld is involved...for its huge money, routed from India to Dubai, Pakistan and other cou­ntries." The game's increasing scale has only made it easier. "If earlier, there were two teams with 16 players on cricket tours, now there are nine teams in the IPL. T20 matches are full of vulnerable players who feel they have not got enough in the auctions. These are players who aren't well-known and only have 4-5 years of a career ahead of them. Unsure of themselves, they want to make quick money," says K.K. Paul, the Delhi cop who busted the first match-fixing case in 1999 (which nailed South African captain Hansie Cronje).
Sreesanth aside, the other two Royals do fit Paul's description. But spectators who pay through their nose to go to stadiums and enthusiasts who sit through the night to watch might ask why all three—who were anyway making much more than most honest Indians—would fall for such dirty money, especially when the world is watching. One answer is: those who should are not watching closely enough. Another angle comes from Alam Srinivas, author of IPL: Cricket and Commerce, "Twenty20 has made it that much easier for players to fall prey. There are lots of youngsters in the IPL who may never feature in international or even regular first-class matches. So the IPL is a door opening to make some serious cash. Some captains may even have had a hunch as far as betting goes...but if they become whistle-blowers, then there'll be too many questions directed at them."

Delhi police chief Neeraj Kumar at the press conference, May 16. (Photograph by Jitender Gupta)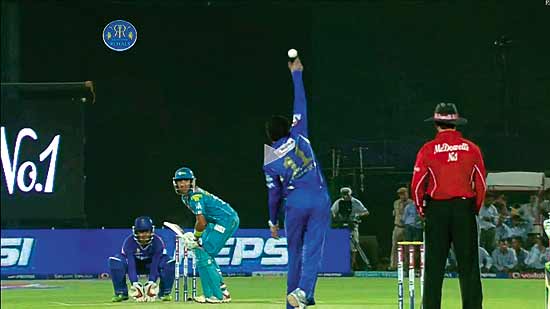 Image BCCI
Ajit Chandila 29, from Faridabad, Haryana
Background: Right-hand off-break bowler. Just two first-class matches under his belt, but a 28-match veteran in Twenty20 already. In his first IPL season, played for Delhi Daredevils before shifting to Rajasthan Royals in 2012.
IPL 2013 record: 6 wickets in 8 matches for 156 runs
Dodgy match: versus Pune Warriors, May 5, in Jaipur
Match analysis: 2-0-23-0
Police charge: Asked to return Rs 20 lakh for not fulfilling his contract
Result: Royals won by 5 wickets
***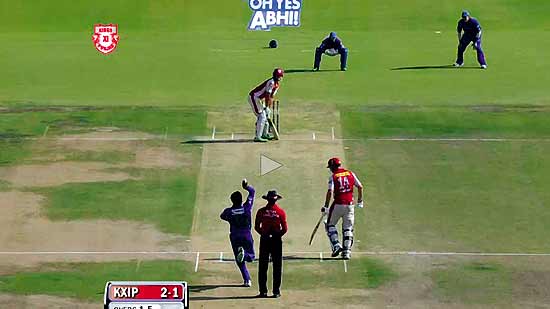 Image BCCI
Shantakumaran Sreesanth 30, from Kothamangalam, Kerala
Background: Right-hand medium pacer. Only international among the three held for spot-fixing in 2013 IPL; 27 Tests and 53 ODIs. Third IPL team after Kochi Tuskers and Pune Warriors.
IPL 2013 record: 6 wickets in 10 matches for 163 runs
Dodgy match: versus Kings XI, Punjab, May 9, in Mohali
Match analysis: 2-0-18-0
Police charge: Used towel and wasted time as a signal to bookies, promised Rs 40 lakh conceded 13 runs in second over after promising to give away 14
Result: Royals won by 8 wickets
***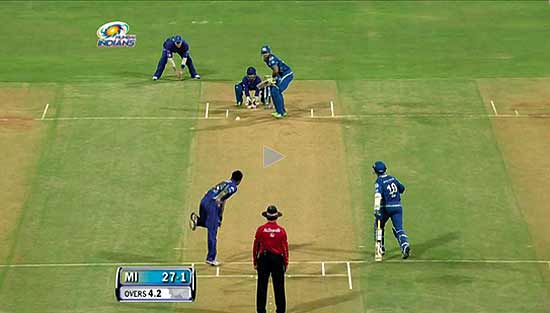 Image BCCI
Ankeet Chavan 27, from Mumbai, Maharashtra
Background: Slow left-arm spinner, 26 matches in the shortest format, but leading wicket-taker in the Ranji trophy last year
IPL 2013: 1 wicket in 3 matches for 63 runs
Dodgy match: versus Mumbai Indians, May 15, in Mumbai
Match analysis: 3-0-25-0
Police charge: Gave away 15 runs in his second over after conceding just two in the first over; Chandila played go-between for Rs 60 lakh takeaway
Result: Royals lost by 14 runs (Chandila and Sreesanth didn't play this match)
***
Royal Fix
Why IPL is ripe for fixers
An unashamed confluence of cricket, commerce and cinema, only one part of IPL is cricket
Bombay underworld, which lords over Bollywood, has vice-like grip on betting, gambling
BCCI has always opposed ICC's bid to bring IPL under purview of its anti-corruption unit
Slambang Twenty20 cricket legitimises the "anything-goes", "anything-can-happen" credo
Frenzied format allows bowlers, batsmen a ready excuse for a "bad day at the office"
IPL offers stage to unknown commodities, but they are liable to bring their own baggage
With 76 matches in league, below-par 'performances' catch scant scrutiny
Private ownership, post-match parties allow permeation of for­ces beyond boundary into dugout
***
Cut to 2012. Exactly a year before Sreesanth & co wal­ked into the police dragnet, five uncapped players—Mohnish Mishra, Shalabh Srivastava, T.P. Sudhindra, Amit Yadav and Abhinav Bali—were suspended and then banned. Their crime: they were caught on hidden camera agreeing to bowl no-balls and spot-fix matches in a sting operation conducted by reporters of India TV, who posed as representatives of a sports management company. So it's almost action replay: except that last week's sting was done by the police, and that one of the three players suspended had played 27 Test matches and 53 ODIs. Sundar Raman, a former IPL functionary, was succinct in his condemnation: "Idiots."
At one level, what the latest episode reveals is that player greed knows no limits. Former greats are justly incensed at this collapse of ethics and integrity. "We can't say for sure they are guilty until proven so, but we do need to examine this tendency. Players get much more money even at Ranji level now, apart from whatever they earn in the IPL. So why do it? Are they built like that?" asks former player and selector Chandu Borde. Adds offspin legend E.A.S. Prasanna, "In our times, there wasn't even any awareness about corruption. Yet such things didn't happen. Now in every sport you are being watched, and everyone knows it. Still you want to do it. Well, God help you."
"We've to examine this. Players get much more even at the Ranji level now. So why do it? Are they built like that?"
At another, deeper, more troubling level, is the blase attitude of the BCCI. Players have abused, slapped and kicked each other; players have escorted lonely women to their hotel bedrooms and molested them; players have done dope and worse, and it is still business as unusual. In the Sreesanth episode, though, the suspensions came quickly. BCCI president N. Srinivasan even slammed the board's anti-corruption cell. But all post facto.
In a TV commercial for Pepsi shortly after Sreesanth burst onto the scene, 'scientist' Dhoni watches the dancing, headphone-wearing medium pacer cavorting across the locker room. "Iski toh main abhi bhi samajh nahin paya (I haven't understood him yet)," he says. In an odd sort of way, the mysteries of Youngistan are coming home to haunt today as a genuine talent, one of the few to emerge from the game's backwaters in Kerala, faces criminal charges for stuffing a towel in his pocket in return for a lot of rupees.
Little wonder when the arrests became public on the morning after the Rajasthan Royals match against the Mumbai Indians, Sreesanth's father was telling the Malayalam media that the bowler had been "tricked and trapped" in the spot-fixing scam. Sreesanth's brother-in-law, singer Madhu Balakrishnan, went even further, alleging that the whole episode had something to do with Sreesanth reopening the 'Slapgate' controversy with Harbhajan Singh five years ago. And that it was all probably designed to stymie Sreesanth's upcoming marriage.
Commentators and coaches say bookies often approach players at the local level, club cricket or Ranji. The contact or relationship is built over a period of time. In Sreesanth's case, of course, the man was his own cousin, Jiju Janardhanan, a middling cricketer himself. Other cases may not involve family, but even then to track a player's involvement in betting when he gets to the bigger leagues is quite difficult.
The peculiar nature of IPL—categorised as "profit-oriented business and entertainment"—also seems to be making it more complex. M.N. Singh wades in, "The matches are a big bazaar. I call it the epidemic of IPL, which has gripped the country. If the investigation is taken to its logical end, I am certain a lot more officials will be exp­osed." Although the domestic fringe players have come under the scanner, almost everyone absolves the senior, big players like Dravid, Dhoni etc.

Protesters burn a Sreesanth poster in Ahmedabad, May 16
Y.P. Singh, former IPS officer and rights activist, agrees. "Without connivance, nothing happens. How is it that customers who want to place bets can find bookies but the cops can't? Controllers of the racket may be outside (of India) but the police can easily nab the operatives in India. It is because critical people have been paid off that bookies act with such impunity and approach players," he says.
"The BCCI knows how deep-rooted the problem is. Sadly, the status quo is a convenient option...we work around the system."
Paul says for successful prosecution one needs circumstantial as well as forensic evidence. "Telephonic conversations and verification of voice samples with the acc­used are very important for a successful prosecution. That said, circumstantial evidence is also needed," adding that it was after their 1999 bust that the ICC code of conduct was first formed. He says then head of the ICC anti-corruption unit, Paul Condon, a former London metropolitan police commissioner, even had meetings with Delhi police. However, he himself admitted that some laxity seems to have set in over the past 5-6 years. There's also been a lack of will to act on part of several stakeholders.
So is it all downhill for the IPL from here? Brand experts feel that incidents like these, while causing an immediate feeling of vacuum in values, will finally pass. Says Indranil Das Blah of Kwan, "Any brand is like the stockmarket, it may take an immediate hit. But as long as it is not a systemic problem and one caused by just a few bad apples, the IPL will survive. It's been hit much harder in the past and still survived."
Brand experts believe the IPL brand has more or less settled down despite the many doubts in the last few years as to whether its flamboyance would be sustainable. But as IPL moved away from the Lalit Modi regime, much of that mellowed down. Says Santosh Desai, CEO, Future Brands, "There is a certain toning down of some of the excesses of the IPL from the time of Lalit Modi. At the same time, owner dominance is also less."
Says lawyer Rahul Mehra, "The BCCI knows how deep- rooted the problem is.... It existed in the 1970s, aggravated in 2000 but reached a different level with the IPL. Sadly, the status quo is a convenient option. Indians have a short memory and everyone works around the system. Azharuddin's life ban verdict was not challenged. Instead, he got a Congress ticket for the LS election. It's fine to be a fixer, we'll bring you back into the fold—that's the message. It's a free for all where self-regulation is an oxymoron. The phrase doesn't exist." Echoes Aniruddha Bahal of Cobrapost who co-authored the first match-fixing scam, "The BCCI isn't at all serious about preventing betting. At a fundamental level, there's a lot of illegality out there. And unless you legalise betting, the phenomenon will keep repeating itself. From day one, we needed a formal mentoring process which didn't happen."
---
By Prachi Pinglay-Plumber in Mumbai with Priyadarshini Sen and Arindam Mukherjee in Delhi