Engaging, inventive, individualistic yet rooted. It has been more than a decade that new-age, independent Marathi cinema has been flourish­ing, with filmmakers like Umesh Kulkarni, Paresh Mokashi, Nagraj Manjule, Sandeep Sawant, Satish Manwar, Sachin Kundalkar, Sujoy Sunil Dahake, Nikhil Mahajan, Mangesh Hadawale, Nishikant Kamath leading from the front. This year's national awards have thrown up a new set of young debutant Marathi directors. Namrata Joshi meets Chaitanya Tamhane (Court, Swarna Kamal for the best film), Avinash Arun (Killa, best Marathi film) and Bhaurao Karade (Khwada, special jury prize).
***

Chaitanya Tamhane 19 and counting
"It's not just a satire against the judiciary, it's more"
Chaitanya Tamhane is badly jetlagged on his return home to Mumbai from the New Directors/New Films Festival in New York. He is, however, excited enough to tell us that Court has bagged its 19th award since it premiered at the Venice International Film Festival in September 2014 where it won the best film in the Orizzonti (Horizons) category and the Luigi De Laurentiis (Lion of the Future) award for the best debut. The latest is the Dublin Film Critics Circle award for the best debut at the Jameson Dublin International Film Festival.
However, it's the 18th award, the national award for best film, which is extra special for Tamhane. It comes as Court gears up for an independent countrywide release on April 17 and the award has helped it gain attention beyond that just of the committed cine buff. "The award came out of nowhere and is like a lottery for us considering we are releasing the film on our own," says Tamhane. In that sense, Court has been truly indie, right from production to its marketing, distribution and release. "We didn't want to wait for another two years to be picked up by a studio," says Tamhane. Producer Vivek Gomber, who also plays the defence lawyer in the film, has almost single-handedly seen the film through financially, from start to finish.
A literature graduate from Mithibai College, 28-year-old Tamhane has been a self-taught filmmaker. He was 19 when he made Four Step Plan, a documentary on plagiarism in Indian cinema; 21 when he produced the critically-acclaimed play, Grey Elephants in Denmark; and 23 when he made the fictional short, Six Strands. A passionate viewer of world cinema, he worked doubly hard on Court, educating himself with all kinds of books, magazines, articles and interviews on cinema. Though set in a familiar Marathi milieu in Mumbai, the film is multilingual, unfolding in Marathi, Gujarati, Hindi and English. The maximum city itself is extremely well-obs­erved and portrayed in a non-Bambaiyya, non-bhidu/tapori way. Is it because of his inherent affinity for a city he was born and raised in? "While researching and shooting the film, I discovered facets of the city even I was not aware of," says Tamhane. The world of Dalit activists and sewage workers, for instance. "There are so many subcultures and pockets that exist all at the same time in Mumbai."

Court
At 19, Tamhane had made a docu, at 21, he produced a play, at 23, a fictional short. At 28, he has made Court.
The film not just reinvents Mumbai but also the genre of courtroom drama as we know it in the Hindi film. No dramatic scenes or dialoguebaazi. Tam­hane recalls how he was struck by the sheer lack of drama and the casualness with which life-and-death decisions were taken when he attended a nondes­cript lower court in suburban Mumbai. A biting satire on the judiciary, at the heart of the film is an absurd case: the trial of a social activist and folk singer for allegedly inciting a sewer worker to commit suicide. Tamhane uses black humour at its most provocative to lay bare our obsolete laws, ridiculous hierarchies and outdated legal proceedings.
Besides, his little touches, the detailing are pitch-perfect, be it the stenographers, peons, lawyers or appellants in court, life in slums and chawls, a Gujarati family's dining table chatter or a Marathi family's Satkar-restaurant-plus-theatre outing. The entire film is shot in real locations, the lower court being the only 'built-up' set. To get the last right, his production designer and cinematographer spent a lot of time in courts, says Tamhane. "We had to put every detail in place and not let the illusion of the real fall apart," he says. While the actual shoot took about 45-60 days, Tamhane spent a year before that writing and researching for the film—interviewing people, spending time in courts. Another nine months went in pre-production and prep, including casting. Apart from the two lawyers and the cop, the rest of the cast mostly comprised non-actors from Mumbai. About 1,800 people were auditioned, men and women from different walks of life, and who had never faced a camera before, be it teachers and railway workers or drivers and waiters. Pradeep Joshi, who plays the judge, is actually a music teacher in a school for specially abled students.
It's also not just the judiciary that Tamhane hold Court around. By simultaneously showing the private lives and banal domesticity of the judge, the public prosecutor and the defence attorney, he also implicates society in this theatre of the absurd, thus enlarging the scope of the satire. "Many people have interpreted the film as a satire against the system, the judiciary. But it's more," he says. Class, caste, culture, language, divisive politics, patriarchy, feudalism—Tamhane makes mincemeat of them all, tongue firmly in cheek.
For now, he has already zoomed in on his sophomore feature. But it's in too nascent a stage for him to talk about. "I am a very slow filmmaker, I take time to develop my projects," says Tamhane. We are willing to give him time.
---

Avinash Arun Of migration, wandering
"I made good friends but moving meant not seeing them ever"
Avinash Arun's Killa is about childhood on the move. Young Chinu finds it difficult to adjust to the new, unfamiliar surroundings he is forced to relocate to after his father's death. But gradually new friendships begin to take root, as does life. Killa premiered at the Generation Kplus competition category in the Berlin film festival last year where it was awarded the Crystal Bear by the Children's Jury.
The germ of Killa came from 29-year-old Arun's own childhood, spent in several small places in interior Maharashtra, in Solapur district and Konkan, with his father on a transferable job. "I made such good friends but moving on meant never seeing them again," he recalls. Like his protagonist, Arun too got lost on a cycling trip with his friends once. "It taught me how to face my fears," he recollects. Killa (Fort) too is a metaphor for a comfort zone one needs to get out of, to explore and experience.
Arun's exploration of the world of cin­ema began with his father taking him to movies even during exams. While training as cinematographer at FTII, Arun pitched the idea of Killa to batchmate Tushar Par­anjape, who turned it into a film script. On passing out of ftii, Arun narrated the film to indie production company jar Pictures in March 2013. They decided to greenlight the project and it went on the floors within three months.
---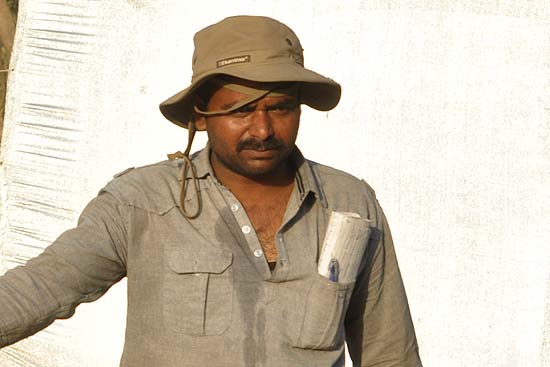 Bhaurao Karade Five acres at stake for a film
"Kisan jaisi sehansheelta kisi mein nahin hoti"
Bhaurao Karade's Khwada (Obstacle) also has a legal battle at its core, a shepherd's fight to get his land back from the forest department. Its director, 30-year-old Karade, hopes he too will soon get back the five acres family farmland that he had to sell for making his first feature film.
Khwada's theme, of migrant shepherds, cuts close to Karade's own reality. He encountered a lot of them in the Amravati, Akola and Vidarbha in interior Maharashtra. "They have an entirely different attitude and way of life. They keep moving from place to place with their goats and sheep and are perfectly happy doing that," he says.
Hailing from Hingani Dumala village in Ahmednagar district, Karade is the only graduate in his family of farmers. His father studied till the third standard and elder brother till the fourth. Their village home still doesn't have electricity. Though he had himself been involved in farming, the passion for cinema set in while watching Maine Pyaar Kiya, on the only TV set in the entire village. Karade was six then. While the family wanted him to join the military or the police after school, he bunked the entrance tests to watch Devdas instead.
"Kisan jaisi sehansheelta kisi mein nahin hoti (No one has the tolerance that a farmer has)," he says, looking back into his past and soul. So he patiently tilled the fields for two years before taking admission in the open university, to study alongside. The love for films and literature blossomed as did his own creativity and expression. After graduating in Marathi, Karade joined a mass communication course in Ahmednagar and made a couple of short films after passing out in 2009.

Khwada
The only graduate in his farmer family, the passion for cinema set in with Maine Pyaar Kiya, on the only TV set in the village.
The script for Khwada was written and worked on over a period of two years and locked in 2012. When he couldn't raise finances from anywhere, Karade was left with no option but to coax his mother and brother to sell the land and move to Pune where they now run a small hotel—Ran Meva—that offers simple village fare to immigrants from the villages. "They spent their entire life working hard. My hope was that perhaps after the film their fate might change and something good might turn up for us," he says.
The shooting started in January 2013 with only two established actors--Shashank Shende and Anil Nagarkar. "My subject needed people who hadn't faced the camera before to transport the audience into the real environment," says Karade. The technicians too were all young and new. But there were plenty of obstacles for Khwada—the shoot got stalled in June for lack of funds and also because Karade couldn't capture dry, drought-like conditions on location when it was actually in the thick of monsoons. Friends Chandrakant Raut and Chandrashekhar More made additional contributions; the lead actor sold off a truck he owned. Finally, the rest of the film got shot and was completed a year later in May 2014.
Khwada premiered at the Pune International Film Festival this January where Karade's mother watched a film in a theatre for the first time in her life. Now she knows making a film is like farming. "You have to toil hard to reap a good harvest," her son has told her.