Mohammed Rashid was one of the many picked up for questioning in the May 2008 Jaipur blasts case probe. Rashid was working for Infosys then and had been detained for over 10 days. The last straw for him: he was later sacked from his job. As he puts it, "It's not just those 10 days in jail. I lost my job, my dignity. I fought back, got compensation from Infosys, took up another job. But that's because I was educated and knew my rig­hts. But what if you are from the other end of the spectrum?"
Which is the demographic people like Adnan Bilal Mulla bel­ong to. Adnan used to run a small business supplying milk in Mumbai till he was picked up in 2003, tortured and forced to admit a role in the Mulund, Vile Parle and Mumbai Central blasts that year. After almost seven years inside, he finally got bail from the high court. He says, "The crime bra­nch have absolutely no evidence but I am still an accused in three blasts. They have ruined my life."
Now, many of these arrests have been under the no-bail Unlawful Act­iv­ities (Prevention) Act, a morphed version of the controversial TADA and POTA. Ind­eed, the lesson here is that such laws do not necessarily deter terrorists but they do lend themselves to gross misuse. In the case of Adnan, it was perhaps just a random arrest of a man who the authorities saw as dispensable. At other times, individuals have had to pay a heavy price for inadvertently being in contact, for even a brief time, with a known suspect.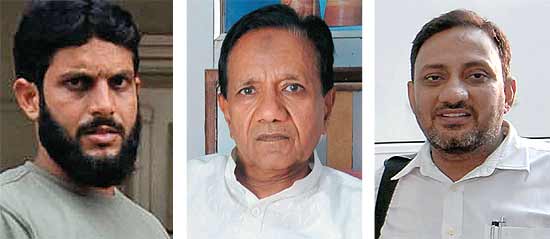 Tagged Milkman Adnan Mulla, ayurveda doctor Ishaq, ex-Infy man Mohd Rashid
"The Mumbai crime branch have no evidence but I am an accused in three blasts. They have ruined my life."
In Jaipur, Dr Ishaq, a 60-year-old ayurveda practitioner, was picked up under the UAPA in connection with the 2008 Jaipur blasts. He says, "My crime was that a man allegedly involved in these blast incidents had stayed with me for 15 days as a tenant. I have no record for which they should question my int­egrity to the country." Arrested in 2009, Ishaq is now out on bail but his student son has been put behind bars. "Our life is an endless misery," says Ishaq.
Now take the case of someone like actor Sanjay Dutt, who faces another jail term of three-plus years in the 1993 Bombay blasts case. Being a celebrity, he has VIPs like the Press Council chief, ex-Justice Mark­an­deya Katju, batting for him. Still, it's the din surrounding this verdict that has cast a spotlight on the many undertrials languishing in Indian jails. For cases like Adnan's and Dr Ishaq's are not just one-off incidents anymore. According to the NCRB, Uttar Pradesh has the maximum number of undertrials—54,062 at the end of 2011. Bihar was next with 23,417, with MP, Maharashtra, West Bengal making up the top five (figures are, of course, for undertrials arrested for all crimes).
Defending the police, ex-Delhi police commissioner Ajai Raj Sharma says, "It's a thin line between doubt and clearing the activities of a suspect. Polic­e­men see things from a different perspe­ctive. When the court acquits a det­a­inee, it says released due to lack of evi­dence. This is defined by the police as: if evidence is found in future to corroborate the claims, then the accused will have to go back to jail. In very many cases, an accused is arrested but proving guilt bec­omes difficult before a court of law. This doesn't mean he/she is inn­oc­ent. We have to keep them under surveilla­nce and as and when required keep que­stio­ning. This is a process, and it needs to be understood and supported." Unfort­una­tely, it's a process that has forced men like Ishaq to live in a twilight zone.