Thirteen years—a busy, happy yet unrewarding period of reporting with the Times of India and the Indian Express. But journalistic opinion predicted I was destined for great things. My training officer at ToI was certain my work was appreciated by none other than the erudite editor-in-chief, Sham Lal, who allegedly mumbled about Sartre, Camus and unpronounceable Russian, Latvian and Lithuanian authors while raising the immortal question: Where do we go from here? Neither the ToI then, nor today, about half a century later, has managed to answer this question. But there are compensations. Its popular sister publication, the Bombay Times, and similar editions in other cities satisfy our curiosity as to how certain Hollywood stars discarded their flimsy, lacy underthings at the slightest provocation.
If Sham Lal still carried his doubts on where we were going, the Reader's Digest failed to provide us with the ans­wers. We may have to ask Jane, not Tarzan's mate but the partner of John from those 'I am John's Liver' series of articles. Nine years after the ToI, it was strange to walk into the Reader's Digest editorial section. I had lunch with Rahul Singh, the friendliest editor-in-chief I had come across, at the Taj in Mumbai, my first entry into corporate luxury. I had got along well with his father, the famous Khushwant Singh, roped in by the Times group to boost the sagging circulation of The Illustrated Weekly India. He'd kept me loaded with writing assignments, a clear indication I had passed a stern test.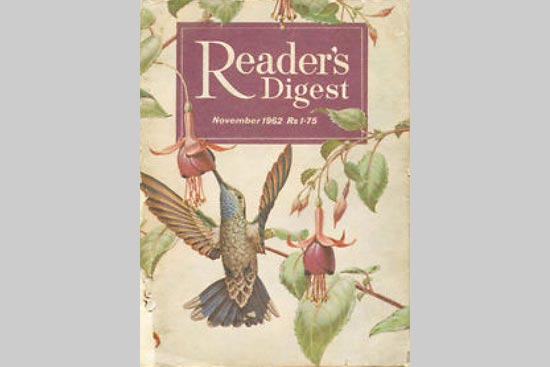 Clear and simple The RD formula was to pick a mix of stories from many sources and condense them
Would it be same with Reader's Digest? After all, I had grown up with the magazine, enjoyed its jokes, shed tears over its abrid­gement of John Gunther's mov­ing Death Be Not Proud, on the death of his son from cancer, which continues to haunt me to this day. How did one ever write, edit and polish such a perfect piece? Often, I felt it would be sacrilegious to tamper with the 'perfect' pieces which came for editing. But there was much to do—convert everything into the metric system, rewrite Americanisms and change spellings to the British versions. I also had to find alternatives for words which would be understood only by a few, globe-trotting Indians in those times. In my first weeks, for instance, I did not know what a hero sandwich was—a small loaf into which you could stuff anything.
In this increasingly violent world, perhaps it would have been better to familiarise oneself with the different makes of firearms, missiles and so on. But I ended up learning to write in English about Indian cuisine, with delicacies like vattal kuzhambu and paruppu undai kuzh­ambu, so that all readers could understand.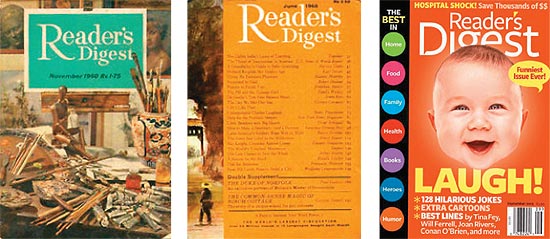 Down the years Covers have changed, but the RDs with brilliant paintings on the back are most memorable
Life changed rapidly. In Ahmedabad, where I lived before, my Vespa scooter took me wherever I wanted in less than 45 minutes. In Bombay, travelling from Bandra to the Digest office at VT took more time. The photographs I saw of the Pleasantville head office were as of a dream but at the Vaju Kotak Marg office in Bombay, the assistant editor's cabin that I occupied for 13 years was clean and simple. Most of the time, work life was comfortable, in the pleasant company of my juniors and the bosses, Rahul Singh and Ashok Mahadevan. We often had foreign editors, including top guns like Ed Thompson and Ken Gilmore dropping in. And every two years, the entire gang met at conference venues in Monte Carlo, a beach resort in Portugal and so on. The Reader's Digest, in those days, was determined to keep its work force happy and united and prided itself in efforts to do this. As I struggled to find family accommodation, Rahul graciously allowed me to spend more time house-hunting than in office work. The ann­ual parties we had were great fun.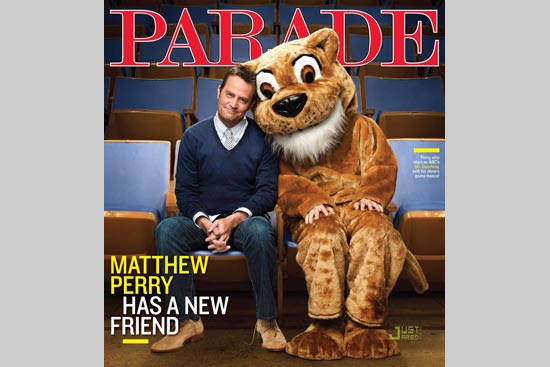 The challenger Parade magazine repeats the RD format, but the focus is on lifestyle and variety, not just 'family'
While most Reader's Digest articles were foreign-oriented, the small Bombay office produced its quota. A funny pick-up piece of mine from the Times of India was appreciated by the editor-in-chief with a handwritten note. The Reader's Digest wanted to spread good cheer and optimism. It was dragged into the Cold War controversy, but that was an issue which senior editors and top management had to deal with. Their anti-communist policies had nothing to with how much consideration they showed for their staff.
My 13 years with the Reader's Digest helped me unlearn many aspects of Indian journalism. And I learnt new things that helped me understand my colleagues better.
---
V. Gangadhar worked for the Indian Express and Times of India before joining Reader's Digest. Writing satire for Rusi Karanjia's Blitz, he created Trishanku.