In a room strictly off bounds for all except those attending on her, Aruna Shanbaug lies alone. Her eyes are open and staring vacantly into space. She has been lying this way, in a twilight zone between life and death, since the night of November 27, 1973, when she was attacked by a ward boy who tied a dog chain around her neck, cutting off air supply to parts of her brain, and sodomised her in the basement of Mumbai's King Edward Memorial hospital, where she worked as a nurse. A woman, a senior nurse at the hospital, enters the deathly calm of the hospital room and approaches her prone form. Her own time at KEM now drawing to an end, she has something to say to Aruna. Bending down, she whispers gently into her ear: "Tomorrow is my last day at work and I don't know who will attend to you after I am gone. My dear, I need you to go on a long sleep today."
That was the last scene from the Marathi play, Katha Arunachi (Aruna's Life), directed by Vinay Apte. Telling the true story of Aruna Shanbaug, it was staged 12 years ago and ran for three months. Though the original script ended inconclusively, Apte recalls, he "wanted to put an end to Aruna's misery" and that's why the last scene ended as it did. But what a stage director could do, society and the state cannot. The right to live is enshrined in the Indian Constitution; to wilfully take away life is a criminal act. Had she helped her die, Aruna's nurse in the play would have been guilty of culpable homicide.

Is this life? File pic of Aruna
And so the real Aruna still lies, 36-plus years after being subjected to a horrific attack that rendered her partially brain-dead, in a semi-coma in her bed at KEM, unable to see, speak, walk or even move her hands. Kept alive by the force-feeding of mashed food, she has earned, just by lying there, decade after decade, the tragic record of being the world's longest-staying patient in any hospital.
But now, finally, the ending Apte crafted for his play is being sought, through a legal mandate, for the real-life Aruna. On March 2, the Supreme Court is slated to hear a petition filed by activist-journalist Pinki Virani, who has written a book highlighting Aruna's plight and is now seeking the court's intervention to direct KEM to stop feeding Aruna Shanbaug, and release her from the prison of her life. Pinki's petition before the apex court states: "Aruna cannot be said to exist in the sense a human being is supposed to live. She is virtually a skeleton."
"Unless the ailing person expresses such a desire, who are we to decide that he or she should not live?"
Many eyes, and not just those of the country's growing tribe of mercy killing advocates, will be focused on what the apex court does with this case, which has no parallel in the country's medico-legal history. In the past, Indian courts have often received petitions from terminally ill patients seeking an end to their pain by asking for death (see box) but have rejected them all on one premise—that the right to life is sacrosanct. What makes this case unique is that a person unrelated to Aruna, moved by her unrelenting suffering, has filed this petition; and the Supreme Court has not rejected it outright. In fact, it has appointed an amicus curiae and directed a three-doctor panel to examine Aruna and submit a report by February 22.
While euthanasia has been treated as unequivocally illegal in India, moral arguments have been advanced time and again to justify it, famously by Mahatma Gandhi, whose words are often quoted by mercy killing proponents. In 1928, Gandhi wrote in the Gujarati weekly, Navjivan: "Just as a surgeon does not commit himsa (violence) when he wields his knife on his patient's body for the latter's benefit, similarly one may find it necessary under certain imperative circumstances to go a step further and sever life from the body in the interest of the sufferer." It is a principle that he would like to be applied to his own case, said Gandhi, whose letter was prompted by the case of a calf in his ashram, in great pain and declared past all cure, which was 'put to sleep'.
It is such arguments, too, that are now being proffered by those who believe that Aruna should no longer be force-fed to keep her alive. Pinki Virani's petition on behalf of Aruna, as her "next friend", filed in 2009, highlights her "persistent vegetative state" for the last 36 years and states there is no possibility of improvement in her condition. It points out that she "lives in sub-human conditions" and is "lying on a hospital bed like a dead animal" and goes on to argue that to keep her in this state by feeding her "violates her right to live with dignity, guaranteed by Article 21 of the Constitution". The petition also adds there are no up-to-date medical records of her condition, and no scans have been done to map her brain to ascertain what medicines can be administered to make her comfortable.
Dr Ravindra Dhelia, a member of the Society for the Right to Die With Dignity, which pleads for an assisted death for individuals who wish to die after all medical help has failed them, wholeheartedly agrees with the arguments. "Voluntary euthanasia," he says, "is not about ending a life but it is about ending a deadened survival. As far as Aruna is concerned, mercy killing is a dignified exit."

Not really, Sanjay Oak, dean, KEM, would say. "It is our foremost duty to take care of her. The way she has been taken care of also speaks volumes about the nursing at the hospital. She is really precious. Unless the ailing person himself or herself expresses such a desire, who are we to decide that he or she should no longer live?"
"Voluntary euthanasia is not about ending a life but about ending a deadened survival. It's a dignified exit."
And this is where the proposition becomes problematic, since this is not Aruna asking to end her life but Pinki Virani doing so, on her behalf. While KEM has issued a factual counter-affidavit stating, among other things, that Aruna is "haemodynamically stable", "her blood pressure, pulse rate are normal" and that she is in the hospital's care because her relatives refused to look after her, Dr Ravi Bapat, who was the first doctor to attend to her, has a forceful question for those who take up her case: "Why don't you leave her alone?"
Bapat, an assistant professor of surgery at KEM when Aruna was attacked, rushed to her side after a nurse called out to him at the crack of dawn after discovering her comatose body. Today, he says, "The million-dollar question is whose wish, whose pity, who decides and who puts the person to death? Who is to label anyone terminally ill? Medicine is not a mathematical science where 2 + 2 = 4. How much inner joy we have of saving a human life? Don't take it away from us. Hope these proponents do not want death clinics to mushroom!"
Science may have come to a grinding halt in Aruna's case—doctors have long acknowledged that there is no chance of her recovery—but Bapat reasons: "Please note, every living cell wishes to fight odds and survive. That's survival of the fittest! Humanity has to respect life and make it conducive to survival."
But survival in what state? That's the powerful question Pinki Virani is asking. There are other questions, too, of course: Even if Aruna is in a persistent vegetative state, does it mean she should die? If the courts agree to allow mercy killings in such extreme cases, under what parameters should they be undertaken, to prevent indiscriminate abuse of the provisions? How should doctors reconcile mercy killing with the Hippocratic oath they take: "I'll give no deadly medicine to anyone if asked, nor suffer any such counsel." The ball is now in the apex court.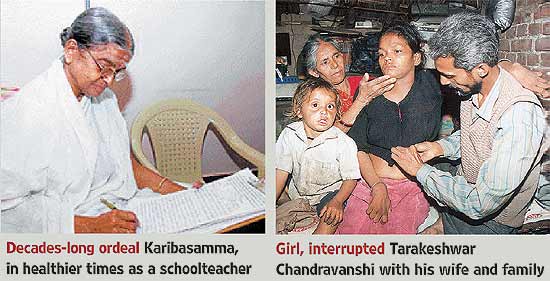 Pleading For Death...
The Patna High Court dismissed Tarakeshwar Chandravanshi's plea seeking mercy killing for his wife in 2001. She had been comatose for over a year.
Karibasamma, a former school teacher, has been pleading for 33 years for the courts to allow her to die as she suffers from an acutely agonising slipped disc, complicated by diabetes. The Karnataka High Court last year directed the state government to submit a health report on her.
Jeet Narayan and wife Prabhavati in Uttar Pradesh petitioned the President two years ago seeking mercy killing for their four physically challenged sons stricken with muscular dystrophy. The parents said they were reeling under debt and taking care of the boys, who could not even walk or move without help, was beyond their means.
The mother of chess champion K. Venkatesh in 2009 sought mercy killing for her son, who was terminally ill, in order to donate his organs. The Andhra Pradesh High Court declined. Venkatesh died soon after. Only his eyes could be donated.
---
By Anuradha Raman with Snigdha Hasan