When news first broke about the impending auction of a George Cross awarded posthumously in 1946 to Naik Kripa Ram of the 8th Battalion, 13th Frontier Force Rifles, by a London auction house, collectors all over the world sat up and took notice. The medal was not just rare but part of a group of five awarded to Kripa Ram, being put up by the auctioneers, Dix Noonan Webb (DNW), for an estimated price of £25,000. Quite a journey for a piece of metal.
"It's said that whenever a Victoria Cross comes up for sale anywhere, it tends to end up in Lord Ashcroft's collection."
But before the auction could take place, Kripa Ram's 80-year-old Himachali widow, Brahmi Devi, cried foul. She said she had been defrauded of the medal in 2002, leading DNW to put off the auction until the facts were established through a police investigation. But whether Brahmi Devi sold the medal for Rs 20,000, as a Delhi dealer has claimed, or whether it was stolen from her village home, as she maintains, the episode has focused attention on the flourishing business of procuring British-era gallantry medals and decorations from the subcontinent's traditional army recruitment regions and delivering them into the hands of eager collectors for a hefty price. These medals speak of deeds of great valour by young Indian men recruited into the British army during the Raj, but families of old soldiers from Punjab, Haryana, Himachal, Rajasthan, Nepal and Pakistan, some of them poverty-stricken, are flogging them, often for paltry sums—a fraction of what collectors eventually end up paying for them.
One of the best known collectors of military medals—though by far not the only one—is Lord Michael Ashcroft in Britain, whose magnificent array of 152 Victoria Crosses (1,356 VCs have been awarded so far) is possibly the finest private collection of its kind in the world. Three VCs awarded to Indian soldiers are in this collection. Namely, a group of medals including a Victoria Cross awarded to Honorary Lieutenant Agan Singh Rai of 5th Gurkha Rifles, auctioned in 2005 for £1,15,000; a VC awarded to Rissaldar Badlu Singh of 14th Lancers and to Capt Ishar Singh of 28th Punjab, the latter auctioned for £50,000. Says Chandigarh-based military historian Mandeep Singh Bajwa, "It is said that whenever a Victoria Cross comes up for sale anywhere, it eventually ends up in Lord Ashcroft's collection."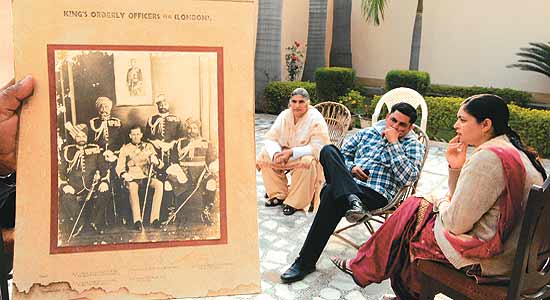 Medal Victoria Cross Winner Captain Ishar Singh Present status Sold at a London auction for £50,000
But what are the families who yield these medals to the marketplace actually getting for them? Outlook met Capt Ishar Singh's family in his native village of Panam in Punjab's Hoshiarpur district to find out. His daughter-in-law Mahender Kaur (above left, on the right) says, "One of his sons who migrated to England sold it there for £35 years ago. We only came to know when it came up for auction. He defrauded the entire family."
Five of the 40 Indian VC awardees were from present-day Indian Punjab. And right now, not one of the families had the medal, awarded only to the bravest of the brave, in their possession. While two of the families had loaned their VCs to museums, families of the three other awardees—namely Naik Gian Singh Sangha, Capt Ishar Singh and Lt Karamjeet Singh Judge—were unable to say where it was. A VC with Judge's picture next to it hangs, of all places, in 1911, the swish bar of the Imperial Hotel in Delhi. Judge's family denies having sold it to the five-star hotel, which in turn claims the medal is just a replica. But the family won't say where the medal is, so the jury is out on that one.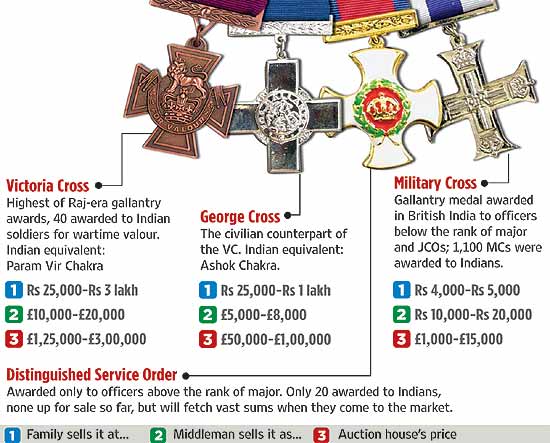 After two dusty days of traversing the Punjab countryside in search of the elusive VC, it was in neighbouring Haryana, in Bhiwani district, that we finally met a family hanging fiercely onto its inherited VC. This is the family of CHM Chelu Ram of 4/6 Rajputana Rifles, who won the VC posthumously in the battle of Djebel Garci, Tunisia, in 1943. Acutely conscious of the value of the medal, they keep it in a bank locker in the nearby town of Hisar.

It takes willpower for a family to hang on to an important medal, because medals like the VC or the George Cross are sought not only by the collectors but also the awardees' regiments, which sometimes resort to low cunning to procure them. The most celebrated such case relates to the VC awarded to Subedar Major Ganju Lama. While his parent regiment, 2/7th Gorkha Rifles, went to England after Independence, Lama himself opted to stay in India and joined the 11 Gorkha Rifles. After his death in July 2000, 11 GR asked his wife for his medals, only to be told he had already presented them to the regiment. The mystery of the missing medals was solved some years later when an article titled "Ganju Lama's Medals" appeared in the UK-based 7 GR Regimental Association journal. It gives a detailed account of how in 1975 an officer of this regiment was tasked to procure the medals earned by the old soldier and a sum of £4,000 sanctioned to negotiate the purchase. Once procured, the medals were smuggled out of India through diplomatic channels. According to this account, 2/7 GR arranged for duplicates of all of Lama's medals so that he could wear them at official functions in India while alive!
'Ganju Lama's Medals' details how the medals, once procured, were smuggled out through diplomatic channels.
With the Kripa Ram case hitting the headlines, collectors in India are feeling uneasy at what they see as unfair criticism of their hobby, which they point out is regulated by its own code of ethics. Collectors found stealing medals can lose their membership of the Orders and Medals Research Society (OMRs) in Britain, whose patron is the Prince of Wales. Says military historian Rana Chinna, "Few know that only 20 per cent of medals and orders find their way into collections. The rest are either melted down or lost by the recipients' heirs. Bringing them into collections is actually a way of preventing their destruction. What we need to guard against is the shortchanging of the original owners, as appears to have happened in Brahmi Devi's case."
But this is easier said than done. Collector Sushil Talwar points out that it is almost impossible to trace backwards the trail that leads a medal to a collector, which typically involves proxies and layers of secrecy. Big dealers have lists of villages to which important awardees belong and a network of scouts who persuade families to sell.
Indeed, CHM Chelu Ram's family has regularly been approached by Delhi dealers but so far they've kept faith with their brave ancestor and refused to sell. His son Ram Richpal Singh, a prosperous farmer, says, "This is a family heirloom and we'll not part with it for money." But as the family puts in more emotional distance from the original event, and a community of collectors bears down on them, the pressure will only increase.
---
By Chander Suta Dogra in Punjab & Haryana