Hyderabad Brews
A metropolis in numbers
1591 Year when the city was founded
650 Area in square kilometres area
9.1 million Population of Hyderabad; 69% Hindu, 27% Muslim
2 Lok Sabha seats, 13 assembly constituencies
83% Literacy rate; Rs 55,856 per capita income per annum
1,149 No. of IT companies in city; 4.7 million internet users
75.2% City's contribution to sales tax; Rs 70,000 cr revenue
100 No. of biotech companies in Genome Valley
80 No. of offices of foreign IT cos in Hyderabad
350,000 No. of working software professionals
15 No. of universities, including two central varsities
320 No. of engineering colleges
6.2 million No. of domestic arrivals at airport; 2 million international arrivals
11.5 km Length of the country's longest flyover (PVNR Expressway)
770 No. of notified slums; 9,00,000 people live in slums
Rs 3,850 crore Planned expenditure of Greater Hyderabad municipal corporation in 2014-15
1,666 acres Size of world's largest studio complex, Ramoji Film City
7 FM Radio channels
71 km Length of distance to be covered by first phase of Metro Rail
***
Burnt crackers and flowerpots lie strewn around the lanes of Siddiamber Bazar, a wholesale hub in the Old City. Paper and iron scrap merchants, jewellery showroom owners and foodgrain sellers here, who have lived in uncertainty since 2009, can finally celebrate. "Hum logaan saalon se dil pe patthar lekar baithe the, ab sukoon hai (hearts were heavy all these years, we can breathe easy now)," says metal scrap dealer Asad-ul-Qureshi. A vocal pro-Telangana man, Asad has been part of many bandhs and protests for the cause. Pointing to a sari showroom down the road, he says, chuckling, "Woh shop ek Andhrawale ki hai, usko bhi jalaane pade patakhe (that belongs to a businessman from Andhra, he too had to join the celebrations)." As the Lok Sabha passed the AP Reorganisation Bill on February 18 amid pandemonium, Hyderabadis held their collective breath. Their fate was unfolding on TV—and off it. Those from Telangana shed tears of joy; Rayalaseema and coastal Andhra watched with resigned acceptance. A new chapter in history had begun.
"A thick line has already been drawn between me and my colleagues from Telangana," says 41-year-old G.V.S. Chintamani, a graphic design strategist who has worked in Hyderabad for 20 years with corporates such as Deloitte and Satyam. Chinta­mani's father was born in the Madras Presidency and his mother in the Visalandhra region, both now part of coastal Andhra. He was born in Madhya Pradesh (now Chhattisgarh) and studied in Bihar (now Jharkhand). "It is my hard work and determination that made me successful. But now, in Hyderabad, I am always asked where I come from. People immediately assume that my Andhra roots gets me jobs," says Chintamani. "Twenty-three minutes was all it took to pass such an important bill. It gives me the jitters to think what lies in store," he says.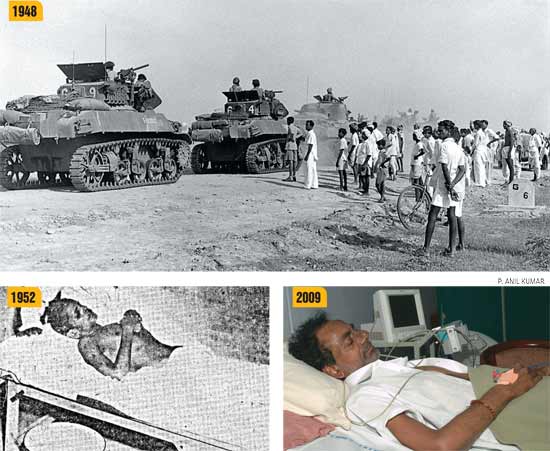 History unfolds Army tanks roll into Hyderabad; Potti Sriramulu fasting for a united Andhra Pradesh; and KCR for Telangana
His colleague, 32-year-old Swapna Produttur, a technical lead at a cloud computing firm, says the people of Telangana no longer have to wait for a chief minister from Seemandhra to develop their villages. "We'll do it ourselves," says Swapna, who stu­died in the Adilabad district of Telangana. Students there have to practically educate themselves because of lack of staff. There are no roads, no teachers, no educational institutions. "All that will change now," she emphasises, aglow with hope.
The mixed bag of emotions is visible all across Secunderabad and Hyderabad, home to people from all three regions of Andhra Pradesh. Others—Marwaris, Anglo-Indians, Bengalis, Punjabis, Parsis, Sindhis—complete its cosmopolitan landscape. But even as some Hyderabadis line themselves strongly on either side of the divide, many feel the division won't make any real difference, except political battles for the benefit of TV cameras. "All these heroic displays of pepper spray weaponry are for public consumption," says a corporate communications consultant, refusing to be named. "We are a nation of deal-cutters. We love cutting deals behind closed doors, just as the Statehood Bill was passed behind closed doors. At the end of the day, ind­ustrialist-politician Lagadapati Rajagopal will cut a deal with either the Congress or the TRS to safeguard his bus­iness interests. For entertainment purposes, TRS MLA K.T. Rama Rao and Rajagopal will abuse each other on TV debates."
Hyderabad's industrial base—comprising pharmaceuticals, hospitals, construction, real estate, education and hospitality—is driven mostly by investors from coastal Andhra and Ray­ala­seema. Big names such as Dr Reddy's, Suven, GVK, GMR, Apollo, Kamineni, Aurobindo, Star Hospitals, Lanco, Indu Group, Ramky's, Sri Chaitanya and Narayana institutions are all from Seemandhra. Dr Reddy's, for instance, has eight FDA-approved units in Hyderabad. "But nobody expects TRS supremo K. Chandrasekhara Rao to drive the money-makers out," says Chaitanya Rao, an MCA student. "It is not as if Lanco Hills or Dr Reddy's units will be packed in bubble wrap and transported overnight to Nellore and Vijayawada."

Photograph by Narendra Bisht
Many of India's top construction, development and real estate companies like GMR, GVK, IVRCL, Lanco, Navayuga and Ramky have their origins or bases in Hyderabad.

What many students like Chaitanya hope for are increased government jobs and a local quota in the private sector. In fact, a jump in employment is one of the many promises KCR has made; his Telangana Rashtra Samiti (TRS) can't stop chanting—"Our water, our land, our jobs". Student leaders of the Osmania University who have been at the forefront of the Telangana agitation say this is what every youth from Telangana wants—a job in Hyderabad or one that tethers them to the HiTec City in some form.
With the final hurdle cleared, OU student leaders are gearing up for the electoral battle. Manne Krishank, 25, spokesperson for the OU joint action committee, is all set to join the Congress. Declaring that he will contest the Secunderabad Cantonment assembly seat, Krishank says his first attempt will be to ensure jobs for domiciled locals in private companies. "The youth of Telangana will get justice," he promises as he joins a crowd of 10,000 celebrating in Osmania University.
Not all share the enthusiasm, though. Mehdi Ali Khan, a BTech student at Symbiosis, Shameerpet, feels it's too late for new jobs. "Thanks to the unrest and bandhs," says the 21-year-old, "all the MNCs have migrated to other states. Hyd­e­rabad has taken a huge dent to its HiTec City image. What's the point of Telangana when there's no growth in private sector jobs?"
However, B.V.R. Mohan Reddy, chairman of Infotech Enterprises, says that while he is sad that Telugu-speaking people have been divided, separation will not have any impact on industry. Hyderabad will continue to grow on account of outstanding infrastructure, cost competitiveness, skills availability etc. Seemandhra will also be benefited. "Large investments in building a new capital, educational institutions and hospitals among others will steer economic growth," he says.
The Telugu film industry which is almost completely based out of Filmnagar and Jubilee Hills in Hyderabad again has a majority of coastal Andhra populace among its citizens. "Yes, there would be complications for the film industry," says dir­ector Teja. "Shootings and releases are likely to be affected. Politics and cinema are fields where a lot of emotions and people are involved. As long as one does not cross into the other, things will be fine. But that won't happen, will it," he asks, wryly.
The Madhapur suburb of Hyderabad, where HiTec City is located, is home to IT giants like Tech Mahindra (formerly Satyam) and is the India base of Amazon, Facebook, Google et al.

What does linger as a metallic aftertaste of the bifurcation is the joint capital issue. Majlis-e-Ittehadul Muslimeen MP and president Asaduddin Owaisi says that the biggest loophole in the bill is keeping law and order under the governor. "How can one governor control law and order in 628 sq km of the Greater Hyderabad Municipal Corporation area," he asks. "Hyderabad as a common capital for 10 years is an oddity. It goes against the concept of a full-fledged Telangana." The 10-year clause, Owaisi stresses, is a deception. "It might go on forever."
Krishank too feels that keeping law and order under the governor is foolhardy. "This will lead to a Delhi-like situation," he says. "We cannot have the chief minister of Telangana sitting in protest against the police or governor to enforce justice like Arvind Kejriwal did." The 10-year clause will also involve other complications. Students from both states will be writing the common entrance tests such as Icet and Eamcet under one pool for 10 years. The high court too would be common for both states. "It's like forcing a husband and wife to stay under one roof for 10 years even after a divorce," says Syed Amin Jafri, MIM MLC.
The prospect of self-rule, however, remains a liberating tho­ught. Heritage conservationist Sajjad Shahid says that Hyd­e­ra­bad city has for decades now been overrun by Andhra industrialists. "There has been a systematic suppression of Hyderabad's built heritage, culture, Urdu language, and art. Now, the people of Telangana need not be dependent on the largesse of others. Leave us to ourselves and let us protect the residual remains of our heritage," says Shahid.
Dost Mohammed Khan, now 60 and owner of an IT firm, was a schoolboy when he witnessed police firing against Telangana agitators in 1969. The Hyderabadis, he feels, are finally getting their due. There is a homogeneity between Telangana and Hyderabad; 'outsiders', mainly from Seemandhra, have ruled the roost for long. "Our culture, food, language, festivals are completely different from Seemandhra. The new state will bring sensitivity and respect for true-blue Hyderabadis and will certainly stop the wanton destruction of Hyderabad's built heritage. The way the metro line is being laid with little respect for our monuments is a classic example."
Narendra Luther, author of Hyderabad: A Biography, says he does not see anything cataclysmic unfolding in Hyderabad except a limited political struggle. "The division of assets will be gradual. Government servants will be apportioned to the two states and revenues will be distributed. The apprehension that Andhraites will be unsafe is completely unfounded. Hyderabad and life here will be the same as before."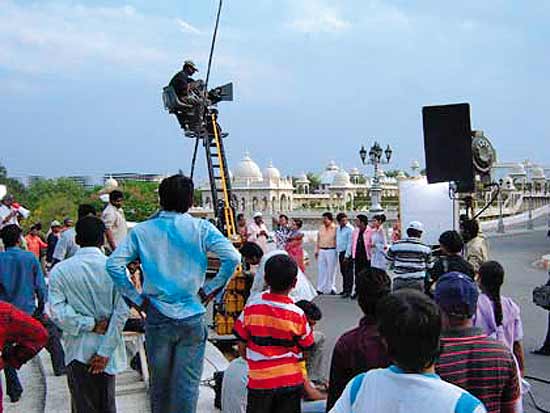 Hyderabad's studios produce more films per year than Bollywood. Stars like Krishna, Nagarjuna and Venkatesh, and producers like Ramoji Rao, lord over huge production houses.

While Luther says that old-world Hyderabad is now a figment of the past, Raunaq Yar Khan, the great grandson of the last Nizam, will tell you that Hyderabad's traditional tehzeeb will now take a body blow. "As children, we are taught that in unity lies strength. And divided we fall. These are basic lessons which nobody can dispute. I feel sad that politicians are distributing regions among themselves—as if they were playing cards. Smaller states benefit only political parties salivating over fresh voter bases," he sighs.
There are four Lok Sabha seats under the GHMC area—Hyd­erabad, Secunderabad, Malkajgiri, Chevella—and 24 assembly segments. While And­hra Pradesh has always had single-party governments, post-bif­urcation, coalition politics is inev­itable. MIM's Owaisi says he foresees many independents and small parties representing BCs, SCs emerging in Telangana. In that case, parties like the Telugu Desam, Congress, YSR Congress, MIM, BJP, CPI, CPI(M) will need to make place for strange bedfellows in alliance formation.
Telangana and statehood, however, have not really been voter issues in GHMC; the TRS does not even have a presence here. Infrastructure development and civic needs are core issues. Perhaps gearing up for the new era, the MIM is now repackaging itself as a welfare-based generic party trying to outgrow its community-based identity. Posters of Owaisi highlight his work in education and municipal administration.
Animated discussions in Irani cafes and biriyani joints in the twin cities now centre mostly around who will be the future CM of Telangana. Kiran Kumar Reddy's belated exit failed to generate any empathy. His would-be party is seen as a non-starter, even among united Andhra protagonists. Kiran Kumar, who has already moved from the CM's camp office to his quarters in Old MLA colony, Banjara Hills, is lying low for the moment, not announcing any new party.
As emotions continue to swing back and forth between euphoria and sadness, one thing is for sure, history's been rewritten for Hyderabad. It's only the contours of the specific chapters that have to take shape.
---
By Madhavi Tata in Hyderabad