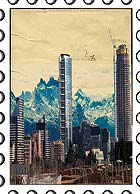 Smogged valley
Santiago is a city of parks, water bodies, sculptures, churches and a marked European influence. The homes I visited were in stylish and comfortable high-rise buildings. The localities where the underprivileged live are also clean and well-maintained, with sturdy buildings designed to withstand the frequent earthquakes. Here, Europe recedes and Latin America emerges on street upon street of two-storey houses, vibrant with graffiti and murals. With the low, snow-peaked mountains of the Andes hovering protectively, Santiago sits in a valley. A beautiful backdrop—but one that leaves it vulnerable to smog. In winter, the city waits for rain to relieve the smog. The day I was leaving, a pollution crisis was announced. Forty per cent of the city's cars were kept off the roads, and schools cancelled sports and physical education classes.
---
Touch of Pinochet
Since I was in Chile on a tight schedule, I had studiously avoided learning about sights that I might never see. So when we landed in Iquique, about 1,500 km north of Santiago, I was astonished and mesmerised by the landscape: sandy hills extending from the Atacama desert on one side to the beach-lined Pacific on the other. Since the mid-1970s, Iquique has had a free trade zone, and Sindhi entrepreneurs were among the first to make good of it. Now numbering a few hundred, they form a close-knit group of fun-loving, cosmopolitan families. I stayed with the gracious Renu Melwani, in what was once Pinochet's Iquique home. Driving to the free zone next morning, I passed shacks selling seafood. Pelicans and Patagonian sea-lions jostling for the entrails tossed back into the sea formed another delightful sight. Containers from China crowd the Iquique port and the zone stocks merchandise of every kind, including used cars from the US and Japan. The next day, we visited Humberstone, a saltpetre mining town abandoned in 1960 when chemical fertilisers phased out saltpetre. It felt good to see Mahindras among the pick-up vans favoured by the mining community. The picturesque road through this hilly desert is lined with shrines to loved ones who died on the spot. We also passed sand graffiti sites, aboriginal and contemporary.
---
Veggie solitaire
In Iquique, dinner at Miguel's is a must: it's a Chinese restaurant with a menu that extends to samosa and loli (a traditional Sindhi spicy roti). Another memorable meal was in the resort town of Vina del Mar. A vegetarian alone, rather than grapple with a menu in Spanish, I bought an avocado and ate it on the seafront with a packet of fries from McDonald's and an occasional benediction of icy water from the Pacific.
Surprisingly, one of Santiago's popular restaurants, El Naturista, is vegetarian. A century ago, its founder apparently travelled to India, and was influenced by Tagore. We ate arroz hortelana, a rice preparation; papas salteadas, potato with herbs; and verduras al gratin, baked vegetables with cheese. My favourite was the quesillo, Chilean white cheese, and the luscious artichokes native to Chile. Santiago has good Indian restaurants, and we enjoyed flavoursome meals, made less spicy for local tastebuds, at both the Saffron and the Majestic. The owner of Majestic, Suresh Goklani, came from Ahmedabad to work for a Punta Arenas trading company in the 1970s, when he was 20. Today he owns a hotel, a chain of restaurants in Santiago, and several businesses across Chile.
---
Sindhi spirit
Before the Panama Canal, every ship stopped in Punta Arenas, near the southern tip of South America. As early as 1907, a Sindhi entrepreneur had disembarked and opened a store. Our weekend with the families here was one of Sindhi hospitality, fascinating stories and exquisite vistas—interspersed alternately with benevolent sunshine, stormy rain with Antarctic winds, and beautiful, gentle snow. On the first night, the placid streets of this historic town suddenly erupted with revellers. Chile had defeated traditional rival Bolivia 5-0 in the Copa America.
---
Sleeping unshaken
Everyone in Chile has earthquake stories. I have one too: I slept peacefully through one and only learnt about it from the Indian ambassador, Debraj Pradhan, a few hours after it took place. We were in his very Indian, light-filled home and I was flying back later that day. He told me that India and its arts and industry are integral to life in Chile, that yoga and classical dance are widely practised, and that Sindhi businessmen, many of whom have been established here for decades, as well as pan-Indian entrants from the new Indian multinationals, are treated with respect.
---
Last week...
It was a writer's dream come true, being invi­ted to a book club meeting on the other side of the world in Iquique and finding that some of the women had read a book I'd written and others were reading it.
---
Pune-based writer and painter Saaz Aggarwal is the author of Sindh: Stories from a Vanished Homeland; E-mail your diarist: saaz [AT] seacomindia [DOT] com