Sand Model FATA
Waziristan is located in the northwest of Pakistan and borders Afghanistan. It's one of the seven agencies comprising FATA.
S. Waziristan, one of the two administrative divisions of Waziristan, is the stronghold of Al Qaeda-linked Islamic terrorist groups, now under the TTP banner
TTP now led by Hakimullah Mehsud
Under US pressure, the Pakistan army has launched Operation Rah-e-Nijat (salvation) in South Waziristan
30,000 soldiers and the air force are taking part in what is described as "the mother of all battles"
Military commanders say the action could take 8-12 weeks
***
Journalist Syed Shoaib Hasan still breaks out in a cold sweat at the memory of his meeting with Tehrik-e-Taliban Pakistan (TTP) leader Hakimullah Mehsud in the autumn of 2007. Hasan was among four journalists TTP fighters had taken to their stronghold of South Waziristan, one of the seven tribal agencies comprising what is called the Federally Administered Tribal Areas (FATA). It was there that they were introduced to Hakimullah, who offered to take the visitors for a drive in the mountainous terrain. He pressed the accelerator hard and sped away, bouncing the vehicle over bumps, negotiating sharp bends at incredible speed and then, suddenly, screeching to a halt inches away from a precipice. Beyond it was a plunge of hundreds of metres into certain death.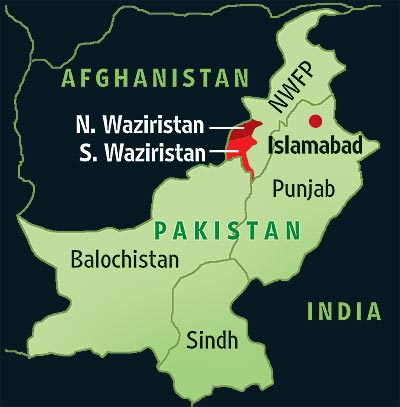 "We sat in stunned silence," recalls Hasan. "But Hakimullah just laughed chillingly." Then, he insouciantly reversed the vehicle and drove away.
From the time Hakimullah gunned and bombed his way into Pakistan's popular consciousness, he has yet to put in reverse gear his killing machine, speeding away on the highway of global jehad. He has evaded US spy satellites' attempts to locate him, mocked the efforts of Pakistani forces, once even convening a press conference to belie the claims of those, like interior minister Rehman Malik, who had triumphantly declared him dead. He has masterminded devastating suicide bombings, organised forays into security camps, and disrupted the supply line of nato forces struggling to stabilise neighbouring Afghanistan.
There's no doubt that now, over two months after former TTP boss Baitullah Mehsud was 'taken out' in a US drone attack, Hakimullah is Pakistan's new terror king. He has earned his spurs by ratcheting up the scale and intensity of the battle against the state beyond even the lethal standards set by Baitullah.
The army HQ siege and other blasts have pulled the forces to Mehsud's home turf, where he wants to do battle.
He neither cowers before the might of the army nor pauses to rethink the death and destruction he has rained on Pakistan. He is, you could say, the maverick rock star of the jehadi cult—sporting shoulder-length hair, dressing immaculately in his tribal gear, betraying a personality both winsome and chilling. An inspiration to those cutting their teeth in the jehadi world, his charisma has won a legion of followers despite his callow 29 years. Zahir Shah Sherazi, of Dawn newspaper, who was taken with a few others to Orakzai Agency in November '08 to meet and introduce Hakimullah to the world, says, "Although quite photogenic, his cold looks and wry smile left little doubt that he may not think twice before killing anyone."
It's to hunt this man that the Pakistani army has deployed 30,000 soldiers and fighter planes in its ongoing operations in South Waziristan. In fact, Hakimullah went out of his way to goad the army into launching this operation. He first sent his men to attack the army's general headquarters in Rawalpindi—at the end of a siege that nearly lasted 18 hours, a brigadier and colonel were among the 24 dead. Five days later, TTP militants attacked three security installations in Lahore, riveting the entire nation's attention on TV screens flashing the live drama. It was akin to waving a red cloth before a bull, and the generals ordered the army to move into South Waziristan—civilians are leaving the province in droves in anticipation of the bombing and shelling.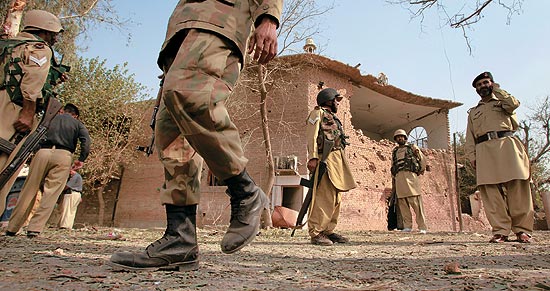 The site of a car bomb attack in Peshawar
As TTP militants hunker down in those rugged hills, Hakimullah's men continue to grab headlines elsewhere, opening up multiple fronts. The bombing of a university in Islamabad prompted the government to close down educational institutions countrywide. Hakimullah understands the power of the media, dexterously exploiting its thirst for news to embed himself into Pakistan's consciousness. As Sherazi says of his meeting with Hakimullah, "He tried to take the maximum advantage of the presence of TV teams, expressing his views on issues ranging from Afghanistan to TTP's links with Mullah Omar to Pakistan's political scene. But he also wanted to present himself as a modern man, as someone who knew a lot about guns and machines. So first, he sought the cameramen's indulgence while speeding around in an armoured Humvee that his men had captured from the Americans in the Khyber Agency. An hour later, he invited journalists to participate with him in a gun-shooting competition."
He exploits the media not only to build his persona, but also to propagate his ideas and lure new votaries to his cause. It's here that India acquires a salience in his rhetoric. Before the army swept into South Waziristan, he said in a video interview, "We are fighting the Pakistan army, police and the frontier corps, because they are following American orders. If they stop following those orders, we will stop fighting them." He then added, "We want an Islamic state. If we get that, we'll go to the Indo-Pak border and help fight the Indians." His statement can't be dismissed lightly, say observers, pointing to the October 9 blast at the Indian embassy in Kabul, days after the completion of the Kabul-Phul-e-Khumri electric transmission line. The attack on the Indian embassy can be interpreted as an attempt to portray Pakistan's feeble efforts (at America's behest, obviously) to curtail India's growing role in Afghanistan.
If the army neutralises Hakimullah, India too stands to gain. But with Islamabad circumscribing the role of militant groups other than the Lashkar-e-Toiba in Kashmir, their members, disenchanted and unemployed, gravitated towards the Waziristan group. Most of these groups belong to the Punjab province, which dominates the army and the administration. This enables the TTP to organise attacks in the country's largest province. These Kashmiri militant groups are #the Harkat ul-Jehad ul-Islami (HUJI) led by Maulana Ilyas Kashmiri, the Jaish-e-Mohammed (JeM) led by Maulana Masood Azhar, the Harkat ul-Mujahideen (HuM), led by Pir Syed Salahuddin, and the Jamaat ul-Furqaan (JuF), led by Maulana Abdul Jabbar. This pooling of resources has indeed given Hakimullah a sharp edge.
Even when his mentor was alive, Hakimullah had acquired a mythic aura in militant circles through his exploits.
Of course, it isn't only because of Hakimullah that the TTP has emerged as a formidable outfit. Much of the credit goes to his mentor, Baitullah, who united different outfits operating in FATA. On December 12, 2007, 40 senior Pakistani Taliban leaders, together commanding some 50,000 men, gathered in Peshawar and banded under the banner of TTP. Till then, many of them had carved out their own turfs in FATA, often working at cross-purposes in their resistance to the American-Pak forces. The council elected Baitullah the TTP chief. Hakimullah hadn't then figured in the troika commanding the umbrella group.
But away from the limelight, Hakimullah was making waves. His most daring act was the capture of 300 Pakistani soldiers in August 2007, compelling the Musharraf regime to release 25 hardcore militants. The success imparted a mythic dimension to his personality, further bolstered by his destruction of 600 nato vehicles at freight terminals on the outskirts of Peshawar. These exploits led Baitullah to elevate Hakimullah from an ordinary commander to the chief operational commander for Khyber, Kurram and Orakzai Agencies. In a way, this was giving de jure legitimacy to Hakimullah who had under his command 8,000 fighters in these three tribal agencies.
Among his other infamous deeds was the imposition of Shariat law and levying of jazia (religious tax) on Hindus and Sikhs living in Orakzai and Khyber, precipitating a mini-exodus. He and his cousin, commander Qari Hussain Mehsud, known as Ustad-e-Fidayeen or teacher of suicide bombers, also hounded Shias in areas under their influence.
Born in the Kotkai village of Sarwaki subdivision, South Waziristan Agency, in 1980 as Jamshed Mehsud, Hakimullah is also known in TTP circles as Zulfiqar Mehsud and Guddu. He went to a Deobandi seminary in Hangu district of the nwfp, but dropped out. A few years later, he joined the jehadis, initially serving Baitullah as a bodyguard and then becoming his trusted driver. His anointment as TTP chief wasn't without controversy. When Baitullah died in a US drone attack, the TTP leaders met to choose his successor. There were competing claims to inherit Baitullah's mantle, sparking speculation that Hakimullah had died in a gunbattle between rival camps. Weeks later, the government confirmed the news, only to be embarrassed by his emergence in a press conference. Since then, Pakistan hasn't known peace.