For Parvesh Bareja, the decision to return to India and set up a business in his homeland turned out to be a painful one. It took him over a year to get the clearances and permissions to set up a packaging unit for perfumery products in Rajasthan's Neemrana district and get his project on stream. Many of his permissions, he says, are still pending and he continues to run the rounds of government offices to ensure that his file moves from table to table. Although he has not been approached by any official or middle-man for a bribe, he says the rules and procedures are so complex and time-taking that it delays projects beyond control. Businesses across the world know this and this discourages many entrepreneurs from setting up shop in India. Bareja acquired land for his company in January 2012. But some of the clearances he needs are yet to come through.
That, in short, is the story of people who try to set up a business in India or even try to run a business here. There is unanimity among businessmen that doing business in India is tough—not because of competition, but because it could take an eternity to wade through the maze of processes, get clearances and finally get started with a project.
On an average, say businessmen, every permit or clearance takes 15 days to two months. And when there are 25-30 clearances to obtain—including no objection certificates from the income tax, sales tax, excise, octroi, water electricity, fire, and pollution departments—people lose interest in doing business here. The prolonged delay is sapping and businesses tire of keeping their investment and manpower idling.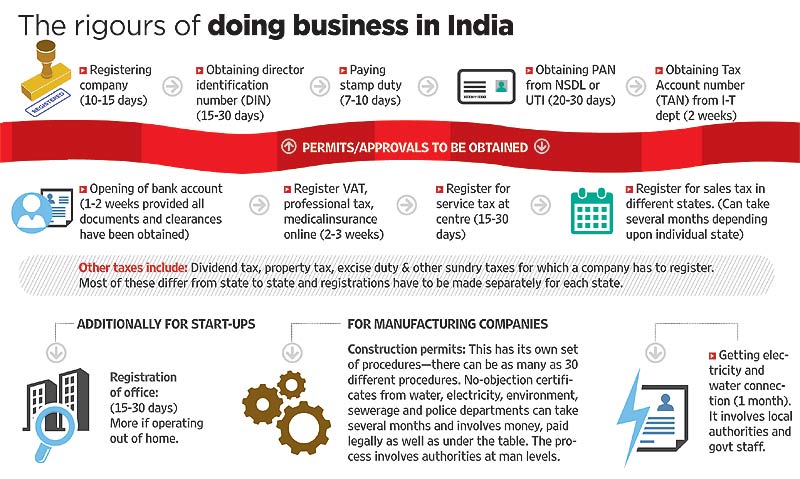 In other countries, things get done in a jiffy. "It just takes a couple of months from application to starting a business in Dubai," says Bareja, who has successfully set up business in that country, besides Russia, where he has units. But it was love for India brought him here to do business. Despite the call given by Prime Minister Narendra Modi to global manufacturers to come and make in India, entrepreneurs across the spectrum say that opening a business in India is a nightmarish experience. There is no end of examples of those who have been forced to wind up a business in India because it's so difficult to run. Says Hitesh Dhingra, investor and former owner of Letsbuy.com, "Nothing has changed in India. In 10 years, the processes are still the same. It takes over a month to set up a gateway. For every registration, one has to go to 10 different counters or authorities and there is a lot of harassment at every stage."
Known for its history of Known for its history of peace, riots hits it in March for its history of peace, riots hits
That happens for other permissions as well. Even for a simple permission, an applicant often has to go to several cities to get final clearance. Bareja says that for a single excise duty clearance for his Neemrana unit, his company had to send officials to Behrod, Alwar, Jaipur and Udaipur. An education start-up led by IIT engineers had to struggle for over 18 months just to get a bank account. All this delay and complexity translates into cost overruns of anything between 15 and 20 per cent, depending upon how much effort one has to put in.
In many cases, the real problems begin after the creation of the company, when the entrepreneur has to deal with getting clearances and licences for income tax, state taxes and other levies. Then there is the endurance test of obtaining statutory DIN, TAN, PAN and registration certificates. For manufacturing companies, this can be particularly tough as they have to register each one of their local offices and hubs in different cities and each state has its own set of rules. In Maharashtra, for instance, directors of a company are required to be physically present for registration. There are also iso certifications and inspections for units engaged in producing all kind of food items (chips, savouries, ready mixes for Indian and foreign recipes). Such inspections are also required for units that need alcohol, such as perfumeries, which just increase the time it takes to start a business.
Then there is the issue of sales tax, which, being a state subject, is different in every state. A business person has to go through the entire set of motions in every state in which he wants to sell his products. For a country like India, with 28 states, it is a nightmare beyond imagination, as getting sales tax licence and clearance is one of the most crucial and difficult to obtain in India.

Paper chase Most entrepreneurs find government offices daunting
Says Manu Grover, owner of the Rs 40 crore GST Corporation, a maker of healthcare equipment. "After being in business for 21 years, I am still struggling with our processes. Our laws are complex and confusing. Above all, they are absolutely ambiguous. State sales tax and octroi taxes (levied by municipalities and local bodies) are all different, and the authorities create a lot of hindrances for applicants. For instance, they impose steep penalties if there are any cuts in the forms." For those in retail, like Grover, a sales tax assessment in every state has to be done every year, which again is a stupendous exercise, considering that even a single clearance takes a lot of time and effort.
Companies end up hiring those who can get govt work done as consultants. The wand they wield is usually a bribe.
Also, for the smallest doubt, challans are issued to companies at the whims and fancies of local officials and the only way to challenge that is in court, something no company wants to resort to, and hence they quietly pay up even if it is unjustified. This is resulting in a flight of entrepreneurs from India. Says Bareja, "In our trade, people go to China to buy their raw material despite the fact that China is now more expensive. This is because it is very difficult to get clearances for products and start production in India. The number of clearances you have to obtain!" This has given rise to a new class of people who specialise in helping companies register and get through the maze of clearances. Says Vinayak Chatterjee, chairman of Feedback Group, "Indian corporates have evolved a response mechanism to deal with this as many companies now maintain a special division which looks at registration and other clearances such as environment and taxes." Entrepreneurs feel that all this not only gets added to the overall project costs, it also has a very high "irritation value" for investors. Add to that sudden policy changes, like the UPA government's retrospective tax, which throws all calculations haywire. Bareja says companies routinely hire consultants­—essentially those who know how to drive the cogs of bureaucracy—to get the work done. Otherwise, he says, it takes too much time.
There are other areas where things are either routinely difficult or are expensive when compared to other countries. Take the bunker charges at India's ports. Due to the congestion at our ports, businesses sending or receiving freight have to pay bunker charges which are much steeper than in China and Thailand. Such other factors prove a great deterrent.
Investors feel that GST will bring some respite from these issues, as there will be a uniform tax system across the country. However, sales tax is a money spinner for states. So there has always been aggression when GST is discussed. Many states are reluctant to come on board. And at the ground level, local authorities love to keep the rules ambiguous, in order to be able to raise objections and gather bribes. If processes are made clear and a single window clearance system is introduced, corruption at this level can be eradicated.
But the task before the Modi government is to get all states on the same page and agree to a single uniform system. What's more, one needs a single window system for business if Narendra Modi wants his dream of 'Make in India' dream fulfilled.