The Rise, Again A Fall
1985: Modi arrested in US on drugs and abduction charges. Plea bargain gets him deferred term
1986: Returns to India citing bad health. Joins family business
1991: Marries mother's friend Minal Sagrani
2004: Becomes vice-president of Punjab Cricket Association
2005: Becomes president of Rajasthan Cricket Association
2008: IPL is launched; BJP loses power in Rajasthan
2009: IPL taken to South Africa; Modi loses RCA elections
2010: Loses RCA elections again; Kochi team scandal surfaces
***
By 1986, Lalit Modi, with a cocaine possession and abduction conviction behind him, was through with everyman's gilded dreamland—the United States of America. Yet to turn 23, having graduated from Duke University, Lalit sought permission from court to return to India on health grounds. Getting away wasn't easy—in lieu of being jailed, he had been placed under a five-year probation and ordered to do 100 hours' community service. But, as on other occasions, he got by with a bit of help from influential family friends and the liberal use of money. Later, he returned to India to join the family business.
In the late 1980s, a woman, too, had winged her way from distant Nigeria, staying for a while in a Gulf country before landing in India. Her name: Minal Sagrani. A svelte, charming, divorced woman whose family had suffered serious business setbacks, she was known to the family of industrialist K.K. Modi, Lalit's father and the son of Rai Bahadur Gujarmal Modi, who established the industrial township of Modinagar in western Uttar Pradesh. She was in fact a friend of Lalit's mother. Who in the Modi family could have ever thought that Lalit and Minal—said to be nine years older to him—were fated for each other. They married in Mumbai on October 17, 1991, and the family hosted a reception in Delhi on October 19.

Family game Lalit's marriage with Minal spawned the connections that now rule IPL. Here, with daughter Aliya and son Ruchir.
Minal and Lalit's wedding spawned a tapestry of kinship which was, in the new millennium, to dominate the Indian Premier League. To this marriage can be traced some of Modi's current troubles, as also his formidable clout of the last few years. The reason: through Minal, he acquired relatives in Nigeria—the Chellarams, who now have a stake in the Rajasthan Royals; through the marriage of Minal's daughter (from her first marriage) to the Burmans, the owners of Dabur, he acquired a stepson (Gaurav Burman) who has a large slice of the online, digital and mobile rights of IPL. Also, Gaurav's brother Mohit is part-owner of Kings XI Punjab.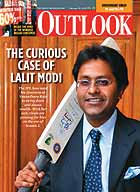 But this club of relatives wouldn't have come to dominate the IPL—or grabbed headlines through the last fortnight—had Modi not acquired financial and political clout through his proximity to former Rajasthan chief minister and BJP leader Vasundhararaje Scindia (Outlook had reported this a year ago).
Lalit had met Minal in London, where she had come to stay after her husband was jailed for a scam in Saudi Arabia. He fell in love with her. A friend of the family says that she was looking for a husband at the time and was a regular visitor to the Modis' house in Maharani Bagh, Delhi. "She was very sweet on Lalit's mother and used to visit and stay with them at their house," a source who has known the Modis for several decades said. The family was opposed to their betrothal, tried to persuade Lalit against it, and felt betrayed by Minal.
Never one to rethink and retreat after taking a plunge—a trait now reflected through his refusal to resign as IPL commissioner—Lalit wasn't swayed. In an interview last year, K.K. Modi recalled those days and said, "He made it clear that he would marry only this friend of my wife, no one else." It was at this time that another trait of Lalit was witnessed, a trait on display through the current controversy—his uncanny ability to pit people against each other to his own advantage. "He managed to get his grandmother Dayawati Modi on his side," says a source close to the family. "It was she who persuaded the family to let him go ahead." And though the Modis were "deeply disturbed and hurt that their son had got married to his mother's friend", they hosted a reception at the Taj Man Singh Hotel in Delhi.

Power game Lalit and Kavita Chellaram with Vasundhara
In public, both parties kissed and made up, but sources who've known Modi all through his business career say his parents never forgave him for his marriage with their friend. He was not made an integral part of the family business thereafter, though he does hold a designation with his family firm Godfrey Phillips. He was provided with a car and an allowance and he shifted to Mumbai and lived in a house belonging to Minal's father which he later bought. That he wasn't doing much in Mumbai is best testified by a source who asks, "Why would a real businessman move to Rajasthan, lock, stock and barrel?"
So much influence did Modi wield when Vasundhararaje was CM that it was whispered he was the 'Super CM'.
This shift was significant. Though Lalit and Vasundhararaje had known each other for several years—he was seen accompanying her to a Union minister to seek clearance for a factory near Gwalior in the early 1990s—his star shone brighter than ever because she was now chief minister. Such was his clout, Lalit acquired the sobriquet of the 'Super Chief Minister'. His arrogance was the talk of the town; his opulent suite at the luxury Rambagh Palace hotel almost the centre of government, as officials were summoned to receive orders. Modi and Minal exploited their proximity to those in power to secure two havelis in Amer, near the famous fort, in contravention of Archaeological Survey of India rules. A bigger stink was raised by the 90B scandal. Under this section of the Land Acquisition Act, farmers were allowed to reclassify agricultural land and put it to non-agricultural uses. Through misuse of this clause, much land was passed on to big builders. Corruption became the byword for the Vasundhararaje government, and Modi became its public face, something the Congress exploited during the assembly election of 2008.

Friends all Ruchir, Aditya Chellaram, Karima Burman and Minal (right) with a friend
Modi's Rajasthan foray also gave him access to the cricket administration. He had tried to break into it through Himachal Pradesh earlier, but was foiled. Allegedly impersonating one 'Lalit Kumar', he contested the 2005 election of the Rajasthan Cricket Association. Vasundhararaje helped with a new law that dramatically changed the rules of voting. And Modi became the association president. His stock zoomed as he helped Sharad Pawar defeat Jagmohan Dalmiya in the BCCI elections the same year.
People close to the bidding process say there's every reason to suspect that the process was rigged.
Around this time, Modi and his kin and Vasundhararaje became more visible in exotic locales. In a 2006 event organised to raise money for the Elephant Fund, initiated by Mark Shand, the brother of Prince Charles's wife Camilla Parker Bowles, Vasundhararaje was spotted with Lalit and Kavita Chellaram, wife of Suresh Chellaram, now part-owner of Rajasthan Royals. Kavita is Minal's sister. It was when the idea of IPL was floated in 2007 and Lalit was appointed its commissione that the Chellarams became part of team Rajasthan. But these were not the only relatives of Lalit to gain from the IPL. Modi's stepson-in-law, Gaurav Burman, has a share of the online, digital and mobile rights of the IPL. Gaurav's brother Mohit is part-owner of Kings XI Punjab. The Chellarams and the Modis party together in Phuket and Mexico, where in 2006 they rented the villa of James Goldsmith, father of Jemima, Imran Khan's former wife.

Playing hardball Defiant as ever in the middle of a storm, Modi on his way to a meeting with Mukesh Ambani on April 22
Interestingly, the marriage of Gaurav and Karima, the daughter of Minal through her first marriage, created a rift among the Burmans. No, they didn't oppose the 2006 betrothal of the two, and had agreed to the idea (allegedly Lalit's) to hold a grand wedding in Phuket, Thailand. The invite to Phuket was prepared but, inexplicably, the two got married in a civil ceremony in London without informing the Burmans. It was a tremendous loss of face for the owners of Dabur. A source told Outlook, "The Burmans have nothing to do with Gaurav at all. They've cut off all ties with him." Gaurav now lives in a house rented from a trust by Lalit's company.
Lalit's presence in the IPL structure has raised the issue of conflict of interest, and even as the tournament kicked off in '08, speculation about the bidding for teams was rife that Modi's relatives and friends managed to bag teams—for Rajasthan, Punjab and Kolkata—because of inside information. No wonder, investigators are examining Modi's possible involvement in money-laundering; they believe it's no coincidence that the three teams he's been linked with all have NRIs who've invested money through a maze of companies based in India and abroad. (Gaurav Burman, the Chellarams and Jay Mehta—a friend of Lalit's—are all NRIs). "He prefers to deal with NRIs because then it's easier for him to channel money in and out," says a source. "It's no coincidence that these three were the cheapest franchises, and very closely priced."

Mahant Shiv Chandra Bhattacharya whose haveli Modi tried to wrest
People involved in that bidding say the pricing and bidding for teams were dictated by Modi. "The prices and every term was fixed, though no rule was bent publicly," says an official with one franchisee. Quotes of bidders who lost out in 2008 weren't made public, but insiders say the difference was as little as 5-10 per cent. "This suggests the bids were manipulated," the official says. An expert connected with IPL's marketing says, "IPL needs some cleaning. For three years, there have been a lot of dubious backroom tamashas with no questions. Now's the time to clean up the act."
Ultimately, what has proved to be Lalit's undoing is his hubris, that of a man spoilt by his riches, who has known only to have his own way in life. "His attitude is arbitrary and arrogant," says management consultant Latika Khaneja. "He wanted to build an insider club in IPL, with membership for friends. He was used to dictating terms to everyone." You can do it in your family—but not in the world beyond it. As Modi continues to wage his battles—against the BCCI and the government—he perhaps thinks he can still win, as he has through most of his life.
---
By Rohit Mahajan, additional reporting by Arindam Mukherjee