Chocolate Terms
Couverture Chocolate: High-grade chocolate which uses 32-39 per cent cocoa butter for a smoother texture.
Chocolate compound: A less expensive, non-chocolate product replacement made from a
combination of cocoa, vegetable fat and sweeteners. Usually used to make low-grade candy bars.
Cacao beans: The beans from which cocoa solids and cocoa butter are extracted. There are three main varieties of cacao: Forastero, Criollo, and Trinitario. Forastero is the most common, making up 95% of the world's cocoa production. The Criollo variety is the best kind and grown mostly in Venezuela.
Single origin chocolate: Bars or tablets made from beans sourced from a single region like Ecuador, Ghana, Madagascar, Venezuela and other chocolate-producing regions. You also have fair-trade chocolate to make sure that your chocolate comes from plantations with fair labour laws and organic chocolate, which is pesticide-free.
Dark chocolate: Chocolate without milk solids added is dark chocolate. It has a more
pronounced chocolate taste than milk chocolate.
***
Juliette Binoche as Vianne Rocher in Chocolat would have felt right at home in Ahmedabad. She could waltz into any of the five outlets of The Chocolate Room and savour their 16 flavours of hot chocolate or feast on their chocolate pizzas. And if she got tired of the offerings at this Australian franchisee store, she could pop into Dangee Dums, another premium chocolate lounge, which has tied up with Barry Callebaut, a leading name in the global chocolate business.
Much like how coffee invaded our lives thanks to mushrooming cafes in the early half of this decade, chocolate is fast turning into the next new addiction. Besides The Chocolate Room—with 23 stores in Tier-II cities like Indore, Surat and Hyderabad, besides the ones in Delhi, Calcutta, Bangalore and Mumbai—there is the long-standing Choko La in New Delhi that recently opened a store in Mumbai's airport and has aggressive plans to open 50 more outlets in the next two to three years in major metros. San Churro, an established chocolate cafe brand in Australia, opened its first store in Mumbai in February this year, with more outlets slated to open by next year. Meanwhile, Bliss Chocolate Lounge in Bangalore opened two outlets in 2010 and now has plans to open some more in Calcutta and Chennai.
Marvin D'Souza, a stylist, remembers his first encounter with such a cafe called A Chocolate Affair in Bandra, Mumbai. "A friend and I popped in on a whim," he remembers. The afternoon saw him polish off a pot of molten milk chocolate, accompanied by chewy Spanish doughnut strips called churros followed by a thick Toblerone shake with "nuts all the way to the bottom". Since that first encounter, Marvin has been a repeat customer despite not being a "chocolate addict".
Adnan Khan, who runs the store with Farhana Sacha, is glad that their chocolate lounge has found loyal customers. "We have customers drive up from Walkeshwar and Breach Candy and for me that is a big deal," he smiles. A Chocolate Affair, modelled on the chocolate lounges in Australia and New Zealand, is however suitably "tweaked" to suit Indian palates. "Most customers prefer the sweeter milk chocolate," he remarks. But he is quick to add that they also sell bitter dark chocolate and white chocolate goodies too.
His rush hour begins right after office hours, with guests streaming in till 1.30 in the night. Similarly, San Churro, a few lanes away, serves up chocolate and chocolate-based products in the milk, dark and white chocolate versions, whose popularity more or less ranges in that order. "College kids come in during the morning, and bring in their families in the evening. Our biggest clientele, though, are women, almost 65-70 per cent!" remarks Atul Chaubal, one of the owners of San Churro. Atul plays the role of both friendly host and educator, interacting with guests who are curious about the chocolates on offer, and who often ask for help choosing from the extensive menu.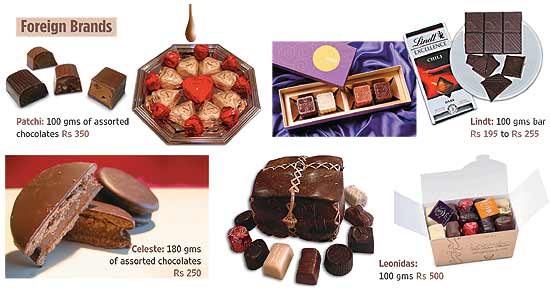 But this newly emerging chocolate cafe culture has premium brands like Patchi, Lindt, Chocolate Stella and Godiva to thank. Zeba Kohli, who runs the 60-year-old brand of Fantasie hand-made chocolates, tracks the trend. "We were used to our milk chocolate bars from the kirana stores. But when premium supermarkets and malls opened here, people suddenly had easy access to imported chocolate brands when they went shopping."
High-quality 'couverture chocolate' obviously differs hugely from the cheap, mass-marketed 'chocolate compounds'.

Suddenly, the difference between high quality "couverture chocolate" with 32-39 per cent cocoa butter and the cheap, mass-marketed "chocolate compounds" with vegetable fats became all too obvious. And with this upscaling of taste came the boom in the gourmet chocolate market, especially in the gifting and wedding market. Take Patchi, the Lebanon-based company, one of the first premium brands to open shop in India. Charging between Rs 350 and Rs 380 for 100 grams of high-quality chocolate in 45 different varieties, their usp is customised packaging and the long shelf life of their chocolates—a hit with the jet-set. No wonder they register their maximum sales during festivals like the Parsi New year, Diwali, Christmas and all through the wedding season from August to February. "Since 2003, when we began operations here, we have been seeing a 25 to 30 per cent growth. Last year we saw a 40 per cent jump in sales," says Harsh Gokal, spokesperson for Patchi Chocolates.
So far the Euromonitor report on India's expanding chocolate market, which predicted a 22 per cent increase in the market size in 2010, has been bang on with more Indians turning to gifting chocolate during the festive season, with corporates leading the trend. So much so that Barry Callebaut set up a chocolate academy in Mumbai, training both established chefs and novices who wanted to start their own business, to support the practice.
As a result, hand-made artisanal chocolates are now cutting slowly into the traditional mithai market, especially dairy-based ones, in elite circles. "Mithais you can buy at any corner shop and they are usually distributed among the help if you get a box," says Meher Sarid, who handles quite a few high-profile weddings. As a result, her clients are always looking for innovative sweets to wow guests. "Since 2004, chocolates have overtaken any other alternatives I have pushed out there, like baklava and nougat-based sweetmeats," she says. The obvious advantages of such chocolates are the longer shelf life and extreme customisation.
Nidhi Bagheria, of Celeste Chocolates, who has her own chocolate factory, thrives on personalisation. "I can make chocolate as per my client's specification, from embossing the chocolates to creating innovative packaging," says Nidhi proudly. Gifting also forms a significant portion of sales for the chocolate cafes. Devina Bharadwaj of Choko La refers to the "weekend buyers" who pick up chocolates in large quantities for friends and themselves, while Adnan Khan says A Chocolate Affair sells an average of 60 boxes of hand-made Belgium chocolate daily, especially the ones with printed designs on them. Sugar-free alternatives are popular, as are crunchy chocolates with nuts and also the ones with liquid centres that are often alcohol-based.

This increased chocolate consumption has led to a shift in tastes, with more numbers asking for dark chocolate than ever before, though the majority still thrives on milk chocolate. Mayavi Khandelwal of Maya, the chocolate artisans, has seen sales of her 70 per cent dark chocolate bars go up from one or two bars a week to 25 bars a week. She believes there is a growing number, especially among the older generation, which consumes dark chocolate for health reasons.
But most dark chocolate enthusiasts are usually looking for a more intense, flavourful hit of chocolate. The numbers are significant enough for Kainaz Messman of Theobroma to increase the cocoa content in some of her baked goods like her chocolate ganaches and truffles from 45 per cent to 54 per cent and make single origin dark chocolate bars for some of her customers. It is this select breed that Pankaj Nagori wants to cater to with his soon-to-be-launched CVADO 1502 chocolate club. (The C stands for chocolate, vado is "to escape" in Italian and 1502 was the year Christopher Columbus discovered cacao.) "Each subscriber will get 20 hand-crafted chocolates from European chocolatiers delivered to his home or office. The idea is that a family will get to taste 120 different varieties of fresh chocolates in a year, with no preservatives or emulsifiers," he says. He knows the concept will be a hit thanks to close-group tasting sessions that saw the city's socialites bonding over chocolate. What's more, he has plans to tie up with banks and exclusive clubs to target high-income individuals with chocolate cravings and organise chocolate tasting, chocolate making and chocolate pairing sessions with teas, wines and coffees.
Willy Wonka would be pleased, the dentist be damned.