When I look back over the years to the books I have loved, and to which I turn to again and again, I find that it is those which have been written with passion and intensity, rather than literary finesse, that continue to exert their spell over me.
I still have my copy of the The Story of My Heart by Richard Jefferies, which I bought second-hand in 1956. It's the Penguin Illustrated Classic published twenty years earlier, with beautiful wood engravings by Gertrude Hermes. Although I have read it several times, it is still in fairly good condition as I keep repairing it with glue sticks and sellotape.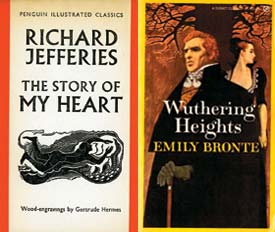 Jefferies, naturalist and gamekeeper, died young, but not before he had paid lasting tribute to the world of nat­ure that surrounded him. A true pagan, he responded in the most sensual way to every breath of wind, blade of grass, leaf-bud, raindrop, sunbeam or creature of the...