It's raining tablets in India. With 25 launches in the past six months, the new poster boy of modern gadgets appears to be everywhere. Thanks to the enormous popularity of Apple's iPad tablet, everyone loves them. Most agree that the tablet represents the next wave of computing. But the funny thing is, few consumers are actually queueing up outside of stores to buy them. That, obviously, has not deterred companies, both large and small, from coming out with their own versions of the tablet.
The wager: the world's fastest-growing mobile telephone market will present an equally exciting opportunity for tablet makers. Apart from biggies like Apple, Samsung, RIM (Research In Motion, the makers of BlackBerry) and Motorola, 10 other players like Reliance Communications, Beetel (Bharti) and HCL have launched their own devices at lower price points, ranging from Rs 9,000 to Rs 18,000.
"There would not be a mass market for tablets as a primary device. Many use it as a consumer device for multimedia."
And there's more to come. With technology options and low-cost manufacturers available in China, making tablets is not rocket science. And the Android operating system is easily available and largely free. But is there a market for so many brands? Naturally, the companies are upbeat. Says Gautam Advani, EVP, HCL: "The tablet is seen as an aspirational and show-off device. Indians being young and tech-savvy, this market will grow fast." HCL launched its Me Tab X1 tablet for a little over Rs 10,000 recently.
The raison d'etre of the tablet is its form factor and easy mobility. But considering that the primary use of mobility is e-mail on the go, which is amply taken care of by push mail on mobile phones and BlackBerrys, the real driving force for owning a tablet is yet to be found. For most people, a tablet comes between a smartphone and a laptop and, viewed from either end, falls short in both features and functionality. Says Sunil Lalvani, director, enterprise sales for RIM: "A tablet combines features of both the smartphone and the laptop, but will not replace either of them. It will coexist with them and have a niche segment."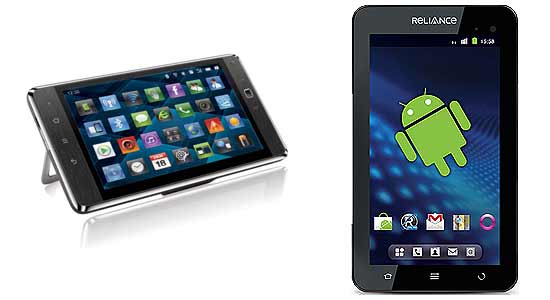 Beetel Magiq & Reliance 3G Tab
Tablet makers hope the device could have a natural fit in business-to-business sectors—like retail, medicine, supply chain and hospitality—that need a 'no-frills' mobile gadget that can hook on to the cloud and be used for business. As for general customers, companies are betting on the applications game—a trend started, once again, by Apple, through its App Store, which currently has over five lakh applications to choose from. Android, the operating system used on most tablets, has more than three lakh applications and is growing fast. Each tablet maker is investing heavily to develop specific and localised apps that would appeal to Indians. Companies are even pre-loading popular applications and games onto the tablets. Others like Reliance are also offering attractive combined product-data plans to lure new customers.
"For education, you need to create value and not a low-cost tablet. The Aakash tablet will not serve the purpose."
So will all the products be able to survive in the Indian market? Reasons Ranjit Yadav, country head, Mobile & IT, Samsung India: "The price of the product is important, but consumers will see the features, including connectivity and functionality. If a product falls short of these expectations, it will be challenged in the market." That is important since many of the low-cost products, aimed primarily at the tier-II cities, may have gotten the model wrong. Many of these devices work on Wi-Fi, which assumes that the user already has access to broadband connectivity. With India having just over 10 million broadband homes, that is not something readily available in smaller cities. Devices with lower battery lives can fall short in rural households that face regular power outages.
That brings us to the $35-question of the world's cheapest tablet Aakash, launched by Union information technology minister Kapil Sibal recently. After a few stillborn attempts to launch low-cost computing devices, this latest one is being keenly watched by the entire world. Says Suneet Singh Tuli, CEO, Datawind, which created the device: "We are trying to get rid of the affordability gap and empower people who cannot afford high-priced tablets. At around Rs 3,000, the game changes."


HCL Me Tab X1 & Milagrow TabTop
Like the Tata Nano, the 7-inch, Android 2.2 tablet is already attracting kind words internationally. Says Vijay Govindarajan, professor, Tuck School of Business at Dartmouth, and management guru: "This is what I call constraint-based innovation. India does not have resources—so we engage in frugal thinking. By winning in India, we've a chance to take those innovations not only to other emerging markets, but also the rich world."
"By winning in India, we have a chance to take innovations not only to emerging markets, but also to the rich world."
The government has already ordered one lakh units and there are enquiries for another 2.3 million. But will the device, aimed specifically at India's education sector, live up to expectations? Unfortunately, there are already doubts. Says Satish Jha, president and CEO, OLPC India, a project that aims at proving low-cost laptops to school-going children (and, please note, it's a competitor): "For education, you need to create value, not a low-cost product. This is not a tablet for education. It is a hurriedly put together product that has serious deficiencies and will not serve the purpose."
Aakash does fall short on several counts. Its battery lasts for just about two hours and it has the old resistive touchscreen (that is, it's not as responsive as, say, an iPad). The specifications are also pretty low compared to its peers, and it lacks the educational content that is so crucial to its existence. Says Prasanto K. Roy, chief editor, CyberMedia: "I don't think it is in the right direction. It will not change anything in the education system. The schools don't have the content ecosystem. If a device was needed for schools, it should've been an e-book reader for which content is available."
At the top-end though, there is some activity and there is demand for fully functional tablets like the iPad and Samsung's Galaxy. One thing is clear: the tablets at the lower end seem to be showing stagnating sales. But it's early days yet. The iPad has been in the Indian market for just over a year, others for even less. And consumers are yet to deliver a final verdict. Scores of tablet makers are waiting expectantly.