A Dab of Magyar Paint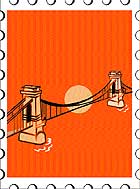 When old friend Werner Fornos, recipient of the United Nations Population Award (for highlighting demographic issues) and currently president of Global Population Education, invited me to a conference in Budapest, I reflected on Hungarians who came to my mind. There weren't many. There was actress Zsa Zsa Gabor, music composers Liszt and Bartok, financial wizard George Soros and, closer to home, the 102-year-old Fori, widow of B.K. Nehru, who resides in Kasauli, in Himachal. And, of course, there was the half-Hungarian, Amrita Shergil, widely considered India's earliest and pioneering 'modern' painter, most of whose works are at the National Gallery of Modern Art in New Delhi. So, when I arrived in Budapest, my first quest was to make a pilgrimage to her home. The guidebooks I had were of no help. Gauri Shankar Gupta, the Indian ambassador, put one of his embassy staff on the job. Which is how I found myself staring at a plaque in gold letters on the wall of a non-descript building close to the Danube and facing a Russian orthodox baroque church. It says: 'Amrita Sher-Gil 1913-1941, Eminent painter and artist of Indo-Hungarian parentage, daughter of Umrao Singh and Antonia Gottesmann, niece of Dr Ervin Baktay, was born in this house on 30th January, 1913.' The 'house' was actually a rather ugly six-storey apartment block, with the flats looking down onto a large courtyard. Inquiries about exactly which flat the family occupied drew a blank.
The stunningly beautiful Amrita Shergil led a tempestuous and colourful life, with a series of love affairs. She is said to have died of a botched abortion, a huge talent snuffed out at the tragically young age of 28. Read all about her in a book of her letters, edited by her nephew Vivan Sundaram, and one by Yashodara Dalmia. Kumar Shahani was planning a film on her, as was Deepti Naval, who would make a good Amrita Shergil.
---
Hamams by the Danube
Budapest has to be among the grandest and most picturesque capital cities of Europe. The only ones that can match it in beauty are Paris, Vienna, Prague and Rome—and Istanbul, if you consider Turkey part of Europe. Buda and Pest are actually two cities divided by the Danube. Buda is hilly, Pest flat. Of the country's total population of ten million, as many as two million live in Budapest. Beneath the city are a vast reservoir of bubbling subterranean hot springs, the most extensive in the world. Hence, it has been renowned since ancient times for its thermal baths, which the Turks—who ruled Hungary for 150 years—made into a way of life. The Turkish impact lingers. Incongruously, the city's main synagogue looks like an Islamic structure with a strong Moorish influence. If you are pressed for time and energetic enough, the best and most economical way to see Budapest is by the 'hop on, hop off' bus tours which have onboard commentaries in several languages. The idea is simple: with the same ticket you can disembark at a particular point, look around a monument, or visit a museum, and then get back on the next bus to wherever else you want to go. The Commonwealth Games organising committee should consider a similar system—which many cities across the world have—in Delhi, but then the eminences managing the event clearly have other things to think about.
The Hungarian language is widely considered one of the most difficult in the world. Nobody seems to know where it came from, since it has no Slavic or Germanic roots, except for some strange reason it has an affinity with Finnish. However, I noticed outside a garden, a picture of a dog and "kutya" written alongside it. So there's at least one word that is common between Hindustani and Hungarian.
---
A Jackboot Memory
Like most Soviet-occupied countries, Budapest was once dotted with gigantic Communist-era statues and busts—of brave soldiers in battle, flag in hand, of industrial workers marching together in solidarity and, needless to say, of Karl Marx, Friedrich Engels and V.I. Lenin. Those of Stalin were smashed during the 1956 Hungarian uprising against Soviet rule and never reconstructed. When the Soviet Union collapsed and Hungary became a democratic republic, the Hungarians, quite naturally, removed these reminders of their former oppressors. But they did something smarter. They collected many of them and set up a 'Memento Park' in a nearby suburb—easily reachable by bus—where these were installed. Since then, the park has become a major tourist attraction. There is also an auditorium there where a chilling documentary is shown about how Hungarians were blackmailed by the secret service to spy on each other. At the entrance of the park is a pair of huge boots—all that was left of one of Stalin's statues that was pulled down in the 1956 uprising, in which, incidentally, 25,000 Hungarians were killed and the leader, Imre Nagy, executed by the Soviets.