The Supreme Court last week allowed online counselling for admission to undergraduate courses in medical colleges. Under the scheme, students applying for all-India seats in medical colleges would be able to receive counselling in choosing their colleges online. While this is but a small development, for just a section of seats in medical colleges across India, coming as it does from the SC and the government, it has proved to be a major boost for serious, mainstream online education in India.
The push from the government comes close on the heels of a few global giants entering the online fray. Earlier this month, two global giants, Harvard University and MIT, came together to form edX, a joint initiative that will offer free online courses. Last month, a few other universities, also in the US—Princeton, Stanford, Michigan and Pennsylvania—announced the launch of Coursera, a company that would offer free web-based courses.
Advertisement opens in new window
Although India is yet to take the big leap in formal and regular online teaching, there is already a vibrant universe of online education: almost everything is on offer, from crash courses to alternative degrees, from IIT-IIM coaching to home tutoring for a variety of courses at various levels. The online march is gaining momentum, thanks to an acute shortage of quality institutions and teachers across India's diverse demographic landscape. Many institutions are addressing these problems with online classes and virtual classrooms that use VSAT and video-conferencing.
Says Sudhir Menon, whose company conducts online evaluation of students, "What ails quality education in India is that there are too many students and too few educational institutes and an extremely low teacher-student ratio. That is where online education is coming in handy—not to replace teachers, but to provide a support system."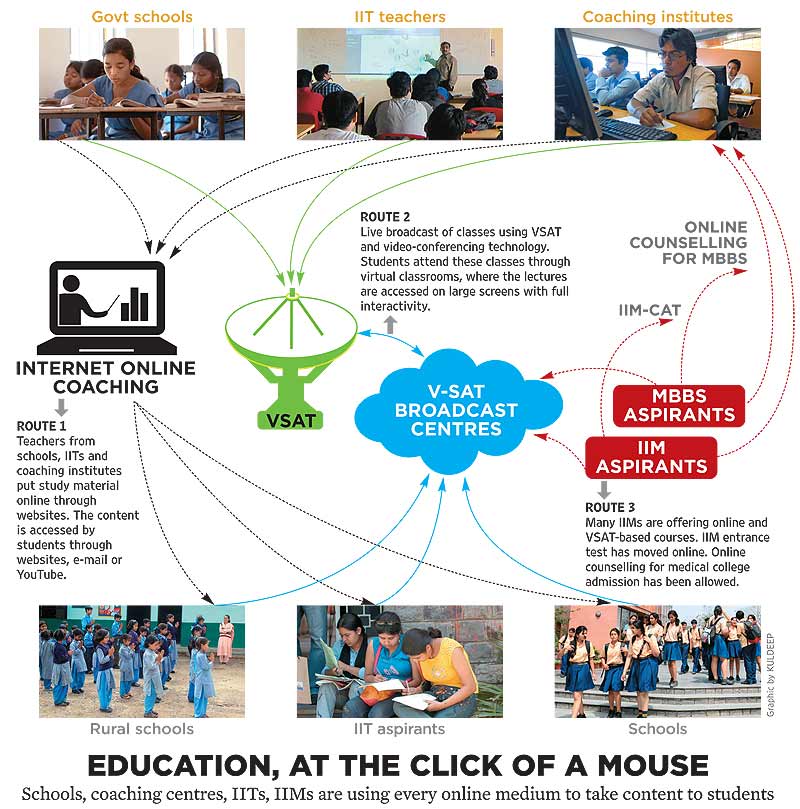 Advertisement opens in new window
It's well known that there's a massive shortage of teachers in India, right from the primary-school level to the college level. The number of students, on the other hand, is increasing, at an estimated 15-20 per cent every year.
A serious attempt was made a few years ago when, on a Union ministry of human resource development initiative, seven IITs (Mumbai, Delhi, Guwahati, Kanpur, Kharagpur, Madras and Roorkee) and the Indian Institute of Science, Bangalore, got together to provide content and lectures online through YouTube for engineering students. The initiative, called the National Programme on Technology Enhanced Learning (NPTEL), received 62 million views while the channel got over 1,10,000 subscribers.
Other universities and educational institutions are also gradually coming on board. Gujarat University has started hosting its zoology content on YouTube, while in the area of management education, several institutions like the Jamshedpur-based Xavier Labour Relations Institute (XLRI) have started VSAT-based virtual classes.
Advertisement opens in new window
"Online courses," says an IIT-Delhi professor, "falls short as a physical connect, so crucial in education, is missing."

In fact, some of the bigger institutions are actively looking at going online, with enrolment figures increasing exponentially. From an average class of about 40-60 students, today's classrooms at IITs, iims and bigger institutions have 300 students. Says Asish K. Pani, associate dean (virtual interactive learning), XLRI, Jamshedpur, "With the number of students rising, it will be difficult for professors to address them physically. That is why everyone is looking at an online option or a blended programme having both classroom and online elements." To begin with, these blended programmes typically have about 80 per cent classroom and 20 per cent online elements.
Besides the IITs, several leading institutions like the iims at Calcutta, Ahmedabad and Kozhikode, and many engineering colleges have also started online courses. But their nature and duration vary. This is because the UGC or AICTE, the bodies that govern education in India, are yet to stipulate online norms for mainstream courses. At present, AICTE specifies that there should be 900-1,100 hours of teaching for regular courses. No such norms exist for online courses. As a result, online courses offered by institutions now are of durations they set themselves—anywhere between 50 and 300 hours.
Advertisement opens in new window
Says Srikanth B. Iyer, COO, Pearson Education Services, which offers VSAT-based classes in India, "The potential is huge in India, but there are infrastructure issues, especially bandwidth, which makes it difficult. In some areas, the high cost of setting up a virtual classroom is not justified by the number of students we get there." But he also agrees that the demand will come from those cities where students do not have access to quality education.
In India in particular, the YouTube route is very popular, and several students and educators are looking at this for further learning. Says Angela Lin, head, YouTube Education, "Eighty per cent of YouTube ECU views come from outside the US, and YouTube's educational channels are very popular in India. We already have Indian educational partners too, such as the IITs, which post their videos on YouTube." But a lot more is to be achieved for online education to achieve mainstream status. Says Lin, "Right now though, most online material is primarily a complement to the physical classroom rather than a replacement. Formal education requires testing and verification."
There are dissenting voices, though. Says a senior professor from IIT-Delhi, "Online courses can come in handy for non-formal courses and part-time courses. But online falls short because a physical connect, so very important in education, is not there." Key players in India's coaching universe differ. Says Gautam Puri, co-founder, Career Launcher, one of India's leading coaching companies, "In online courses, there is total customisation as the course can be moulded according to a particular student and can be replayed according to his needs."
There is also the strong belief among many parents, normally the decision-makers as far as children's education is concerned, that students cannot learn without the physical presence of a teacher. But with bigger institutions accepting technology as one of their main engines, that will change. It is left to the government to put the rules in place.