The New Luxe Brands On Rails
Royal Rajasthan on Wheels Launched: Jan 2009 New Delhi - Sawai Madhopur - Jodhpur - Udaipur - Agra - Khajuraho - Varanasi - Calcutta
Indian Maharaja Launched: Nov 2009 Mumbai - Aurangabad - Udaipur - Sawai Madhopur - Jaipur - Agra - Delhi
Maharaja Express Launch: Jan 2010 Four itineraries, to cover North, West, East and parts of Central and West India.
Splendor of the south Launched: Jan 2009 Bangalore - Chennai - Pondicherry - Tiruchirapalli - Madurai - TVM - Alleppey - Bangalore
***
What do 18 Japanese vendors, a dozen German tourists and a Jaipur-based doctor have in common with a couple of Russian petro billionaires? Tickets on an Indian train. They, and dozens of British, Italian and American tourists are set to take a cross-country tour of India in January 2010 aboard a brand-new 'Maharaja Express'—a train built up to be India's most luxurious train ride ever.
In the latest extravaganza on Indian rails, luxury and 'super' luxury trains are cruising in and out of stations in different parts of the country. Two such trains were launched this year and at least a couple more are planned for early next year. They will challenge existing novelty rides such as the famous early-starter, 'The Palace on Wheels', as well as other state-bound rail rides that didn't really take off. "There's been a wave of pan-India chartered trains taking off in recent times. New itineraries are being designed, new means of on- and off-board entertainment introduced...the possibilities are expanding very fast," preens Sanjive Trehaan, CEO of Luxury Trains, a leading private train charter operator.
For sheer opulence, range of facilities and destinations on offer, the new trains well deserve the charter/lease deals they are striking with the Indian Railways, state tourism departments and IRCTC—the state agency that provides on-train facilities. Private tour companies, travel agents and charter services are racing to ride a new-fangled touristy passion, to pick up entire trains and create make-believe rides through the Deccan, the erstwhile princely states of western India or the eastern provinces, helping passengers relive India's Raj-era charm.
'Deccan Odyssey—The Indian Maharaja', a luxury train that chugged off this November between Mumbai-Delhi, promises such a novelty experience. The travel company Thomas Cook India recently struck an alliance with the Rajasthan government as part of which it now markets it as 'The Indian Maharaja'. "The journey and off-train itinerary is planned so that customers re-enact the way a real maharajah may have vacationed," says Rakshit Desai, executive director, Thomas Cook India.
There's more to come: Desai says he will launch 10 new products—new itineraries and routes—by January 2010. All these will be based around the idea of doing an alternative train journey in India. "Currently we're toying with running new itineraries in different seasons. We're trying to stretch the tourism season, trying to make travel in India a year-long experience instead of the short winter season at present," he says.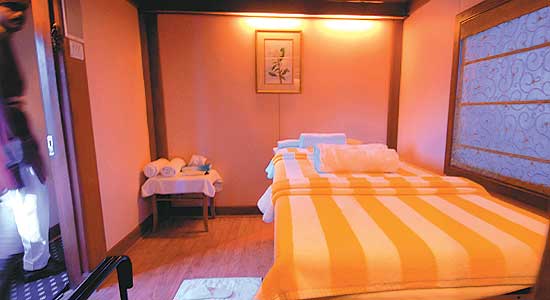 The 'spa' section in the Indian Maharaja
Incidentally, the Maharashtra Tourism Development Corporation had launched the Deccan Odyssey back in '04. It still traverses several key spots of interest in Maharashtra, goes to next door Goa and then winds back to Mumbai. Thomas Cook India armed itself with permissions from the Indian Railways to expand the route to other states. And the charter-holders, a company called The Luxury Trains, now operates it from Mumbai in Maharashtra, through Rajasthan and UP, to the final halt in Delhi.
Private travel firms and state governments are both sensing opportunity. The much-talked about 'Splendor of the South', which will launch in March 2010, is set to pass through tourist hotspots in Karnataka, Tamil Nadu, Kerala and Pondicherry, maybe even more states. Since '07, the train runs under the name 'Golden Chariot' and travels through Karnataka and Tamil Nadu. Meanwhile, states like Kerala, Punjab and Rajasthan are also planning their own new luxury trains and extended routes as demand rises.
Arup Sen, director, RIRTL, a joint venture of travel company Cox and Kings and IRCTC, says such trains have to be "safer, environment-friendly, aerodynamically advanced and comfortable". "You need to offer real luxury. The average age of such high-budget travellers is near 70 years, so you can't have wobbly wine glasses or backs aching from bumpiness," he adds. RIRTL's 'Maharaja Express', due for launch in January '10, is currently being built from scratch at the rail coach factory in Chennai.
Such liveried train experiences typically last a week to 10 days, depending on distances travelled, cities covered and budgets. The usual asking price is between Rs 20,000 a night per person, to Rs 40,000. Each train can cater to an average of 3,000 passengers a year—not many, but with the heavy price tag, they add "significantly" to bottomlines, as a travel company executive puts it. Existing train operators say they are well booked up in advance—by 70 to 80 per cent—and the remaining leaves little scope for domestic tourists to be catered to.
According to S. Vasudevan, infrastructure sector expert with consulting firm kpmg, luxury trains are a huge opportunity in India. "So far India's railway privatisation focused on outsourcing—like contracts for services such as catering. The new (luxury) trains are an opportunity for the private sector to manage rolling stock and fuller maintenance," he says. When private companies charter trains, hotels, onboard service providers, retailers and tour operators also gain. As fully-equipped hotels on wheels, the trains also deal with meals, spas, business centres, tours and airport pick-and-drops. "There is obviously a potential to charge more and raise revenues," he says.
While the government has tried to gradually privatise services on trains, the distinction is clear—luxury trains are for the well-heeled tourist, whereas overall policy needs to favour both the budget and high-end visitor. Arun Maira, member in charge of tourism and culture at the Planning Commission, points out that domestic tourists are still the mainstay of India's tourism industry. "We have to keep our eyes on both segments—the $500 a night type of tourist as well as the domestic and international tourists having different budgets," says Maira.
That said, luxury trains are the perfect compromise solution for wealthy tourists who pine for the glory days of India during the Raj. And in the process, they give a fillip to the local entrepreneur as well as slowly changing the way Indian Railways does business.