As the end credits of Harishchandrachi Factory (Harishchandra's Factory) roll, the only question that strikes you is: Why did no one ever think of making a film on this subject before? The story of the birth of the world's largest film industry is a riveting one, and debutant director Paresh Mokashi does it ample justice. His Marathi film, on the making of Dadasaheb Phalke's Raja Harishchandra—India's first film—is entertaining, absorbing and affecting to the core; truly worthy of its selection as the Indian entry at this year's Oscars.
"We know Phalke as the father of Indian cinema, the guy after whom the country's most prestigious film award was named," says Mokashi, but, as he points out, we know little else. His affectionate tribute to the man who, with 95 movies and 26 short films to his credit, laid the foundation of our booming film industry, more than fills the void.
"We want to see our historical figures portrayed seriously. Gandhi never has a sense of humour."

Mokashi portrays Phalke in all his complexity, focusing on his life between 1911—when he was first introduced to motion pictures—and 1913, when Raja Harishchandra was released. Phalke, the film tells us, got hooked to cinema after a show at Picture Palace, and captures his fascination for it rather tellingly, in a single shot. While the audience is busy watching the film, Phalke is shown with his back to the screen trying to figure out how images are being projected onto the screen. He does everything he can to learn the craft—from selling off household goods to almost losing his sight. Driven, obstinate and dogged, he brings a Williamson camera home from London, where he goes to learn filmmaking. And then uses it to shoot a film on the growth of a pea plant, which wins him investors for his maiden feature.
Craft apart, Mokashi's Phalke also seems to have a prescient understanding of the medium's potential. He makes a strong case for India courting cinema, warning if it doesn't, "The country will lose a profitable business." And he seems to know all about the power of marketing, offering, as he does, nine-yard saris to winners of a "lucky" Harishchandra movie ticket!
Lead actor Nandu Madhav's Phalke is mad yet utterly loveable; a refreshingly buoyant portrayal of a cinema veteran usually associated with staid sobriety. "We have an obsession with portraying our historical figures seriously. Gandhi had a sharp sense of humour but we never want to show that," says Mokashi. Phalke's family is just as winsome. His wife Saraswati, who gamely tries her hand at cinematography, and his two good-natured, playful boys stick with him in his endeavours, despite financial ups and downs.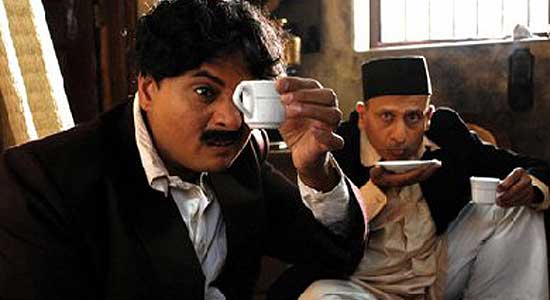 A scene from Harishchandrachi Factory
A light-hearted spirit permeates the entire film; the scenes dealing with the shooting of Raja Harishchandra are especially hilarious. Phalke can't find women willing to act; even prostitutes are offended by his offer of roles. Much humour is generated as Phalke is compelled to pick actors off the streets, and force men to play women by shaving off moustaches and donning saris. On an outdoor shoot, he has to convince the police that his cast consists of actors, not thieves. And he advises his actors to tell anyone who doesn't know what cinema is that they work in a factory. Thus, the title.
Mokashi's film is straight and simple and a trifle old-fashioned; the director, who is primarily a theatre person, prefers to avoid what he calls the "larger than life" approach of Bollywood and Hollywood. To an eye attuned to the zip and energy of contemporary cinema, Mokashi's shots might seem static and stagy. But not his layered narrative, which skilfully weaves in the politics of the times.
A neighbour jokes with Phalke that the British will banish him to Mandalay, like Tilak, for stealing their cinema business. But it's not just business: Mokashi's film makes it clear that Phalke's choice of subject is a political act—his films have to reflect Indian culture and sensibility. Shortly after Raja Harishchandra releases, we are told Tilak is out of prison and a world war has begun. And Phalke? Well, he is on to making Bhasmasur Mohini and Satyavan Savitri.