S
hahrukh Khan used to pull Anuja Chauhan's leg on the sets of the Pepsi commercial shoot—that he would buy the film rights of the advertising professional's debut novel if and when she finished writing it. That casual joke turned into reality when his Red Chillies Entertainment picked up the rights for Anuja's
The Zoya Factor
, a quirky tale of ad agent Zoya, who becomes the lucky charm for the Indian cricket team in World Cup 2010. The script is now in the final stages.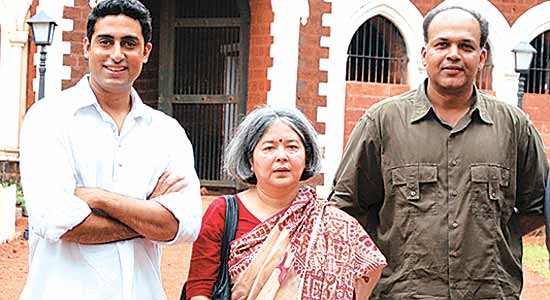 Abhishek Bachchan, Manini Chatterjee and Ashutosh Gowariker
Last month Ashutosh Gowariker embarked on his latest epic venture, Khelein Hum Jee Jaan Se, based on journalist and Telegraph editor Manini Chatterjee's book Do And Die: The Chittagong Uprising 1930-34. The book, and in turn the film, focus on the freedom fighters who attempted to raid the Chittagong police armoury. Abhishek Bachchan plays Surya Sen, who led the attempt.
The most awaited Bollywood film this year, Raj Kumar Hirani's Three Idiots, is inspired by the Chetan Bhagat bestseller Five Point Someone—What not to do at IIT. Chetan's The 3 Mistakes of My Life has been bought by Farhan Akhtar and Ritesh Sidhwani's Excel Entertainment for a film to be directed by Abhishek Kapoor of Rock On fame. Meanwhile, filmmaker Dibakar Banerjee is keen to work on journalist V. Sudarshan's The Anatomy of an Abduction, the story of the kidnapping of three Indians and four other nationals in Iraq in 2004.
"There are a number of writers and books we are looking at for making a series of films," declares Dibakar. It's as though Bollywood has suddenly discovered books and begun to read (see box). Unlike Hollywood, Bollywood has not been known for diving into the literary pool, apart from picking up the occasional Sarat Chandra or Premchand story. So why the active shopping for books now? It could have been inspired by the success of Danny Boyle's Slumdog Millionaire, based on Vikas Swarup's Q&A. But, more likely, Bollywood is desperately searching for what it doesn't seem to have—stories. Filmmakers are looking for them in contemporary fiction and non-fiction, TV news and newspaper reports because they've come to realise that if crores can be spent on a film's marketing and publicity, it's worth spending a bit more on the story as well. "There's a dearth of good scripts and a few good scriptwriters charge the earth," says Saugata Mukherjee, editor, Harper Collins India. "There's a huge volume of writing in regional literature; you don't need to scout for film subjects for a lifetime," says Dibakar.
However, contemporary Indian English writers are clearly the favourites. "Younger, more adventurous directors are taking on topics that appeal to the youth," says Anirban Bose, author of Bombay Rains, Bombay Girls. "And newer writers are writing about ho-hum everyday life and contemporary Indian issues. There's a lot here that will appeal to Indian audiences, particularly the 'youngistan' crowd," he adds.
However, the fundamental reason why a filmmaker would opt for a book is because he or she connects with it. Rahul Bose thought Pakistani author Mohsin Hamid's Moth Smoke was "a great comment on the part-feudal, part-progressive third world". The "personal schizophrenia mirrors the cultural one," he says. He saw a film in it that he wanted to direct.
What this books-to-films trend promises is the possibility of better cinema. For the writers, it signals the opening up of a new market. Popular writers are becoming scriptwriters. Advaita Kala is working on an original script and Ruskin Bond is writing one for Vishal Bhardwaj.
***
Look Who Has Shopped For Books...
Raj Kumar Hirani: Chetan Bhagat's Five Point Someone: What not to do at IIT
Ashutosh Gowariker: Manini Chatterjee's Do And Die: The Chittagong Uprising 1930-34
Shahrukh Khan's Red Chillies Entertainment: Anuja Chauhan's The Zoya Factor
Farhan Akhtar and Ritesh Sidhwani's Excel Entertainment: Chetan Bhagat's The 3 Mistakes of my Life
Pooja Bedi of Owl Village Films: Anirban Bose's Bombay Rains, Bombay Girls
Rahul Bose: Mohsin Hamid's Moth Smoke
BBC and Star Field Productions: Vikas Swarup's Six Suspects
Smuggler Films: Arvind Adiga's The White Tiger
Danny Boyle: Suketu Mehta's Maximum City: Bombay Lost and Found
Mira Nair: Mohsin Hamid's The Reluctant Fundamentalist
Waiting on the shopping cart:
V. Sudarshan's The Anatomy of an Abduction
Chetan Bhagat's 2 States: The Story Of My Marriage
***
Even publishers seem to be waking up to the hidden potential of film rights. "In the last year or so, if I have seen cinematic possibility in a book I have sent copies to filmmakers and followed it up aggressively," says Saugata. That's because film rights are gradually becoming all about some serious money. Though the financial transactions are confidential, it is estimated that a sought-after work can fetch Rs 10-15 lakh now, while just a couple of years ago even a lakh was a big amount to dream of. "You can't live on royalties but you can live off a good film deal," says Anuja. Anirban is more circumspect. "Let's just say it is a lot more than I would make from the royalty of having sold 20,000 books," he says. A successful film can boost the sales of the book on which it is based.
However, the market is still very nascent, not professionalised. There is many a slip between negotiation, buying and eventual filming of the book. And the biggies tend to get snapped abroad. Smuggler Films (with Revolutionary Road and Boys Don't Cry behind them) have bagged Arvind Adiga's White Tiger and Danny Boyle has bought the rights to Suketu Mehta's Maximum City: Bombay Lost and Found. Both for undisclosed sums.

But money may not be the only motivation. "Bollywood means a far greater reach," says Chetan. For Manini, the aim was to bring alive the forgotten heroes of our freedom struggle and she hopes a mainstream film will help take the cause ahead. "It's a little known chapter but a very important stream of the national movement," she says. In such a scenario the equation with the filmmaker becomes crucial. Manini agreed to give the rights to Gowariker on the basis of his previous films, Lagaan and Swades. "There's an epic scale yet a sincerity within the commercial framework," she says.
The fear of giving away your creation is always there. However, most are aware of and reconciled to the fact that a film has to have an identity and life of its own, beyond the book. Manini's work is a painstaking research into the events and people; not all of it can be used in the film. Chetan, who claims he's not possessive about his works, says: "A film is not a homage to the author, it's a commercial venture. It's fine so long as the soul, spirit and message of the book is the same."
In fact, Dibakar believes cinematic reinterpretation is a must. For him a book is a source, like life. "You draw from it the same way as you might from your own experiences," he says. So a very good book or a bestseller can turn into a dud film and a very bad or obscure book can yield a great movie. "The onus is on the filmmaker," he says. "Not the book."